If you have pets who go into your garden areas or you want to protect the wildlife, you will want to take precautions when using weed killers. This page contains animal safe weed killer recipes.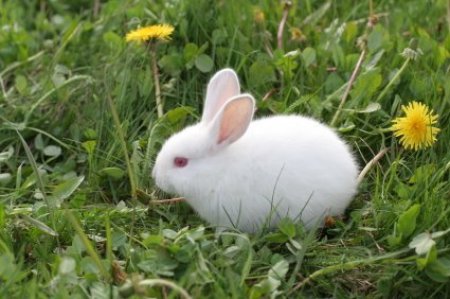 By Chris 1
Does anyone know of a weed killer I can use that is non poisonous to my rabbit. I've tried vinegar with no effect.
---
Most Recent Answer
By guest (Guest Post) Flag
October 13, 2008
Try Salt. Take a cheap spray bottle (Do not use an old cleaner spray bottle as it will be toxic to your pet), fill the bspray bottle about half full with salt and then pour in hot water until full. Shake the bottle until the salt has dissolved fully into the water, and then use the mixture to spray the unwanted weeds. The salt will dry the weeds up.
---
Question:
I need to kill many types of weeds growing in my horse pasture. I want to find something that is effective and safe for the horses. We are at an of altitude of 8500'.
Hardiness Zone: 5b
Molly from Boulder, Colorado
Answer:
Molly,
I wouldn't even want to speculate on what type of weed killers (homemade or commercial) would be safe to use around your horses. The labels on some commercial herbicides recommend restricting grazing for two weeks after application, some 7 days and some have no restrictions at all. Even in the case of the so-called homemade "safe" remedies, some ingredients can be toxic to some animals. Fortunately for you, one of the world's premier equine veterinary hospitals (CSU) is located in your state. I would recommend calling them for more information.
http://www.csuvets.colostate.edu/equinehospital/
You might also visit the Colorado State University extension agency's Ag Weed pages at http://www.coopext.colostate.edu/boulder/AG/agweeds.shtml and http://www.ext.colostate.edu/PUBS/natres/03106.html.
This publication by the Table Mountain Association might also be of interest to you http://bcn.boulder.co.us/community/tma/news/11/tmaweed2.html.
Good Luck!
Ellen
How can I kill weeds safely so as not to hurt pets?
By Sondra
---
Most Recent Answer
March 12, 2013
Vinegar and hot water. Some people add some dish soap, but it is unnecessary as the vinegar does the job very well on it's own. A strong word of caution if your "weeds" are close to your plants, you could harm them as well if you splash or over water your vinegar mix. Reapply when you see new growth.
---
By Heather 1
How do I make an animal friendly weedkiller?
By Heather from Sunderland, UK
---
Most Recent Answer
September 19, 2010
I use vinegar and it works very well, and it never bothers the dogs.
---
I have a cat who loves to eat grass. How can I kill creeping Charlie and barnyard grass without poisoning my cat?
By Joan H.
---
Most Recent Answer
By DeBushe 19 163 Flag
August 19, 2013
Pour boiling water on it - the weeds, not the cat!
We have a large field with horses and there are a lot of weeds they don't bother with. They just keep growing. I want to get some grass growing in the field. How do I control the weeds without harming the horses? Please help; I don't have a lot of money and I really need to get rid of them.
By Cheryl s from Clear Spring, MD
---
Most Recent Answer
June 11, 2012
Cut the weeds. You can use a trimmer if it has a metal blade, or, for more exercise, use a weed whip or a machete (spelling?). Don't try to do it all at once though. With rain and luck, the grass will grow. You don't say how large your field is, but a lawn mower might take care of some thick patches. Cut them off and keep cutting them off, and also chop at them with a well sharpen hoe. I realize these ideas are labor intensive, but they don't cost much and will provide exercise.
I need to find something that is safe for outside dogs and doesn't kill the grass!
Is there anything out there?
By Abbey M
I am looking for a recipe for a weed killer I can use for my horse pasture that I apply with a boom sprayer.
By L. Woodley
Is there a weed killer that can be used in an ivy covered area that won't kill the ivy?
Hardiness Zone: 6a
By Cathy from Chicago, IL
What can I use to kill weeds that is not poisonous to my dogs? I am afraid if I use commercial weed killers they might lick their paws and ingest some. Thanks.
Hardiness Zone: 8b
By Kathy from Seattle, WA
Feedback:
RE: Recommendations for a Pet Safe Weed Killer
Vinegar, very effective weed killer. (06/09/2010)

By iamjrac
RE: Recommendations for a Pet Safe Weed Killer
OR boiling water straight off the burner. (06/09/2010)

By iamjrac
RE: Recommendations for a Pet Safe Weed Killer
Vinegar. Another way is to cut the plant weed just before it flowers to make seed. It may grow some but does not have time to mature before season ends, therefore it dies naturally. Roundup is out of the question. It kills your frogs. It causes genetic defects. Read up on Monsanto and the evils in GMOs and what they are doing to the world. It'll knock your socks off. Read about how ground is poisoned for like growing strawberries. Read about fruits being raised with antifreeze. Anyway, vinegar is good. (06/12/2010)

By muttmom
RE: Recommendations for a Pet Safe Weed Killer
Vinegar, that is what I have used for years. In tender areas, you can mix it with water in a sprayer and do a couple applications. You can take it in a squeeze bottle (to manage easier) and gently squeeze on to the area. The boiling water is ok if you are careful not to get burned, and you then have to run back and forth to the house to keep pots boiling as you do your yard, which makes it not as easy. (06/12/2010)