Making Your Own Gift Baskets
Gift baskets are as fun to make as they are to receive. The choice of the basket or similar container can also help define the sentiment and theme. You can customize the contents for the person and the occasion. This is a guide about making your own gift baskets.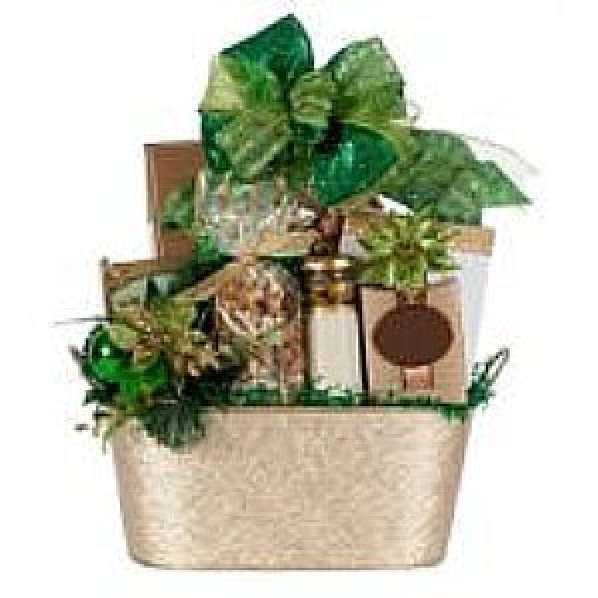 Filter

: All Articles
Sort

: Relevance
This is a guide about making filler for gift baskets. Rather than buying filler for your homemade gift baskets you can use materials that you already have.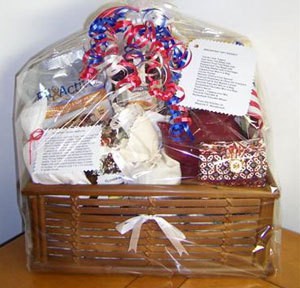 Contents
tea for one teapot
Earl Grey tea bags (24)
passion fruit tea bags (24)
peppermint tea bags (24)
tea bag wallet with 4 tea bags
cappuccino mix in a bag
clover honey
Morello cherry fruit spread
honey in 5# jars from a local beekeeper*
Directions:
*I poured some honey in a clean jar which was sterilized in my dishwasher. I put some Saran Wrap over the top, screwed the lid on tightly. Finally I taped the neck of the jar closed and sewed a jar topper out of scrap fabric.
Some time ago I purchased a package of new chef's aprons which I always keep on hand for whenever I'm baking or cooking. So I added one in the gift basket.
I purchased a new tea for one teapot from a website and attached the following label:
Warm your teapot:
While the water is heating, fill your teapot with hot tap water to preheat it. This prevents cracking that can occur when boiling water is placed in a room temperature teapot, and it helps the brewed tea maintain the proper temperature. Discard the water once the pot is warm.
My husband and I buy foods in bulk to keep on hand for emergencies, so we don't have go grocery shopping every week.
I bought the basket from a garage sale this summer and added a ribbon. The only items that I had to buy was the teapot, and the tea bags. Total cost for making the basket was about $20.00 or less.
By Marge W. from Sanborn, NY
Susan Sanders-Kinzel
2

found this helpful
Gift baskets are a great way to make a personal gift for family or friends. This article includes many ideas of containers and themes to help you get started on a gift basket for everyone on your list. Gift baskets can be a lot of fun for you and the recipient and don't have to cost a lot of money.
The Recipient
The first thing to consider is who you are giving the basket to:
What do they like?
What are their hobbies?
What do they need?
What do they like to eat?
Containers
The container or "basket" doesn't have to be expensive. Pick a theme (some are listed below) and find a container that goes with the theme that can hold some items or have items attached to it. You want the container and the items to go together and for everything to be usable and practical. (This is not to say that a few fun things can't be thrown in too.) Below are some of my ideas for containers but there certainly are many more possibilities.
Baskets of all shapes and sizes
Bowls
Flower pots
Watering can
Fishing creel
Canvas bag
Day pack
Waste basket
Bucket
ice, plastic or garden
Colander
Plastic container
Storage box
Platter
Tin
Ideas for Themes
The items that go within the gift basket should be tied together by a common theme. The themes below are gift basket recipes that can be modified to fit your needs or to get you started on developing your own themed gift basket.
College Student Gift Basket
Use a basket or usable container with some or all of the following:
Pens and Pencils
Printer paper and supplies
Mouse pad
Washcloth and hand towel
Yummy healthy snacks
Phone Card
Gift certificate for a CD
Nail Clippers
Book light
Bath Gift Basket
Use a nice basket with some or all of the following:
Gel eye-pack
Epsom salts or bubble bath
Aroma therapy oils
Scented candles and holders
Pumice stone
Washcloths, scrubber or loofa sponge
Back cleaning brush
Relaxing music on CD or cassette
Rubber ducky
Kids Coloring Gift Basket
Use a rubber/plastic storage box with some or all of the following:
Assorted papers, coloring books
Crayons or colored pencils
Nontoxic markers
Assorted stickers
Paint box and brushes
Safe scissors
Photographer's Gift Basket
Use a basket or a camera bag with some or all of the following:
Film
Coupons for picture developing
Camera Filters
Lens cleaner
Lens cloth
Photo print paper
Picture frame and matte
Picture Album
Letter Writer's Gift Basket
Use a square basket or plastic box with some or all of the following:
Note paper or cards
Envelopes (choose a variety of sizes)
Letter opener
Pen or pencil
Personalized seal
Sealing wax
Return address labels
Rubber stamps to decorate envelopes
Stamps
Crafters Gift Basket
Use a rubber storage container with some or all of the following:
Glue gun and glue sticks
Acrylic paints
Assorted brushes
Craft knife
Craft supplies (this will depend on the craft they do.)
Craft patterns or how-to books
Craft papers
Scissors
Pasta Lover Gift Basket
Use a colander or bowl with some or all of the following:
Package of gourmet pasta
Tongs or pasta grabber
Package of sun-dried tomatoes
Extra-virgin olive oil
Fancy olives
Spices: oregano, basil, garlic powder
Collection of your favorite pasta recipes hand-printed on recipe cards
Pasta cookbook
Jar of gourmet sauce
Gardener's Gift Basket
Use a clay plant pot, bucket or watering can with some or all of the following:
Gardening gloves
Hand tools
Vegetable, flower seeds
Liquid fertilizer
Kneeling pad
Gardening book
Subscription for a gardening magazine
Plant markers
Heavy Duty Hand Lotion
Cat Lover Gift Basket
Use a cat bowl or pet bed with some or all of the following:
Catnip Mouse or other cat toy
Hair ball paste
Cat treats
Cat Brush
Scratching post
Gourmet cat food
Dog Lover Gift Basket
Use a dog bowl or pet bed with some or all of the following:
Rawhide bone
Dog biscuits
Squeaky toy
Dog shampoo
Brush
Collar and/or leash
Dogs come in all sizes so make sure you are buying for the right size dog. Also if it is for a puppy, chewy stuff is the best.
New Home Owner's Gift Basket
Use a tool box or tool tray with some or all of the following:
Screw drivers - Slot and Phillips
Wrench, Pliers or Vice Grip Pliers
Hammer
Assorted nails, tacks, screws, washers
Gift certificate for the local hardware store
Do-it-yourself Home Repair book
Other assorted odds and ends like:
super glue
light switch covers
light bulbs
duct tape
paint brushes
knobs and handles
Guitar Player's Gift Basket
Use a basket or gig bag with some or all of the following:
Assorted guitar picks
Tuning pipe or electronic tuner
Sheet music
CDs or cassettes of great guitar players
Guitar strings
Capo
Polishing rag
Guitar polish
Chord or lesson books
Skier or Snowboarder's Gift Basket
Use a small pack or canvas bag with some or all of the following:
Gloves, mittens and/or warm hat
Hot packs
Sunscreen
Lip balm
Moisturizer
Pass to the local ski hill
Hot chocolate
Ski, snowboard or sled waxes
Grandparent Gift Basket
Use a basket or reusable container with some or all of the following:
Scrapbook
Children's artwork
Gifts made by the kids
Framed family pictures
Videos of the family
Long-distance calling card
Candy, coffee, or tea
Handmade Christmas ornaments
Polar fleece lap blanket
Wine Lover's Basket
Use a wine cooling bucket with some or all of the following:
Wine Glasses
Cheese and Crackers
Cork screw
Bottle of wine
Holiday Entertainment Basket
Use a nice holiday basket with some or all of the following:
Holiday Napkins
Holiday Plates
Holiday Cups
Whole Mixed Nuts
Nutcracker
Cookies or baked goods
Holiday floral picks or ornaments for decorating
Cheese ball or Sausage stick and crackers
Fillers for Your Basket
Once you have obtained your items here are some fillers to put around them.
Piece of fabric
Shredded paper, newspaper or colored paper
Straw
Easter basket grass
Tissue paper or newspaper comics
Raffia
Colored towels or cloth napkins
Cedar shavings
Extra Items To Consider
For Christmas Baskets add:
Candy canes
Candles
scented or unscented, votive, tea lights or tapers
Pine cones
Cinnamon sticks tied with red ribbon
Greenery
spruce, pine, cedar, holly
Christmas ornaments
For any occasion add:
Potpourri
Hot cider, special tea bags, special coffee or cocoa mixes
Mandarin oranges, tangerines, oranges or apples
Unshelled nuts or packets of roasted nuts
Wrapped candy or baked goods
Small toys or puzzles
Sample hand creams
Lip gloss or Chap-stick
Finishing Your Basket
If you buy colored cellophane you can cover the entire container with it disguising what is inside. Tie a ribbon around the whole thing or paste a ribbon on top. Have fun!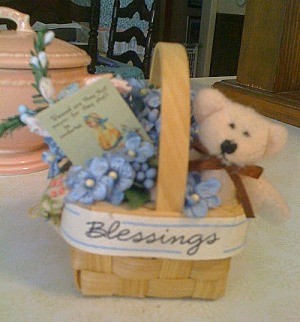 This is an amazingly inexpensive gift, party favor, etc. You will want to make several and keep one for yourself!
Supplies:
miniature basket (party favor size) usually sold in multiples in the wedding aisle of craft store
miniature flower bunches, dried flowers, whatever you prefer
tiny jointed teddy bear
1/4 inch spool ribbon - I got mine at Michaels they have adorable designs and sayings on tiny cloth ribbon in their silk flower department.
embellishments - I used a tiny piece of vintage embroidery and vintage cut out.
glue gun
glue
Directions:
Arrange flowers in basket placing dots of glue at the bottom of basket to secure.
Tuck in embellishments, and add a dot of glue to hold.
Wrap ribbon around basket, gluing as you go.
Finally tuck in your teddy!
These can be made for showers, weddings, and other gifts. Don't forget to check out thrift stores and the scrapbook department, button/embellishment department, and your own stash. The possibilities for what you can tuck in are endless. This craft takes just a few minutes to make :)
By joynchocolate from Landisville, PA
I use pinking sheers to cut up all old magazines, candy wrappers, colored paper of any kind and keep it to use as basket stuffing when giving a gift or making baskets for friends.

By Denise from McRae, GA
Reading all of these tips made me remember what I packaged up last year. Sorry, no photos, so you will have to use your imagination!
I hate Easter basket type gifts! This might sound harsh but what I really hate is the basket that these gifts come in. What do you do with them after the gift is gone? The real answer is that unless it is not a true wicker Easter basket, one usually tosses them or donates them to get rid of them. So with this in mind, I did not want to subject others to my strong aversion to wicker Easter baskets when (as a mother of 3) I am giving out thank you/acknowledgment gifts during the holidays to: teachers, neighbors, principals, best friends and casual friends, managers and the like. I created gift baskets in storage containers with the thought in mind, who would not want a (new not used) food storage container?
During the holidays, our local drugstore was selling food storage jars. Some had a plastic over the mouth seal as a bonus food sealer and some did not. I bought one selling for about $2 each that was a square shape and the size was about 6 inches tall, I believe it was measured in ounces. I got the 32 oz. one. Some things were bought in bulk or multi-serve packaging, keeping the cost low
Ingredients
This is the list that I compiled to create a jar that cost about $10 each:
small flower magnet picture frame
single serve apple sauce
single serve package of nuts
a small box of raisins
a small pack of post-its
a pen
single serve coffee packet
single serve hot coco packet
single serve tea packet
single serve drink mix packet
There might have been more things but as you can see from the list and by using your imagination, my goal was to create a small food snack jar so that the person I was giving it to would have something besides Christmas candy to snack on while sitting at their desk.
Directions
Stuff the jar, putting a scattering of M&M's to fill in the cracks of the other items.
Place seal over mouth of jar with the self sticking plastic seal for the mouth of the jar. A lot of the people I gave them to thought that they were bought at a store that way and some even came to me asking what store I bought them from.
Place stickers around jar. After stuffing the jar, the next step was to get some festive Christmas stickers (not the tacky ones but the ones that looked more classy) and put a few on the lid and some around the jar.
Wrap ribbon with name card and candy cane around jar and hand out to people for Christmas.
I suggest keeping a list of all that was stuffed in jar because this year I did the same type of packaging but I had forgotten what I had put in the jar last year so I might have duplicated some items.
Several of the people that I had given these type of gift baskets to were very thankful to have something other than Christmas calorie punching food to snack on and a jar to keep all the goodies in while taking the time to snack on them (Hawaii has a terrible bug problem).
It also made me feel good not to inflict others with my aversion to wicker Easter/gift baskets.
By Soyzick from Hawaii
I save money on gifts by giving baskets with handmade items. Example: Cookie making basket, including, cookie mix, sprinkles, cutters, couple of hot pads, wooden spoon.
You can make baskets for gifts and holidays, by buying the shrink wrap paper to put over it and then blow dry it. You can use anything to load the items in you want to cover.
I have an old tobacco basket hanging on an out building and I would like to add some life to it. Any ideas on how to jazz it up? I would love to see some pics. Thanks.

Heather Southern Ohio
By guest (Guest Post)
Flag
April 10, 2008
0

found this helpful
I have one that belonged to my father-in-law. I'm planning to use it to post family pictures in the family room. Hope to get to it soon. Other ideas are appreciated.
April 13, 2008
0

found this helpful
I had the same idea for the same object "an old tobacco basket"/the one I am talking about is flat.
Depending on the size of your dining room table - I thought of shellacing one (to help perserve it) and useing it as our dining room table's Lazy Susan.
All of the bowls would then move in unison, as the basket would be the only item moving under them.
SO instead of having to pass the bowls of food to you, the person would "spin" the basket to the bowl they desired to get food out of.
Good Luck and let us know what you ended up doing with it
Read More Answers...
Everyone can use a "Basket of Sunshine" now and again to brighten their day. This is a guide about making a "Basket of Sunshine".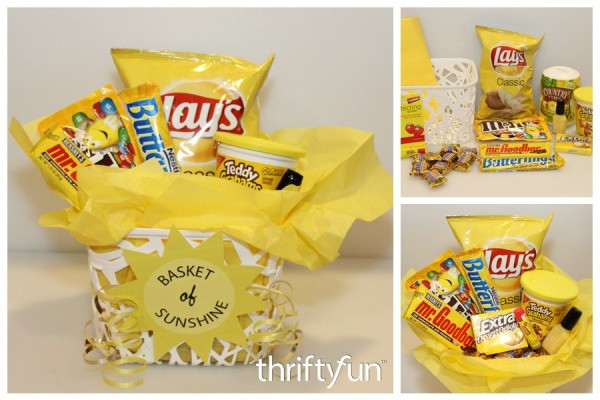 Making Your Own Gift Baskets. When you have a large family, creating gift baskets is a wonderful way to give everyone a gift without breaking the bank. Making your own gift baskets is easy and economical.
For gift baskets, find something that goes with the theme. The "basket" does not have to be an actual basket but can be anything that will hold the contents, i.e. a watering can for a gardening basket or a bowl for a kitchen basket.
Related