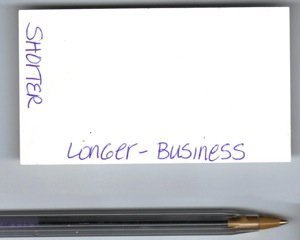 I was going through some old business cards thinning out the desk today. I came across clear file tabs at the same time.
I noticed that the shorter edge of the card was the same width as the shorter tabs, and the length of the cards were the same as the longer tabs.
This seemed like a wonderful way to recycle the cards.
With the subject written on the card before I trimmed, I was able to use five or six the shorter width, and 4 the longer width.
They are stiffer than paper, and if you are going to recycle them anyway, why not use them a second time!
By poor but proud from Salem, OR
August 1, 2010
0

found this helpful
This is a great idea! I need to redo one of our files and this will be fun!
Robyn
Read More Comments
August 28, 2007
1

found this helpful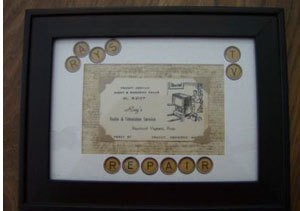 Unique way to save business cards new or old
Approximate Time: 15 minutes
Supplies:
frame
scrapbook letters
adhevsive corners
scrapbook paper
Instructions:
My mom recently found an old business card of my dad's when he was young and had his own business. He died when I was 20.
I took frame that I bought at Dollar store already had matting I just cut scrapbook paper for background of business card. I took business card and centered it and adhered self adhesive corners so I could put in card without ruining it. After I did that the beige matting looked plain so I took scrapbook letters to spell out the info on card. You can do this with current business card or postcards and with the tons of scrapbooking items out there there always something that compliments the item.
By Carol from Massachusetts
August 28, 2007
0

found this helpful
This is such a clever way to display family memories. Thanks for sharing your unique idea. I don't have any old cards from family members but I'm going to look for other memorabilia and try to do something like you did; in a frame.
Read More Comments