Reusing gift wrap or wrapping gifts in recycled paper is a great way to not add more paper to the landfill. Share your ideas for using recycled or reusing gift wrap. This is a guide about recycled gift wrap ideas.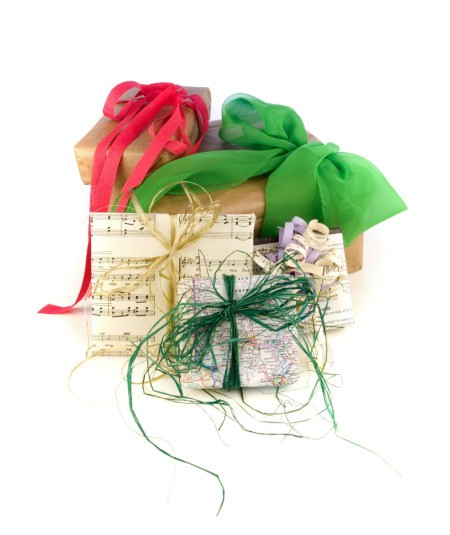 By Veronica 10 114
For free/cheap gift wrapping, save old red and green shirts or find them cheap at the thrift store or at yard sales throughout the year. Cut them up and use for wrapping gifts. Any buttons can be used to make cute package ties.
By vaylmer from Boston, MA
By Teri M 23
Looking for a fun, frugal, and green way to present gifts this holiday season? Save those pop-tab cans from fruits and veggies and you are sure to make everyone on your gift list smile.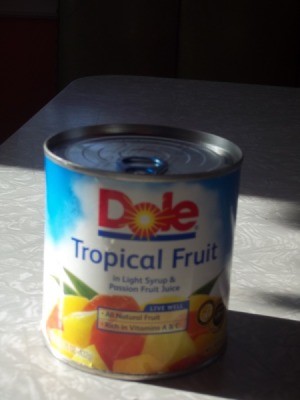 Directions:
Empty your can by opening from the BOTTOM with a can opener. Be sure to not go all the way around as this will make it easier to adhere back together later.
Empty contents and rinse can thoroughly with soap and water.
Dry can completely and place desired object(s) inside.
Hot glue or caulk the can closed. Caulk will need a few hours to dry, so keep that in mind if using.
Decorate if desired. Also, it is cute left plain, especially for a guy.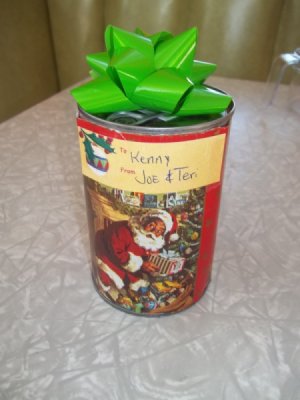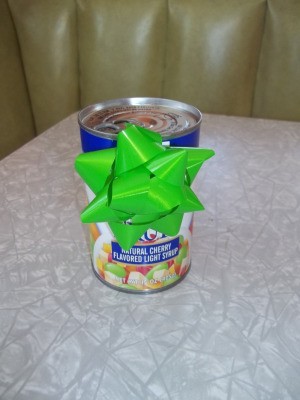 By Teri M from Omaha, NE
If you have clear 2 litre plastic soda pop bottles, you can use them to hold a gift. Just cut an "H" on the side of the bottle, peel open the plastic, insert gift, be it a wrapped gift with ribbon, a teddy bear or doll, or a fresh baked treat. Once you are satisfied with the look of the bottle with gift inside, close up the "H", and seal with some clear packing tape. Use this area as the back of your bottle display. Items can even be mailed with the correct postage attached.

I had a great time at the post office mailing a few of these gift bottles. Sure makes for a fun gift and it is even better when the receiver tries to figure out how you got the gift inside.

By Karyn from Ottawa, Canada
By cettina 78 392
Pretty gift wrap is very expensive. When I receive gifts, I carefully unwrap my present, fold the gift wrap it came in and put it away for later. Then I put my iron on DRY and COTTON setting. Iron the plain paper on the right side, embossed or shiny on the wrong side. Don't keep the iron on the same area for too long because it marks or burns, long sweeps are best. Roll up, and you have pretty gift wrap for nothing!

By Cettina from Malta, Europe
By lnygaard 104
When my UPS packages arrive, they have brown paper in large sheets for stuffing. I iron them and use colored ink and stamps to decorate the paper for wrapping paper.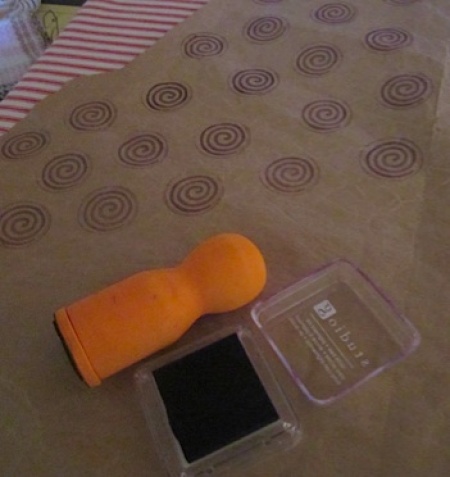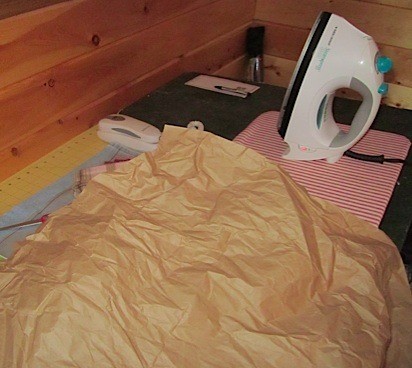 By pam munro 522 790
Wrappings don't have to be wasteful. I love gift bags! It's become so much easier to wrap things and to put together the collections of little gifts I usually give. What's more they can be recycled almost indefinitely if you are careful with them. (This is the first year in a long time that I have used new gift bags, as I normally have enough recycled ones to use.)

My thrifty forebears also used to re-cycle gift wrap and ribbon (do you know that rayon ribbon can be ironed with a cool iron to restore it?) So I have no problems with redoing and reusing things I have gotten and things other people have gotten which I pick up in thrift shops and so on. So pack up all that stuff in your Xmas box for next year. Happy frugal holidays!
Save gift wrap; put it through your shredder. Place the shredded gift wrap in two separate bags: one for general gifts and one for Christmas time. These bags can hang on hooks most anywhere until needed for packing, separating items or whatever. The shredded paper not only looks nice but you`re recycling as well. Have fun!

By Marian
Seeing as chip bags pile up fairly quickly, I decided several years ago to put them to good use and save money at the same time. I wash them good, let dry, cut off the top edge, and turn them inside out. All the ones I have are either silver or white on the inside. They make excellent gift wrap and can be used for any occasion. Jazz it up just like you would any other type of wrapping with ribbon, bows, raffita, pinecones, ornaments, or anything of your choosing.
Bottle gifts fit well inside them and you can gather up at the top and tie it off with ribbon or yarn. The Christmas before last I gave gifts at work in them. Not one person could believe they were snack bags. One guy even commented the next day, that his wife was amazed when the gift was opened and she saw the inside of the bag. He told me they had never even considered using them and they were going to begin doing the same. He said I was a genius. LOL
Source: Something I thought of one day after I have a few saved up.
By Tricia M. from VA
Recycled Christmas Gift Bag
Need a cute little Christmas gift bag? Crochet this bag from recycled plastic grocery bags. Here is the free pattern link too.

View This Page
This page is not on ThriftyFun, but we had to share it. Be sure to come back and rate it.
Gift wrap can get expensive, plus it tears easily if you are wrapping an odd shaped, or sharp cornered gift. I used cloth remnants from sewing projects instead of wrapping paper and found they were oohed and aahed over as much as the gift was. Then I began picking them up at garage sales, as well as small pieces from yard good stores, just for wrappings. Many wallpaper ends also make wonderful gift wraps. The price is right, too.

By Rae
Ness - Lakeview, NY
In addition to all those Christmas wrapping ideas I collected and sent previously, here's some more:
Use your child's artwork, such as a crayon drawing, to wrap small gifts.
Small gifts like gift cards, small toys, jewelry items, etc. fit inside toilet paper rolls nicely, and then you just wrap overtop of that, twist the ends of the wrapping paper, and you have a cute little "Christmas cracker."
The paper that comes as "stuffing" inside of new purses and bags makes good wrapping paper; you just have to decorate it.
A friend of mine had her kids color scenes on plain paper specific to the receiver of the gift to make personalized gift wrapping.
Small boxes can be spraypainted and used as gift boxes. Add a natural touch like a pinecone glued on the top instead of a bow.
You can make "ribbon curls" from thin strips of wrapping paper rather than using ribbon. Cut the strips about 1/3 to 1/2 inch wide and gently curl them with a scissors. Makes a pretty topping for a package.
Don't let anyone in your family toss out gift wrap or gift bags or tissue paper. Save it and try to reuse it!
Hey, so far this holiday I have most of my gifts wrapped and have not bought any new wrapping paper (though I have used old leftover stuff, and most of the ideas presented here and in the Daily Thrifty Tips).
I have been trying to get some of my non-recycling family and friends to do this kind of stuff, too. It's fun 'cuz when I show them what I made, like a gift bag or box, from some recycled item, they usually have good ideas to add to the whole concept!
By Ness
Don't buy new Christmas wrapping paper if at all possible. There are lots of things you can use instead; try to recycle and reuse instead.
By pam munro 522 790
I like to give little presents at holidays like Easter to my neighbors and their children - and although they looked great, all the wrapping were recycled! The violet ribbon was saved from a gift, the yellow stripped cellophane around a bunny came from a bouquet, and the gift bags and tissue and the bows all had been around before. So be careful in unwrapping your gifts - you can use the ribbon/bows, even the paper again for someone else. It's ecological and thrifty, too. (And fabric ribbon, even the thin rayon kind can be ironed to make it look nice and fresh, too, My great aunt taught me that.)

By Pam from L.A.