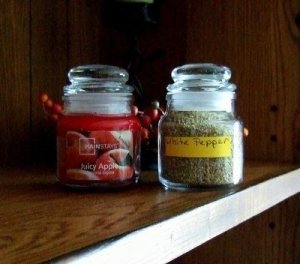 Once the candle is burned down, the jar that it came in can be used for a variety of things around the home. This is a guide about reusing candle jars.
Ad
---
This video shows you how to clean out your old candle jars so they can be repurposed for storage of things around the home.
Solutions: Reusing Candle Jars
Read and rate the best solutions below by giving them a "thumbs up".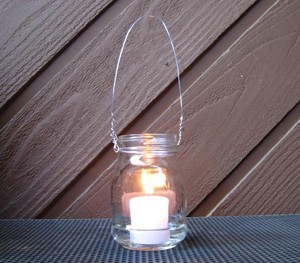 I wanted soft lighting for my apartment deck at night instead of the stark electric deck light. So I came up with the idea of a hanging jar lantern. Two, three and more to come. You'll most likely have all the needed items already but, if you don't, none are expensive.
Materials
A jar with a lid lip (I chose a 16 ounce Marie's Blue Cheese Salad Dressing jar)
Fine gauge metal wire
Wire cutter/needle nose pliers
Votive candles (Tea Light or regular Votives)
Instructions
I tried to make the hanger with just one piece of wire but it wasn't stable enough to keep the candle level. What I did was secure a wire under the lip part of the lid. Then threaded and secured one end of a longer wire through that first wire. Then chose the length for hanging, bent and secured the other end of the second wire to the opposite side of the first wire.
Place a bit of water in the bottom of the wired jar before placing the candle in it. This makes for easy melted wax removal, and the water is a good safety measure. When the candle burns to the bottom of the glass jar there is always a possibility the jar will break from heat buildup. Also, it's not a bad idea to place a bit of water in the bottom, even if it's a Tea Candle because they float well. <[>If you don't have a long match, just use a piece of spaghetti to light instead

Stay safe! Always make sure you keep your candle away from anything flammable and don't leave a lit candle unattended.

By Deeli from Richland, WA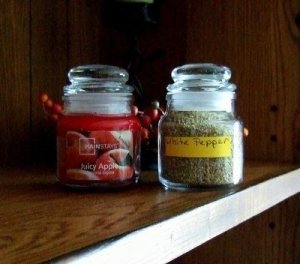 I was looking for spice jars in a popular department store the other day and could not find individual jars. So, I gave up and decided to do some browsing. While going down the candle aisle, it dawned on me that the smallest candle jars would be the perfect size for spice jars. They were a dollar apiece. Not only would I have a beautiful spice jar, but I could enjoy a nice scented candle in the process! They are large enough at the mouth to fit a tablespoon size measuring spoon and will look very nice once organized in my pantry.
I just melt the leftover wax in a pan of water and pour it out, then wipe clean with a paper towel and wash. I then take off the label and put my own spice label on it.
By 007jenny from Monticello, MN
Don't throw out those empty candle jars! Recycle them. I burn the Febreeze candles and they work great for this project, but any glass candle container works. After all your candle is burnt, heat some water and place the glass container in the hot water to melt any residue. When the left over candle has melted, pour out any remaining wax. Wash thoroughly in hot soapy water. I use the jars in my dressing room for Q-tips, cotton balls, etc. The uses are endless!
By Donna from SC
When I am finished with the small glass containers that candles come in, I wash them in the dish washer and then use them for milk or juice glasses for my toddlers. They are small and easy to hold, and this way I can re-purpose them instead of recycling them.

Source: I saw kids using small jelly jars and thought of this.

By Erin from Blue Bell, PA
Give a "thumbs up" to the solution that worked the best! Do you have a better solution? Click here to share it!
Questions
Here are questions related to Reusing Candle Jars.
I am trying to find out if I am able to reuse it as a glass cup? I am very concerned given the fact that I am pregnant, I wanted to make sure if it's OK to drink out of it. I love to recycle and this is one of my biggest concerns on how to reuse it. I cleaned it very well and re-cleaned it by placing them in the washer machine. The item I bought is called "Candle Lavender Vanilla and Comfort, 5.5-Ounces". Hope to hear from you soon and thank you.
By Rebeca Bap from El Paso, TX
AnswerWas this interesting? Yes No
Ad
---
---
Most Recent Answer
07/26/20120 people found this helpful
I called the company directly quite a few months ago regarding the safety of using any glass candle holder (whether wax or the fluid type) for beverages and food. They said emphatically 'no' because the chemicals used to make the glass for candles are not food grade and could leach from the glass over time.
---
Photos
Below are photos related to this guide.
When you are through with that lid from your jar candle, remove the plastic seal and use it to hold your votive candles.
By latrtatr from Loup City, NE
Archives
Thrifty Fun has been around so long that many of our pages have been reset several times. Archives are older versions of the page and the comments that were provided then.
I buy Yankee and Colonial candles all the time. Do you have any ideas on how I can use the empty jars when the candle burns down? And what should I clean them out with? The Yankee candle jars are round and the Colonial jars are oval. They cost so much money I just hate to throw them away.

Onesummer from Georgia

Feedback:
RE: Uses for Candle Jars
You can melt the remainder of the candlewax in the candle jars by placing them on an electric candlewarmer then pouring the heated candlewax into another container; then wash the candle jar out.
You can use the jars for:
Soaps
Jewelry
Put large candles that will fit in them and use on an electric candle warmer
lotion
if you get all the candlewax out and wash the candle jar in the dishwasher, you could use it for sugar, candy, etc. Make sure it is perfectly clean before adding food items to it.
Paper clips, push pins, or other small office items to be stored on your desk.
Cotton balls, q-tips or cosmetic items
There are endless uses for these jars. (01/01/2007)

By WandaJo
RE: Uses for Candle Jars
I set my jar in a pan of hot water and heat it until the wax melts. Pour it out and let the jar cool. Then I use Dawn dishsoap to wash it out. I also use mine to put candies in or liquid potpourri on my electric candle warmer (puts out a great scent in the air and the jar never gets to hot). There are many uses for these jars as wanda suggested (01/02/2007)

By
RE: Uses for Candle Jars
I have placed a candle jar with a tiny bit of candle left in it under the seat of my car. On warm days, it leaves a pleasant aroma in my vehicle. Just make sure it is sitting upright, so as to not spill out on really hot days when the wax could melt.

As far as the use of the jar, what the other ladies said are great ideas. (01/02/2007)

By sfrench1124
RE: Uses for Candle Jars
i know the lids fit nice and tight, and most jars are clear. They could make a nice little terrerium or gold fish bowl for a child. (01/02/2007)

By Debbie in SC
RE: Uses for Candle Jars
I use small jars on my window sill to hold cat and dog treats and sweetener packets. Looks nice and they're always handy.
(01/02/2007)

By TC in MO
RE: Uses for Candle Jars
I glue a left over plastic Christmas cake decoration (santa claus or a snowman) to the inside of the lid upside down, then add water, glycerine and glitter and put the lid on seal with bathroom tile adhesive clear then turn upside down for a snow shaker ornament for the following year (01/03/2007)
RE: Uses for Candle Jars
Put a votive in them and reuse them that way.
Zig (01/05/2007)

By Ziggee
RE: Uses for Candle Jars
If you can get the rest of the candle out, or I would not even think that would matter, fill them full of white vinegar and place them all over the house. The smell might be strong the first day, but vinegar quickly eliminates the odors from your home. So you have a natural deodorizer that will last about 2 weeks. Wash and refill as needed. PS. I clean for a living. It does work. Hope this helps (01/21/2007)

By Sherry
RE: Uses for Candle Jars
I imagine if you get the jars really cleaned out, so there is no candle aroma left, you could use them for making those great layered cake and cookie "recipes in a jar" as gifts for any holiday or special occasion. They can be decorated after filling with all manner of crafty goodies -- ribbons, bows, gift paper, dried or silk flowers and on and on. I would just clean them and let them sit open for a good long while before they get used to be sure the scent has completely dissipated. Some very neat ideas have been suggested, and I think I may try a few! Thanks, Trisch (09/07/2007)

By Trisch
RE: Uses for Candle Jars
I clean them out and use them in the bathroom to store things. I use the large one for cotton balls and the smaller one for Qtips. (09/13/2007)

By Michele
RE: Uses for Candle Jars
I have a candle company - I refill jars for 50 cents an ounce. The reason I started was because everyone spends so much on the actual jar. I don't know if you would want to ship to Oklahoma, I have some that do - but you could look for a company that does do it in your area.
(11/05/2007)

By Jan
Can you reuse candle jars to put foods in?

Eleni from Hemet Sage, CA
Feedback:
RE: Putting Food in Candle Jars
I would not. (02/16/2009)

By OliveOyl
RE: Putting Food in Candle Jars
Of course you can. I do it all the time. just make sure you wash the jar extremely well. After I do this I add a little bleach water to it then rinse really well again. (02/16/2009)

By imaqt1962
RE: Putting Food in Candle Jars
I would think that if there is no warning on the candle about not ingesting the candle material, that it would be okay to reuse the jars, if you can scour them very well. You wouldn't want any candle scent seeping into your pasta, candies, or whatever you are going to put into them. There are some very pretty candle jars out there. I can see why you'd want to reuse them! Just watch carefully for glass chipping around the lid. (02/16/2009)

By Cathy S
RE: Putting Food in Candle Jars
I make candles, and I am going to give you my opinion, and my opinion is, no! I make soy candles and they are as close to natural as I can get them, except for the fragrance oils, and that's where there the problem lies. Just to let you know, the fragrance oil is toxic, and it can remove permanent marker and it can melt plastic.

If you would like to discuss this anymore, please feel free to email me at 4givenbygrace921 AT gmail.com
Thanks (02/17/2009)

By Veronica H.
RE: Putting Food in Candle Jars
If it's glass, and all the old candle wax is out of it, and it doesn't have any remaining smell, then it should be just fine. (02/17/2009)

By Nance
RE: Putting Food in Candle Jars
But why not exactly? Parafin wax is used to seal jams and jellies. Glass is non-porous, so what would be the reason? I'm really just curious. (02/17/2009)

By Beth
RE: Putting Food in Candle Jars
I have done it for years with no ill effects. (02/17/2009)

By Maya