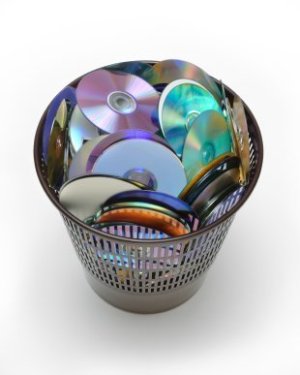 Rather than discarding old unwanted CDs put them a new and creative use. This is a guide about uses for CDs.
Ad
---
Solutions: Uses for CDs
Read and rate the best solutions below by giving them a "thumbs up".
I live in an area that does not have street lights and at night it is difficult to "see" my driveway. I checked on red reflectors and they are quite expensive.
I have now placed old computer disks on my mail box post and they reflect great. We arranged them in a "pattern" so they look attractive all the time.
I also placed some in my trees at Christmas and these are really neat with some outdoor lights shining in their direction.
My granddaughter had a party and used some for indoor decorations and everyone liked this idea.
I am sure there are lots more uses for CDs, so start using the old ones sitting on a shelf!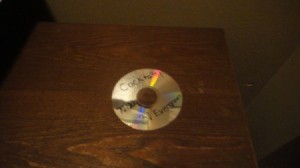 We always seem to have a lot of old CDs laying around, so I used them as party invitations for one of the kids' parties. We wrote on them with permanent markers and the kids decorated them with stickers.
By coville123 from Brockville, Ontario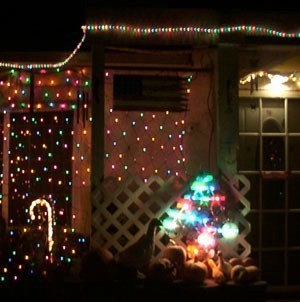 Last Christmas I made a tree out of the old and advertising CDs and bought a string of lights and taped each bulb in the center of each disc. The reflection was pretty and we had a neat yard decoration. Just be sure to use outdoor lights and cord.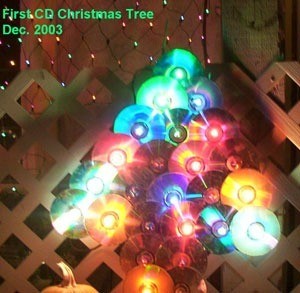 By Great Granny Vi
Editor's Note: Vi sent in these great pictures of her CD Christmas Tree. It's always helpful when people can send in pictures of their projects so everyone can see what they look like finished. Thanks Great Granny Vi!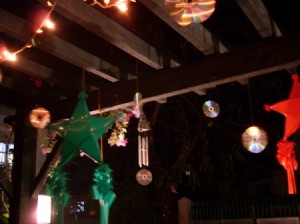 My students leave me a file of CDs after every semesters as part of the compilation of their projects. After reviewing the contents, all of them go up on our trees, trellis, or around the garden. It's so fun to look at them both in daytime and at night. Some says they looked like fireflies in the distance!
By Fe N. Evangelio from Philippines
I have 2 apricot trees that I started from seed. They are now over 7 feet tall, after only 5 years. When they start to bloom, I hang old CDs from a string on the branches. The birds don't like the reflections, especially if there is a breeze to move them around.
To help keep birds and animals out of the garden, you can use the CD disks you are always getting in the mail from AOL, Earthlink, etc. You can use just one, but it is better to use two glued together with the shiny side out.
Used CD/DVD disks make great paint palettes for acrylic or oil paints, or even the oil sticks used for stenciling. You can wash them off and reuse them if you like, or if you have the DVD case you can even store your palettes in there with the oil sticks still on them, and use them again at a later date.

I used packing tape and cord to make little loops inside the DVD case cover to hold my stenciling brushes and it becomes a portable palette I can take with me when I am doing projects, or to keep everything sorted and stored and away from the cats and kids.

By Regina from Rochester, NY
Give a "thumbs up" to the solution that worked the best! Do you have a better solution? Click here to share it!
Questions
Here are questions related to Uses for CDs.
Does anyone have lots of ideas or a source for lots of ideas on how to recycle those CDs we all get in the mail almost daily? I will appreciate any help.

Liz J

By ThriftyFun Staff
AnswerWas this interesting? Yes No
Ad
---
---
Most Recent Answer
01/08/2006 Flag
PUT THE CD ON AN OVEN PROOF SMALL BOWL (I HAVE A STAINLESS STEEL BOWL I USE); TURN OVEN ON TO 250 DEGREES; WATCH THE CD AS IT MELTS DOWN THE SIDE OF THE BOWL; TAKE OUT OF OVEN; FLIP IT OVER; PUT IN ANOTHER BOWL OF SAME SIZE AND PRESS DOWN TO MAKE A BOWL; YOU CAN USE THIS AS A BOWL TO HOLD CHIPS (PLUG THE HOLE WITH TAPE).
---
Does anyone have any uses for CDs or DVDs? I hoard them in hopes of finding a neat way to use them.
By kla_710 from Hastings, NE
AnswerWas this interesting? Yes No
Ad
---
---
Most Recent Answer
By Lynda Ripley 1 4 06/02/2009 Flag
You could use them on the garden to scare off birds when you have just sown seeds.
---
Archives
Thrifty Fun has been around so long that many of our pages have been reset several times. Archives are older versions of the page and the comments that were provided then.
Here are some uses for old CDs and DVDs suggested by our ThriftyFun community. Post your own ideas here