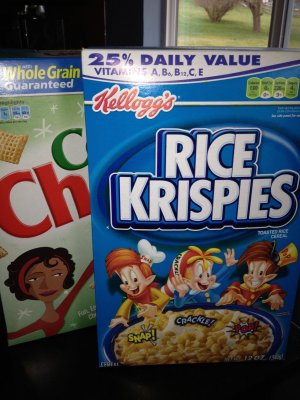 Cereal boxes and the inner bag can be reused in a wide variety of ways. This is a guide about uses for cereal boxes and packaging.
Ad
---
Solutions: Uses for Cereal Boxes and Packaging
Read and rate the best solutions below by giving them a "thumbs up".
Use cardboard cereal boxes to make shipping envelopes. Deconstruct the box so it lays flat. Take off the small end on the right side or tape it down. Tape down the flaps on the top and bottom of the front of the cereal box. Cut a small slit on the top and bottom flap of the back of the box. Then cut that section out. This makes the outside flap. It'll be the last thing you tape down to seal the envelope. Tape the top and bottom flaps down like you did on the other side of the box. Also tape down the middle flaps. Fold over the flap you just created at the end to form a crease, but don't tape down. Fold cereal box in half. Tape the sides together to form your envelope. Then stuff your goodies inside. Fold over the creased edge and tape shut. Add shipping label and mail.
Source: Newgreenmama.com
By duckie-do from Cortez, CO
You can use cereal box liners for tracing patterns and cutting sewing patterns. When cereal box liners are empty, carefully pull them apart to flatten at the seams. If done slowly, they won't tear. Flatten with your hands and place on a hard surface. Place the pattern you need to copy under the cereal box liner and trace with a Sharpie pen. If you don't have a Sharpie marking pen, an ink pen will work, too. Since one side of the cereal box liner works better with an ink pen than the "wrong" side, you should test first to check which side works best with the ink pen.
If you are constructing a sewing pattern, cutting it out of the cereal box liner will last longer than tissue paper. It can be taped with Scotch tape if necessary. The pattern in the photo was traced from a coloring book.
By Monica from Cortez, CO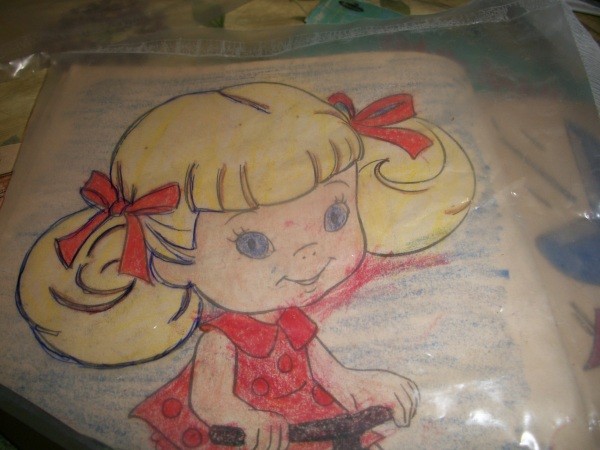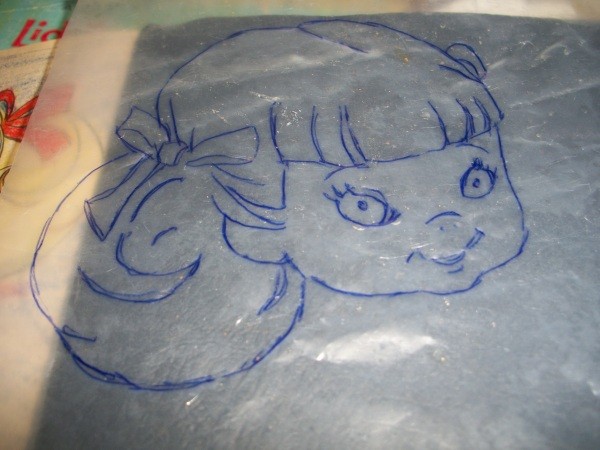 I found a creative way to wrap Christmas packages. I refused to buy wrapping paper, bows, or ribbon this year, so I began to save cereal boxes, oatmeal cartons, etc. I have accumulated quite an interesting array of grocery containers and they work just perfectly for most of our gift items.
My kids have started saying, "Mom has gone green!" Just think of all the space I am saving in a landfill by not adding to it with my pile of discarded wrapping paper. The boxes can be compacted and used in our garden this spring!
By Tabitha from Depew, OK
I use the cereal box liners as a protective surface when children are painting or gluing. Open the bag up on the seam so that you have a good size surface.
Happy Crafting.
By Cher from ME
After a box of cereal is done I save the inner wax bag to reuse as wax paper. I cut it to lay it out flat, to use it to protect the kitchen table when the kids are doing craft projects or using playdoh.
I use it cover the table for rolling dough out. Without cutting the bag I use it to keep cookies or baked goods. I also the cereal box apart and fold it flat to also use as a work surface protector or use it for cutting a template for a project.
By Chiptooth from Wampum, PA
This is the perfect way to save your Easter ham. A big ham fits perfectly in a recycled bag from a large box of cereal. For ham, I especially like the very large corn flakes bags. It's wonderful as you have no mess with going in and out of the bag as anything messy stays inside the bag. The ham can be "carefully" sliced inside the bag, if you're just slicing a small amount and don't want the mess. You can save the messy stuff inside the bag for future recipes. =
I save all cereal bags when the box of cereal has been eaten as they are too good to throw away. In my opinion, they are better than anything you can buy to store food or other things in. They're even good to cover seeds, that you have started indoors. Like Thrifty Fun, cereal bags are absolutely wonderful!
By Suzy from Clinton, TN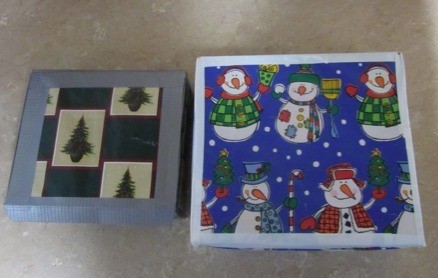 It's September and time to start thinking about Christmas. I try to have all my purchases done before November 1. I also save old boxes to wrap in gift paper to make my wrapping experience as stress free as possible by having them ready now. Using colored duct tape to finish the edges also adds to the festive mood. These boxes can be used over and over again.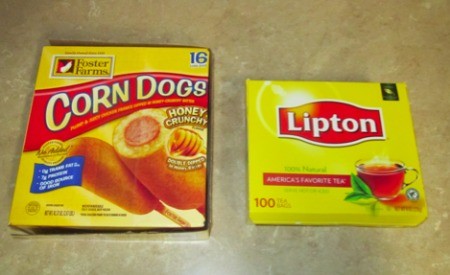 The bags that cereal comes in are great for storing all the leftover veggies in the freezer. I use a clothespin or chip clip to hold it closed.
When it is full, then you can throw the vegetables into the crockpot with a can of beef broth and tomatoes. Heating this up in the crockpot makes the flavors blend and it is an excellent vegetable soup. You can also sprinkle mozzarella cheese on top when you serve this vegetable soup, if you like.
By Robyn [366]
I am starting to sell things on Ebay. I recently read an article about packaging in a newsletter from recyclebank.com. The article suggested reusing what we already have. I thought of an idea so astonishing that I shut down and rushed over here to share it.
From here on, my packaging material will include at least one of the bags from the cereal box. I am making little bill caps and I will tape the bill to the little card from bias tape. It will keep the brim from bending or getting smushed in transit. The hat will go inside the cereal bag from which I have wiped the cereal debris with a damp cloth. Of course I won't use them right away. They will need to be dry when I send them out. These go out in envelopes.
For items requiring a box, I will cut the bags in strips. I also use the plastic grocery store bags to pack things. If you rumple them and ball them up, they make good padding and you don't have to buy anything. The added advantage is no printer's ink from newspaper packaging.
By Marty D. from Knoxville, TN
Cut the whole box diagonally, close the top flaps and tape them shut, voilá! Two magazine files free!
The giant Cheerios boxes are great for this. They hold the really large volumes. You can even cover or paint them with acrylic paint, if you like, to match your decor. Sure beats $5+ a pop!
My kids are always tearing the boxes that playing cards come in. I cut a Little Debbie oatmeal box down to where it is a little taller than the cards and put the cards in it. I used the bottom of the box and cut the top part off. I plan on decorating it later. The box will stand up or lay down.
By Sandrafadeley from Portland, TN
I use cereal boxes to hold craft stuff. I use one for colored paper, one for wax paper, and one for little paint holders (tea light cups, bottle caps, etc). I glue a piece of construction paper to the front, and let the kids color it. I cover the back with my kids coloring book pages. Then I punch holes in sides, string together with ribbon and hang on the wall.
By Sherry from Onset, MA