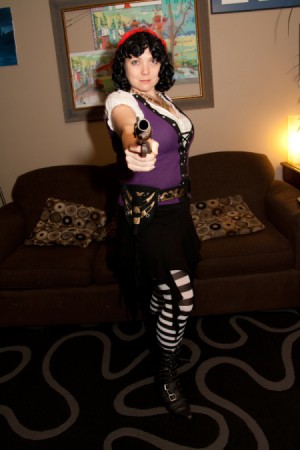 This is a girl pirate costume. I used nearly all things I had in my closet or Halloween trunk, except for the striped tights (new) and the off white blouse (Goodwill). It's more fun to make a costume instead of buying one :)
Approximate Time: 15 minutes
Supplies:
lace up tank or corset
ivory blouse
skirt
tights
boots
necklace
bandanna with black curls
weapon (cap gun)
Instructions:
The inspiration for this costume started with the ragged hem black skirt which I had in my closet. It looked perfect for a pirate. I got a pair of striped black and white tights. The buckled black boots had been in my costume trunk for years, worn in a variety of witch or goth costumes over the years. The ivory cotton blouse was a Goodwill find. It was the right shape and buttons up the front, which gave it an old fashioned look. I added a purple tank top that laces up the front but a vest or corset would have given a similar look.
I went through my costume jewelry and found a gold coin necklace and hoop earrings. I also had a red bandanna that has black curls attached. I had originally planned to braid or curl my blonde hair but the bandanna was easy and very pirate looking. I wore dark eyeliner and lipstick to bring out my features. My son had a belt that was originally intended for a MagicQuest wand, but it worked well as a holster for my pistol, which was an old cap gun. A sword or knife would have also been suitable. I didn't bother with an eyepatch or "hook" because I wanted to be comfortable.
When looking through different sites for ideas, one said something like, "As there were no women pirates that didn't just dress like men, you can wear whatever you like!" Take ideas from gypsy or tavern wench costumes, as long as it looks old fashioned. I'm planning on wearing this again and I might add a coin hip scarf, used in bellydancing, to give it a little more bling.
By Jess from Hillsboro, OR