Deviled eggs are a tasty snack anytime of year, but Halloween deviled eggs are even more fun. Make extra because these will get eaten quickly! This is a guide about making Halloween deviled eggs.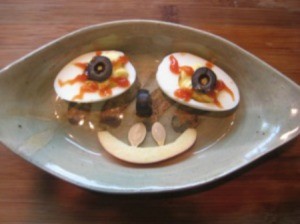 Ingredients
12 hard-boiled eggs
1/2 cup mayonnaise
2 tsp. Dijon mustard
2 tsp. apple cider vinegar
ketchup or chili sauce (as long as it is the same consistency as ketchup)
sliced olives
Note:
Feel free to use your favorite deviled egg recipe or adjust this recipe to your taste.
Directions:
Cut eggs in half, removing the yellow yolk and setting the white halves aside. Place the yolks with mayo, mustard and vinegar inside a ziplock bag and mash together until you have a consistent paste. Add salt and pepper, if you like.
Cut a small hole in the corner of the ziplock bag and pipe the filling back into the center of the egg whites. Place an olive in the center or the yolk filling.
Place a few tablespoons of ketchup in another ziplock bag and snip the edge, so that there is a small hole in the end. Add bloodshot lines with the ketchup, starting from the center going out toward the edge.
Warning: If you use the ketchup out of the bottle instead of putting it in the bag, the lines will be much larger and will not look like an eye. An icing bag or other decorating tools could be used if you have them. Just make the lines narrow.
Place on a platter and serve!
Something fun around the Halloween/Day of the Dead.
Ingredients:
deviled eggs recipe
various size straws
Directions:
Hard boil eggs. Use straws to "punch out" eyes, nose teeth in egg white, then either serve them as hard boiled eggs, or cut in half and make deviled egg mix to fill them and close them back up! Just something fun and cute for the table around Halloween time!
By AHA! from Sterling, PA
I am looking for Halloween themed deviled egg ideas.
By jan48 from Tampa, FL
---
Most Recent Answer
October 28, 2009
I am doing blood shot eyes when I boil the eggs. I pour off the hot water then roll the eggs against the pot kind of hard to crack them at odd places then I add red food coloring to the water but I use warm water and let them set for about 30 minutes then I but them in into clean cold water for easier peeling and I use the little sweet pickles sliced real thin on some and olives on others. I take roasted red peppers and slice them super thin to lay across the yolk mix up to the pupil part for that really blood shot effect. Debbie
---
Ingredients
6 large hard boiled eggs sliced in half
1 tsp. prepared spicy brown mustard
1/8 tsp. garlic powder
1 Tbsp. sweet pickle relish
2 tablespoons mayonnaise - your favorite brand
1 tsp. grated onion
1/8 tsp. paprika
pimento stuffed green olives for garnish
Directions
Scoop egg yolks out of egg halves. Mix the yolks with the other ingredients (except the hard boiled whites and green olives). Spoon yolk mixture back into hard boiled egg halves mounding the mixture up a little. Top with a slice of a pimento stuffed green olive or any garnish you can come up with to look like eyeballs. Happy Halloween!
Source: My original recipe for deviled eggs.
By Jessica from Wooster, AR
Feedback:
RE: Deviled Eyeballs
What a clever and timely idea! I can just imagine using slivers of red bell pepper as "bloodshot" radiating from the olive "pupil". Will try it! (10/28/2008)

By Nance