Videos
Watch and rate the videos below.
Solutions: Making Spider Cupcakes
Read and rate the best solutions below by giving them a "thumbs up".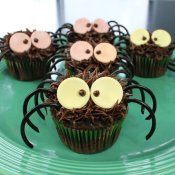 This is a cute way to decorate cupcakes for Halloween. A great treat to bring to a party.
Ingredients:
chocolate cake mix
chocolate frosting
black licorice wheels or rope
Smarties or Neccos
toothpicks cut in half
Directions:
Start by making the cupcakes according to the box.
Once the cupcakes are cooled, you can begin frosting. With a star shape frosting tip, start by adding a dab of frosting in the middle of the cupcake. Make the frosting look hairy by lifting up an leaving a tail to the star shape. Next frost around this first dab and continue around until the cupcake is covered.
If you are using licorice wheels, unroll the wheel and cut at the length you would like your spider legs to be. Separate down the middle where the licorice is segmented, so you will have 2 skinny spider legs.
Stick the end of the licorice with the poky side of the toothpick, and stick the toothpick into the cupcake. Add four legs to each side.
Dab a black bit of frosting on to two of the Smartie or Neccos, to make eyes.
To finish, place the eyes onto the cupcake.
Enjoy!
By Stellabell from Manchester, WA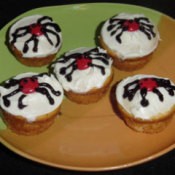 These are super quick cupcakes that would be a great project to make with kids. I was making other Halloween themed cupcake and had some leftover materials and came up with these cute mini cupcakes.
Ingredients:
yellow or white cake mix (You could use any kind, I used this because it was left over from the Skull Cakes I made).
white frosting (I used cream cheese frosting because it is tasty).
mini muffin tin
Bback cake decorating gel
M&M's
Directions:
Make cupcakes according to the box.
When cupcakes have cooled completely you may begin decorating.
Frost the cupcake with white frosting.
Place a M&M in the middle, with the black gel make 4 legs on each side and two dots on the M&M for the eyes.
By Stella Rivet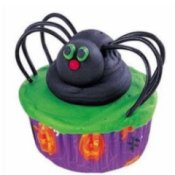 These colorful spiders are the perfect treat for your child to share with friends. They are too cute to be scary!

View This Page (not on ThriftyFun)
http://www.wilton.com/idea/Silly-Spiders
This page is not on ThriftyFun. Be sure to come back to this page and rate it!
Share Your Feedback:
Once you try any of the above solutions, be sure to come back and give a "thumbs up" to the solution that worked the best for you. Do you have a better solution? Click "Share a Solution" above!
Questions
Do you have a question related to this page?
Related Guides
Related Posts