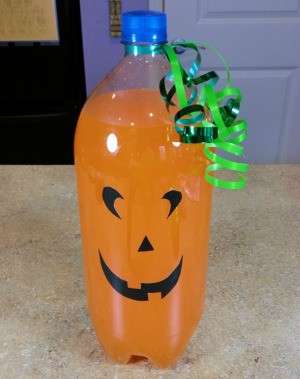 When planning a Halloween party part of the fun is coming up with creative, spooky food ideas. This is a guide about Halloween party food ideas.
Solutions
Read and rate the best solutions below by giving them a "thumbs up".
Sandwich Fingers
This is a simple way to decorate your sandwiches for Halloween. Great as an appetizer or sent as a school lunch.
Ingredients
sliced almond slivers
sliced bread
peanut butter or jelly or both, tuna would also work
Directions
Make sandwich as usual then cut the crust off all the sides, keeping the curvature at the top. Now cut the sandwich into thin rectangles about 1/2 an inch wide. At the top where there is a curve even out to make it look like a tip of a finger. With a little bit of peanut butter (or mayonnaise) place one almond sliver at the end of the thin sandwich this is the fingernail.
These spooky breadsticks are perfect for a Halloween party. They are quick and easy to make too.
Ingredients:
1 can (7 oz) refrigerated breadsticks
1 egg white beaten
1 Tbsp. Parmesan cheese
1/2 tsp. dried basil leaves
1 can (8 oz) pizza sauce
Directions:
Heat oven to 375 degrees F spray cookie sheet with non stick cooking spray. Unroll dough, separate at perforations into 6 breadsticks. Roll each until 12 inches long. Loosely tie knot in both ends of each breadstick, place on cookie sheet. Brush breadsticks with egg white. Sprinkle with cheese and basil. Bake 12-14 minutes or until golden brown. Serve with pizza sauce for dipping.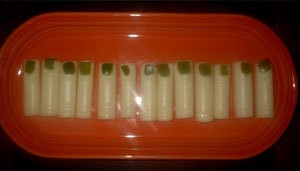 These are easy to make with string cheese and green peppers. It is a fun and easy appetizer for your Halloween party.
Ingredients:
string cheese
green bell pepper
cream cheese (optional)
Directions:
Cut the green bell pepper in to finger nail shapes and cut down the inside of the pepper to make the "nail" thinner.
Cut the string cheese in half. At the end of the rounded off side, cut out a place for the nail to sit. Add a little cream cheese to the bottom of the pepper to help it stick to the cheese if desired. Make out lines to create the knuckles one at the end and one just under the nail.
My husband's favorite holiday is Halloween. He loves decorating our house and our yard, But the best to him is all the candy he gets to give out. (and eat!)
I have been collecting Halloween treat recipes for many years. Some of these are from parents of children that my kids went to school with and some from their teachers. Some recipe are from Mrs. Julia Kenyon who gave me her Halloween Popcorn Ball recipe that she made for 30 odd years for all the neighborhood children right before she died. Others have come from the parents of my grandchildren's friends. I hope you enjoy them all.
Chocolate Spiderweb Cookies
1 tube of refrigerator sugar cookies
4 1 oz. squares unsweetened chocolate, melted
can of chocolate frosting
Cut cookies into circles, bake at 350 degrees F for 10 to 12 minutes. Cool on cookie sheets 5 minutes. Remove to wire racks to cool completely. Spread frosting over cookies to within 1/8 inch of edge; let stand until frosting sets. Place chocolate morsels in top of a double boiler; bring water to a boil. Reduce heat to low; cook until chocolate melts. Let stand until almost cool but not set. Spoon melted chocolate into decorating bag fitted with metal tip No. 2.
For round pattern, pipe chocolate in 5 or 6 circles around top of cookie. Pull the point of a wooden pick across chocolate circles from the center to the outer edge. Repeat 8 or 10 times, spacing evenly across top of cookie.
For linear pattern, pipe chocolate in parallel lines, about 1/4-inch apart, across top of cookie. Pull the point of a wooden pick diagonally across lines. Let stand at room temperature until chocolate is firm. Yield: 6 dozen
Dead Men's Legs Cookies
1 egg
1/2 cup sugar
1/3 cup finely chopped blanched/skinned almonds
1/2 cup all purpose flour
Preheat oven to 325 degrees F. Beat egg lightly and gradually add sugar. Beat with mixer until light and foamy, about 20 minutes. Add almonds and flour; mix well. Roll dough into finger-thick ropes on a very light floured surface. Flatten slightly with fingertips and cut into 3 inch lengths and place on ungreased cookie sheets.Bake in oven until light brown, about 10 minutes. Remove from cookie sheets and cool completely before storing in airtight containers.Stores 1 to 2 months. Makes 2 dozen cookies.
Easy Halloween Cookies
Ritz crackers
creamy peanut butter
white chocolate, melted
orange sprinkles
Take Ritz Crackers and make sandwich cookies out of them using peanut butter for the filling. Then coat each one in melted chocolate "almond bark" (without almonds). Place on wax paper. Put some orange sprinkles on top and put in the refrigerator to cool.Store in an air tight container. No need to refrigerate once they set.
Flat Cat Cookies
1 package (20 oz.) refrigerated sugar cookie dough
1 To 2 Tbsp. flour
red cinnamon candies
seedless strawberry jam
Preheat oven to temperature specified on package. Sprinkle flour on a clean, flat surface and roll out cookie dough slightly thicker than what the package calls for. Then, using butter knife, cut out cookies in the shape of a flattened cat. Use a large spatula to carefully transfer cookies to cookie sheet. Bake according to package directions. While they are cooling, count out enough cinnamon candies to put two eyes and a nose on each cat. Carefully flatten between the front and back of two spoons and set aside. Allow the cookies to cool on the cookie sheet for about 3 minutes and then press in eyes and nose. Transfer to wire rack to continue cooling. Dribble jam here and there on each cookie for blood. Makes approximately 3 dozen kitty road kill cookies.
Fudgy Bat Cookies
9 oz chocolate wafer cookies
4 oz milk chocolate candy melts
Use a serrated knife to carefully cut 18 of the cookies into quarters. Save remaining cookies for another use. For each bat, place 2 cookie quarters 1/4 inch apart on waxed paper. Repeat with remaining quarters. Melt candy melts. Drop about 1/2 teaspoon of melted candy at center of each bat, connecting cookies. Use a toothpick to smooth melted candy into a uniform circle. Cool completely before removing from waxed paper. Yield: 3 dozen
Chocolate Spiders
12 oz Twizzlers; chocolate flavor
4 oz milk chocolate candy melts
Cut twizzlers into 1 1/2 inch pieces. Slice each piece in half lengthwise. On waxed paper, place 4 legs (pieces) on each side and then drop 1 tsp melted candy in middle for body. Use a toothpick to smooth to uniform circle and connect all candy pieces. Cool completely before removing from waxed paper. Yield: 2 dozen
Great Ghost Pumpkin Cookies
2 cups flour
1 cup quick oats, un-cooked
1 tsp. baking soda
1 tsp. cinnamon
1/2 tsp. salt
1 cup butter or margarine -- softened
1 cup brown sugar -- packed
1 cup granulated sugar
1 egg, slightly beaten
1 tsp. vanilla
1 cup Libby's solid-pack pumpkin
1 cup semi-sweet morsels
Preheat oven to 350 degrees F. Combine flour, oats, baking soda, cinnamon and salt; set aside. Cream butter; gradually add sugars, beating until light and fluffy. Add egg and vanilla; mix. Alternate additions of dry ingredients and pumpkin, mixing well after each addition. Stir in morsels. For each cookie, drop 1/4 cup dough onto lightly greased cookie sheet; spread dough into a ghost shape using a thin metal spatula. Or make a quick ghost pattern of heavy paper. Make 2 or three poses for realism. Bake 20-25 minutes, til cookies are firm and lightly browned. Remove from cookie sheets; cool on racks. Spread with white royal icing. Trim brown face features with tube-icing.Yields 19-20 large cookies.
Halloween Crispy Candy Corn Treats
1/2 cup butter
10 cups crispy rice cereal
9 cups miniature marshmallows
2 cups mixture of candy corn and Indian candy corn
3/4 cup miniature chocolate chips
candy pumpkins
orange food coloring
Melt butter and marshmallows; stir until smooth. In a large bowl, mix rice cereal, candy corn and miniature chips together. Add orange food coloring to marshmallow mixture, or squirt over cereal in bowl.Add marshmallow mixture to cereal mixture; stir quickly to combine. Spread on a large buttered jelly roll pan; press with buttered hands. While warm, press on candy pumpkins spaced 1 to 1/2-2 inches apart.Refrigerate and cut into squares.
Nightcrawlers
12 large apples
boysenberry jam
4 Tbsp. butter
12 gummy worms
Preheat oven to 350 degrees F. Core apples from stem end to 1/2 inch from bottom. Stuff each hole with 1 tsp jam and butter. Place in a pan and bake uncovered for 35-45 minutes. Remove apples let stand for 15 minutes. Set each apple in a bowl and spoon syrup from baking pan around it. Insert a gummy worm with half its body protruding.
Roasted Pumpkin Seeds
pumpkin seeds
water
salt
melted butter
vegetable spray
Preheat oven to 350 degrees F. Rinse seeds well. For every 2 cups of seeds, put 4 cups of water and 2 Tbsp. of salt into saucepan. Add the seeds and simmer over low heat for 10 minutes. Drain well in strainer. Place on paper towels and pat dry. Toss the seeds with melted unsalted butter in a large bowl until evenly coated. Spray cookie sheet with vegetable spray. Spread seeds over tray and bake for 30 minutes, stirring, and tossing occasionally. When seeds are golden brown they are ready. Store in airtight container in cool place.
Popcorn Balls
2 1/2 quarts popped popcorn
1 14-oz package light caramels
1/4 cup light corn syrup
2 Tbsp. water
Keep popcorn warm in a 200 degree F oven. Melt caramels in top of double boiler over simmering water. Add corn syrup and water and mix until smooth. Slowly pour over popcorn in a large bowl. Stir to mix well. With greased hands, shape into balls about the size of softballs. Let cool completely before wrapping with plastic wrap.
Candied Apples
12 red delicious apples
12 wooden skewers
4 1/2 cups sugar
3/4 cup light corn syrup
1 tsp. red food colouring
1 1/2 cups water
1 cup chopped peanuts
Grease a large cookie sheet and set aside. Wash and dry apples. Insert a stick through stem, leaving about two inches sticking out. In saucepan over medium heat, combine sugar, corn syrup, food colouring and water. Cook, stirring constantly, until ingredients are dissolved and liquid boils. Set a candy thermometer in mixture and continue cooking, without stirring until temperature reaches 290 degrees, about 20 minutes. Meanwhile place shopped peanuts in a bowl. Remove syrup from heat and dip the apples, one by one, to coat evenly. Work quickly. As you dip each apple roll in peanuts to coat then place on prepared cookie sheet. Let apples cool for at least an hour.
By Debra Frick
Halloween Popcorn Hand Party Favor
These favors are always a hit with children and adults too. They get a kick out of receiving the favor because of the "novelty" of the use of the glove.
Ingredients:
Clear plastic gloves (food service type)
Microwave popcorn
Corn Candy
Spider rings
Colorful yarn
Directions:
Open glove and put a piece of corn candy into the tip of each finger. These are the "fingernails". Fill the gloves with cooked and cooled popcorn. Tie with colorful yarn and put spider ring on one finger.
You can buy a package of 100 of these gloves at the Dollar Tree. I apologize for not having the candy corn and spider ring on the one I did hurriedly today to give you the idea of the finished product. The most difficult part is getting the popcorn down into the finger parts, but well worth the reaction of those who receive them!
Source: From either Woman's Day or Family Circle magazine approximately 10 years ago.
By southeastgeorgiapeach from Jesup, GA
Dress up your drinks for your next Halloween party.
Approximate Time: 10 minutes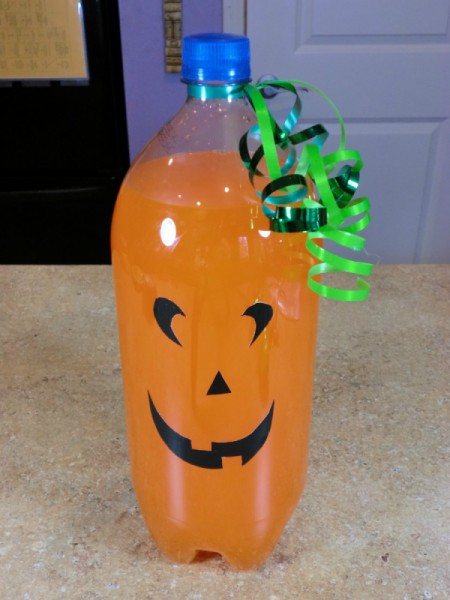 Supplies:
1 2-liter bottle orange soda
1 roll black duct tape
green curling ribbon
exacto knife
cutting mat
scissors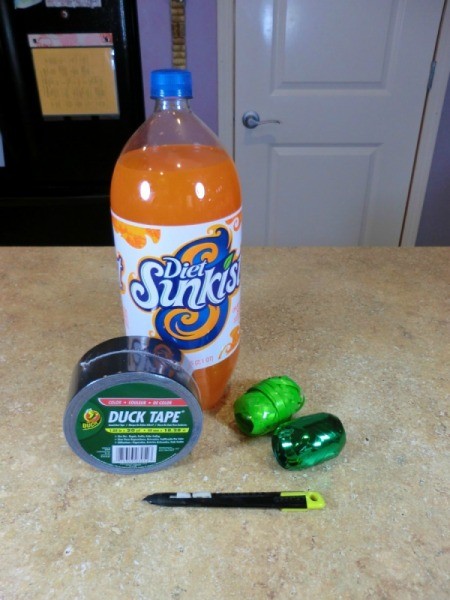 Steps:
Remove the label from the soda bottle.
Unroll some of the duct tape onto a cutting mat.
Cut out a mouth, nose, and eyes from the duct tape.
Adhere the face pieces onto the bottle.
Cut some pieces of curling ribbon (approx. 2 ft.). Tie them around the neck of the bottle and curl the ribbon with scissors.
By lalala...
A great treat for a Halloween potluck.
Approximate Time: 40 Minutes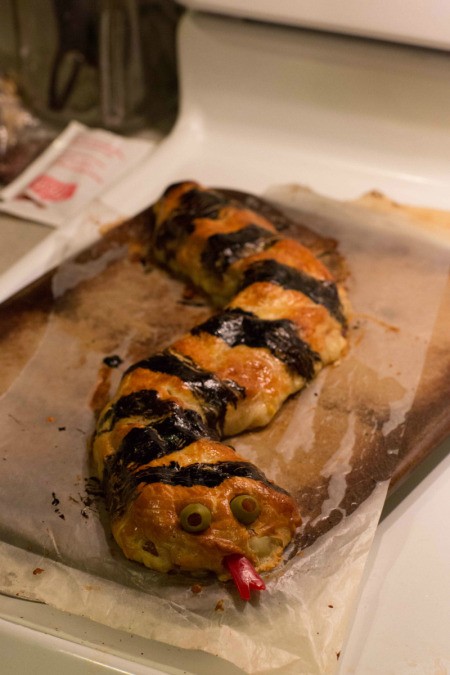 Ingredients:
1 tube crescent roll dough
4 Tbsp spicy mustard
1/4 lb salami
1/4 lb thin sliced deli ham
1/2 lb shredded Monteray jack cheese
1 egg, beaten
food coloring
2 cloves
2 green olives with pimento
1 red bell pepper (for tongue)
Steps:
Preheat oven to 375 degrees F.
Dust surface with flour. Unroll crescent roll (do not seperate). Dust top generously with flour as dough is sticky. Pinch seams together and roll out lengthwise.
Brush with spicy brown mustard. Leave an inch of dough on all sides.
Layer salami and ham in one row down the length of the dough leaving one inch of space on either end. Top with cheese.
Fold one side of the dough over the center lengthwise. Follow with the other side of the dough. Pinch edges to seal. Round and shape - taper one end to make the tail, round the other to look like a head, and wave the body to make it snakey.
Brush with beaten egg.
Paint with food coloring. I made black stripes.
Bake at 375 degrees F for about 30 minutes, or until golden brown.
Make the snake's face using olives for the eyes, cloves for the nose holes, and a strip of red pepper for the tongue (I forked the end)
By Stephanie
Ingredients:
4 medium pears, stems removed
9 (2 oz.) squares almond bark
Mini chocolate chips
4 wooden craft sticks
Directions:
Line baking sheet with wax paper. Insert sticks into stem ends of pears. Melt bark according to package directions. Dip pear into bark spooning over top to coat evenly. Remove excess by scraping pear bottom across rim of measuring cup. Place on baking cup let set 1 minute. Decorate with chocolate chips. Repeat with remaining pears. Place spoonful of extra bark at bottom of pears for ghost tails. Refrigerate until firm.
By Jodi from Aurora, CO
Ingredients
2 bags microwave popcorn, (3.5 ounces each) popped
4 cups corn and rice cereal
2 cups tiny pretzels
2 cups minature marshmallows, divided
1 cup semisweet chocolate morsels
1/2 cup creamy or crunchy peanut butter
1/4 cup stick margarine.
2 cups confectioners sugar
1 cup peanuts (optional)
Directions
Combine popcorn, cereal and pretzels in a large bowl. Melt 1 cup marshmallows, chocolate morsels, peanut butter and margarine in sauce pan over medium heat, stirring constantly. Drizzle marshmallow mixture evenly over mixture in the bowl, tossing to coat. Sprinkle powdered sugar over mixture, tossing to coat. Spread mixture in single layer onto large piece of wax paper; cool completely. Toss remaining 1 cup marshmellows and peanuts, if desired with popcorn mixture. Store in airtight container.
By Faith from Medford, OR
Here's an idea that never fails to amuse the kids at Halloween: Make any kind of cake that you like. Remove a slice (eat it or hide it where the kids won't find it). Put a little plastic jack-o-lantern on top of the cake. Smear some icing on the pumpkin's mouth and tell the kids Mr. Pumpkin ate the cake. Kids love it and the little one really believe it!

Joan from Chesapeake, VA
A quick way to dress up your snack table at a Halloween party is to make a cheese ball pumpkin jar. Simple take a lidded jar, tie some green curling ribbon onto the lid, and curl the ribbon to look like vines. Fill the jar with cheese balls (or another orange treat) and put it out for your guests. :)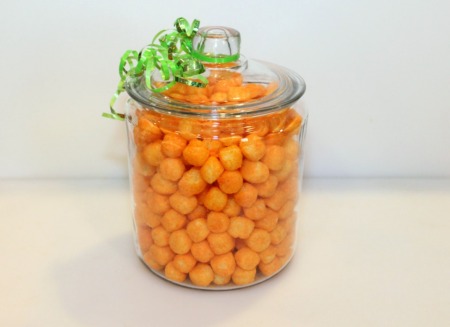 By lalala...
Share Your Feedback: Once you try any of the above solutions, be sure to come back and give a "thumbs up" to the one that worked the best for you. Do you have a better solution? Click "Share a Solution" above!
Questions
Here are questions related to Halloween Party Food Ideas.
My kids are having a Halloween party this year. I was hoping that someone might have some gruesome, gory, or creepy food recipes. I have looked at several sites but it seems that most have the same ones over and over again...

Delaine in GA
---
Most Recent Answer

By Theresabentley09/23/2010
Here is a fun recipe. And they really do look like eyeballs!
cleverkidsparty.com/halloweenpartyfood.html
Dried apple rings
Dried apricots
Raisins

1) For each eyeball, flatten 1 dried apple ring with the palm of your hand.
2) Slice a dried apricot through the middle so that you end up with two circular halves. Press a half, sticky side down, onto the center of an apple ring, covering the hole.
3) For pupils, use kitchen scissors to cut a raisin in two, and press a half, sticky side down, onto the apricots.

A few years ago I made a fun dessert for my husband's Halloween party at his work. It was called "Roadkill something ". It used cherry/raspberry pie filling and was similar to a cobbler type dessert, and looked a bit disgusting like something squished on the road; but got excellent compliments on its tastiness. Now I have a need for it again and can't find the recipe. Anyone have any ideas or suggestions?
By Siouxzy
I'm having a Halloween party and I have the decorations set but I need a little help on ideas with the food. I have eyeball ice cubes and I'm putting little plastic spiders on toothpicks but what else can I do? Thanks!

Jenny from Milwaukee, WI
---
Most Recent Answer

By DEDE (Guest Post)10/29/2008
Road kill puppy dip platter: One year at a work party, we had a scary foods contest and this one won! Rip the back and stuffing out of a stuffed toy. One laying down works best, and I used a dog. Place in the hole you ripped out, a bowl with a pinkish or green dip to serve with chips or crackers. Yeah, yuck. Now add some icing tinted red for blood and make sure the dip is chunky!
Photos
This is a simple Halloween project you and your kids can do together. They make a super treat for home or a class at school. Simply make brownies, following the directions on the package. Allow them to cool and then use a cookie cutter to cut out ghost shapes, as opposed to cutting them in squares.
Set the brownie ghosts on a plate and then sprinkle them with confectioners sugar (powdered sugar) to make them white. They were a big hit at our house!
By Marie from West Dundee, IL