Read and rate the best solutions below by giving them a "thumbs up".
Remedies for Bad Breath
I have bad breathe. I went to the doctor for my sinuses. She gave me some nasal spray and some antibiotics. But I still have bad breathe. It is so bad that I work with people who talk behind my back. I work as a waitress so that is really, really bad. Help Me!
Shorty from Columbia, MO
---
RE: Remedies for Bad Breath
I have sinus problems and I can truly sympathize. You could try getting a tongue cleaner. They can be found at most stores where the toothbrushes are sold. They work with toothpaste and scrape the top of the tongue to clean-it really helps! Also, have you tried a neti pot? They are great! They can be found in most health food stores and can be used with regular slightly warm tap water and a quarter teaspoon of either kosher salt or sea salt. It rinses out the sinuses, and you will notice a big difference. I hope this helps. Good luck! (05/23/2006)
By Giselle
RE: Remedies for Bad Breath
Hi, Shorty, I've heard that a certain kind of bacteria (I think it's h.pylori, the same one that can cause ulcers) can cause bad breath; your doctor can test you for that and if you have it, prescribe something to get rid of it. Also, Giselle is right: cleaning the tongue cures bad breath for some people. (If cleaning your tongue makes you want to gag, try swishing ultracold ice water around in your mouth just before the cleaning; that seems to deaden the gag reflex a little.) Also, I heard that a mouth this is too dry can cause bad breath; so avoid mouthwashes, cough drops, etc. that have alcohol or any kind of drying agent in them. Chewing gum is supposed to keep the mouth moister too. Good luck! (05/23/2006)
RE: Remedies for Bad Breath
Stop drinking coffee. I had the unpleasant task of telling a colleague that her breathe was really REALLY unpleasant. But I noticed it was after she had had her morning coffee. She has switched to tea, and presto, no more bad breath. (05/23/2006)
By Ang
RE: Remedies for Bad Breath
If you smoke, QUIT! Use the tongue scraper too. That works miracles. Floss daily. Food rots between your teeth and will stink if you don't get it out. Drink water continously. Finally, if these methods don't work, see a doctor. could be a health problem. (05/23/2006)
By Mary
RE: Remedies for Bad Breath
My hubby gets really bad breath after drinking coffee, if you drink coffee too it may be the culprit. (05/23/2006)
RE: Remedies for Bad Breath
Go have your dentist check your teeth, gums and mouth. Even the slightest decaying tooth will cause bad breath...your dentist can write you prescriptions for your mouth too. Dentists can most definitely help you with this sort of problem and in your line of work it is very, very important! Good Luck! (05/23/2006)
By Paula Jo Carr
RE: Remedies for Bad Breath
Listerine whitening is very mild in taste and alcohol, but still works great in killing bad breath! And tongue cleaning works wonders, I think that is the main breeding ground! Regarding coffee for bad breath, I was wondering, is it worse for people who use cream and/or sugar? (05/23/2006)
By camo_angels
RE: Remedies for Bad Breath
Did she give you antibiotics for the sinus infection? That may be your culprit... because antibiotics mess with your natural bacteria, and may mess up the "microsystem" and cause bad breath (same concept with stinky feet and other places...) If it subsides after the antibiotics (eat a lot of yogurt) then it may be to blame! (05/23/2006)
By camo_angels
RE: Remedies for Bad Breath
You might also want to consider going to the health food store and buying chloryphill tablets. (05/24/2006)
By plbcrow
RE: Remedies for Bad Breath
My dental hygienist told me to brush my tongue with my toothbrush. I bought an implement for this purpose at the drug store. It was in the toothbrush section... and inexpensive. She also told me to rinse my mouth after brushing with half a capful of Listerine mixed with half a capful of water. She said Listerine is the best. Also, I noticed it is the brand used in their office.
If you have any kind of infection in your sinuses, tonsils, or mouth, your breath will smell like infection. I recommend spraying your sinuses with salt water spray which can be purchased in the nose drop/cold remedy section of the drug store. Rinse your sinuses several times a day with this salt water spray. One brand name is Ocean Spray, but I use the generic brand.
Also, have a good dental checkup. You may have gum disease. But I'm betting its your sinuses. My daughter had a lot of trouble with hers and hers gave her bad breath. (05/24/2006)
By Carol in PA
RE: Remedies for Bad Breath
Hi Shorty! If all of these great suggestions don't work for you, you should probably see a doctor. My daughter's problem was solved after she had her tonsils out. She used to get white spots on her tonsils but her throat didn't get sore. Anyway, I hope something helps you and I applaud you for trying to find a solution! (05/24/2006)
By Luvyabye
RE: Remedies for Bad Breath
Be sure to floss daily, too. (05/24/2006)
By Diana
---
Remedies for Bad Breath
I am suffering from bad breath. Please send me a home remedy to cure this problem.
Prinx from India
---
RE: Remedies for Bad Breath
I use 1/2 hydrogen peroxide, 1/2 water as a mouthwash. It's primarily for my gums but also really good at killing mouth bacteria! (07/11/2007)
By pamphyila
RE: Remedies for Bad Breath
Chew on fennel. It is used as a mouth freshener and an after meal digestive. Indian restaurants often serve fennel candy as an after dinner mint. (07/12/2007)
By Marti
RE: Remedies for Bad Breath
Have you been checked to see if your gums are infected? Preventive services to keep it from happening are not common in India, I understand, so it is almost totally likely that you have periodontal disease. Infection always smells terrible, and it could be deep under your gums. Glad you got online and asked! Kim, dental hygienist in Washington State (07/12/2007)
By kimhis
RE: Remedies for Bad Breath
I know from a relative that bad breath can be related to celiac disease (autoimmune disease that damages the intestine when gluten is ingested). When the gluten (wheat, rye, barley, oats) were removed, the bad breath improved greatly. You would have to check with your doctor for the proper testing and advice. (07/20/2007)
By Nancy
RE: Remedies for Bad Breath
Type in 'thera breath' in the search engine. It worked great for me. The official website explains everything. (08/31/2007)
By Winnie_01
RE: Remedies for Bad Breath
Here's some ideas:
Chew on parsley or mint leaves.
Keep a small bottle of mouthwash handy and use several times per day.
Use a tongue scraper or gently brush your tongue.
Floss after eating.
Clean all areas of the mouth when brushing, including around the tongue and cheeks.
Get tested for any allergies such as dairy or gluten. Hope they help! (10/05/2007)
By Cathy from Townsville, QLD
RE: Remedies for Bad Breath
I suffered for many years from this problem and have finally got some relief. 2x per day I irrigate with water and hydrogen peroxide - I have a 600 ml Water Pik which I fill with water, then I add 1 1/2 tbsp 35% hydrogen peroxide (Careful-extremely dangerous if handled full strength or comes into contact with your skin) then I irrigate. Make sure to get all in the back at the gums and the roots of the teeth. Side Benefit: Beautifully white teeth! The calcified plaque foams off. Amazing results! (02/03/2009)
By anansi
---
Getting Rid of Bad Breath
How do you get rid of bad breath? Could it be bacteria or could it be from cavities?

Tamala from Columbia, MO
---
RE: Getting Rid of Bad Breath
I have worked in a dental office for 15 years, so this question comes up a lot. Have you tried brushing your tongue? That helps. Also, dental cavities do leave nasty odors, is it time for a check up? Good oral health is very important for everyone of all ages! During your check up tell the dentist or assistant about your issue, maybe they can give out samples of products to try, that's what I always did. Hope this helps you. Take care! :) (04/18/2006)
By mobo
RE: Getting Rid of Bad Breath
Use Listerine daily. Brush your teeth 3 times a day too. My sister has the same problem and the dentist says it's her gums. She also chews a lot of sugar free minty gum, it helps (believe me lol) (04/18/2006)
By kimmcg
RE: Getting Rid of Bad Breath
Try eating parsley. It is also very good in homemade doggy biscuits if your dogs have bad breath. If this doesn't work however, I would first get a thorough clean of your teeth at the dentist. If that doesn't help, your doctor should be your next port of call. I hope this is of help. Cheers, Wendy M. from Australia (04/18/2006)
By Wendy M.
RE: Getting Rid of Bad Breath
Thank you for the info. I do brush my tongue and I have been to the dentist and they offer some Breath X. It helps for a minute. I do have cavities. When my appointments come around I seem to be short on money and reschedule my appt. to another week or two. But I have a dentist appt. next Friday. Thanks again for the great advice. (04/18/2006)
RE: Getting Rid of Bad Breath
I was in the dental field for over 17 years so here is my main tip: FLOSS! The floss will help get rid of tiny stuff that can cause bacteria, hence smelling bad. Use floss daily (at least twice a day). Floss comes in many forms try using a waxed dental tape as it is easier to use, also lots like the green mint waxed floss. Waxed makes it easier to slide between teeth. Yes, cavities can cause odor due to bacteria building up and causing odor. Brush often with a soft brush, as hard brushes can tear up your gums. Change toothbrushes every three months or after colds and flu.
An easy rinse is using 3% hydrogen peroxide. It kills germs and bad breath. You can just pour some on your brush to brush away things between your teeth. If this does not immediately help, then try mixing some baking soda and peroxide and swishing with that. I also brush daily with peroxide and sometimes add a dab of baking soda to my brush. I have been lucky not to suffer from bad breath but one of my sisters had it bad. If this does not help sometimes, but not often, this needs to be addressed by your medical doctor after you discuss this with your dentist. I worked in general dentistry then in periodontal practice which deals with the gums, that being said I have to tell you the famous old periodontal quote; Brush and floss only those teeth you wish to keep! Good luck with your dental health. (04/19/2006)
By meoowmom
RE: Getting Rid of Bad Breath
Tamala, I just noticed we are nearly neighbors! I live in Hallsville. (04/19/2006)
By meoowmom
RE: Getting Rid of Bad Breath
Flossing is important. Brush your tongue with your toothbrush or an implement sold to clean your tongue. Rinse your teeth with half a cap of Listerine diluted with half a cap of water. Best of luck. (04/19/2006)
By Carol from Wyoming, PA
RE: Getting Rid of Bad Breath
Could it be from sinuses? (04/19/2006)
RE: Getting Rid of Bad Breath
I agree with everyone here, especially the flossing. However, if the bad breath is persistent, it could be a health issue. My daughter had bad breath which came from bad tonsils, she used to get white spots on them. The tonsils weren't sore but the white spots caused bad breath. After her tonsils were removed, the problem was solved. So, if the above advice doesn't work, perhaps you should see your doctor and get a good physical. God bless you. (04/19/2006)
By Luvyabye
RE: Getting Rid of Bad Breath
I was wondering if cavities were from genes? I brush and floss twice a day, and seem to still have cavities...is there any recommendations? (b)Editor's Note:(/b) Cavities don't go away by themselves. Please see a dentist, they can spread. (09/15/2006)
RE: Getting Rid of Bad Breath
I'm tired of people telling me to go brush my teeth because I have bad breath. I go to the dentist every year. Every year they clean my teeth, tell me I have no cavities, and tell me to come back next year. I don't taste any icky stuff from my teeth. The bad taste is coming from further back in the throat. I believe it's sinus drainage that causes the bad breath. The only time in my 50 years that I remember not having bad breath was when I was on tetracycline for my acne. Nobody will prescribe antibiotics indefinitely for bad breath. The sickening sweet toothpaste and mouthwash seem to make the problem worse. Baking soda and peroxide make my teeth feel cleaner, but the lingering bad taste in the back of my mouth returns by the time I arrive at work in the morning. Are there natural ways to clear sinus problems? I fear the dizzy side effects of sinus tablets may cause a driving accident. (09/27/2006)
By betty
RE: Getting Rid of Bad Breath
Please see an ear nose and throat specialist and ask him to do allergy tests. Allergies do cause sinus problems as well as tonsillitis. You will need to treat the allergies and the symptoms in order for the bad breath to disappear. A friend had his tonsils removed because of regular tonsillitis, but afterward suffered for years from throat infections. A specialist found that his tonsils had been removed unnecessarily, because the reason for all his problems was an allergy. Once he started treating the allergy, he had no more infections of the respiratory system. I found that the same held true for my children. (09/27/2006)
By Willem
RE: Getting Rid of Bad Breath
I have bad breath. I have no cavities, and barely any plaque but I have bad breath. I brush my tongue and teeth and either side of the cheeks, and use Listerine. I haven't tried flossing though, could that be the answer? (11/07/2008)
By Jack
---
Getting Rid of Bad Breath
What can I do to get rid of bad breath? I brush and floss and visit my dentist every 3 months. I do drink coffee and tea, so that probably doesn't help. Any easy pointers?
LF from Denver, CO
---
RE: Getting Rid of Bad Breath
Breath Assure gets rid of that not in your mouth type of bad breath. It's parsley oil in gel capsules, it really works for me. You should also check out this blog http://badbreath-cure.blogspot.com/ (12/30/2008)
By Dian
RE: Getting Rid of Bad Breath
I do all the right things and still have bad breath. Mine is caused by gum disease. I use Oral B Amosan mouthwash as directed 4 times daily, it's especially for gingivitis, Vincents infection, denture irritation, and minor oral infection. Sometimes some of us just have certain gum diseases that brushing, flossing, and the best dental treatment will not work. Also, great for after dental work especially an extraction, stops infection. My hubby cannot take any antibiotics at all. This cleared up the infected teeth, gums and, and near blood poisoning. His teeth had to be removed to stop blood poisoning in it's tracks.
Pretty good job in my books, for more info on oral care visit www.oralb.com. It comes in easy to use single dose and if I can use it a baby can given my severe allergies. If I keep this up daily, no bad breath. Good luck.
Balance Deer Woman (01/05/2009)
By Yetta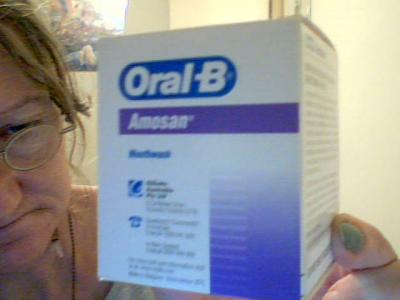 RE: Getting Rid of Bad Breath
Brushing your tongue and the roof of your mouth helps with bad breath, also. (01/05/2009)
RE: Getting Rid of Bad Breath
This won't be the nicest post I have ever done, but it might help a lot of you. The digestive tract is basically a tube that runs from the top to the "bottom". Some folks have breath that smells like, well, feces. I know, I know, but I am just too darned old to say "poop" or "#2", so there you go.
That indicates it is a problem with your bowels, stomach, or yes, GERD, which is Gastro Esophageal Reflux Disorder or GIRD which is just Intestinal instead of Esophageal. Sometimes, things back up and don't go out the direction they are suppose to. You may want to get on webmd and find out more. Good luck! (01/05/2009)
RE: Getting Rid of Bad Breath
My husband's dentist gave him a prescription mouth wash for this. Ask your dentist. I wasn't expensive. (01/05/2009)
By Kathy
RE: Getting Rid of Bad Breath
I brush my tongue and my teeth and also use a tongue cleaner/scraper. I did a quick search and found this:
mayoclinic.com (01/05/2009)
By Maryeileen
RE: Getting Rid of Bad Breath
If you have no teeth or gum problems and your oral hygiene is good it is either your diet or perhaps a medication if you take any. When I was young I dated a guy for a long time and he had horrid breath, but when he changed the way he ate the bad breath went away. Everyone's body is different so you'll need to cut out one certain food at a time and see which one(s) are causing this. As PoorButProud said it is probably an issue with the inside of your body. (01/05/2009)
By Deeli
RE: Getting Rid of Bad Breath
Try rinsing with warm water and 3% hydrogen peroxide. It will help take germs away. I also brush with baking soda that I mix with 3% hydrogen peroxide. I worked in the dental field for over 15 years. (01/12/2009)
By meoowmom
RE: Getting Rid of Bad Breath
Drink more water. I have noticed that my breath seems funky when I am not drinking my normal amount of water. I can also tell just by talking to my husband that he hasn't drunk any water that day by the smell of his breath. When I ask him if he's had much water today he says, "no", without fail every time. Try to start adding in more and you might notice a difference. Good luck. (01/16/2009)
By khilde80
RE: Getting Rid of Bad Breath
Get probiotics. Dr. Ohhira's are the best. Problem is in your intestines. (03/15/2009)
By katnip