Refurbishing a Ceiling Fan
Solutions
Share a solution for this guide today!
Questions
Here are questions related to Refurbishing a Ceiling Fan.
Painting a Ceiling Fan
Does anyone know how to paint a ceiling fan. Mine is a bright brass with blades that really shine. I hate it and would like to settle it down a bit. Any ideas on what paint or perhaps a kit you know about for painting the entire fan. Thanks a lot!

Mitzi from DeLand, FL
---
Most Recent Answer

By carla bledsoe (Guest Post)
09/19/2006
depending on the make of the fan you can get replacement blades. they usually are just screwed onto the fan base. if you still want to paint, just remove the blades and sand them to rough them up a bit so the paint has something to stick to and use a spray paint for metal. good luck
Replacing the Glass Shades on Ceiling Fan Light Fixture
The house I moved into has a bedroom fan, the sort with 3 glass tulip sconces sticking out at 45-angles. I really dislike that feature; also, I've replaced the original bulbs with CFLs, meaning that the tulips wouldn't cover the bulbs anyway.

Anyone have any suggestions on how I could make/buy covers for these bulbs that can be held by the existing fittings? They could, but needn't be glass. I thought of creating string-around-balloon globes that are posted elsewhere on the 'net, and I still may try that, but I haven't a lot of confidence this would fit together correctly.

Any and all ideas are appreciated!
By Nica from Big Bend, WV
---
Most Recent Answer

By Polly G
06/24/2010
Phillips makes a CFL lightbulb that is enclosed to look like an incandescent bulb. I buy them at Wal-Mart.
There are many different styles of shades available at Lowes, Home Depot etc. Maybe you can find the right one to replace your tulip bulbs.
Photos
Here are photos related to this page. Rate the photos that you like the best.
Click here
share a photo.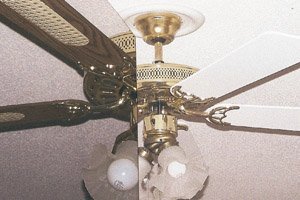 My family is currently working on a house to get it ready for sale. We have gone room to room cleaning and doing updates as we go. We had a ceiling fan in one room that was totally out of place.
READ MORE