Solutions: Cleaning Vinyl Siding
Read and rate the best solutions below by giving them a "thumbs up".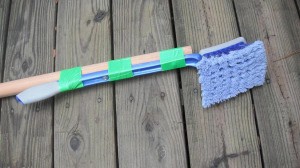 Vinyl Siding is easy to wash by hand except for reaching the high spots and getting up on a ladder is not for old folks like us. We needed a brush that we could attach to a pole for cleaning the gutters and other areas that are high.
I found this non scratching "soft bristles wash brush" in the grocery store and it was not expensive so I thought it was worth a try. My husband took it and screwed it to an 8 ft. by 1 1/4 inch wooden dowel and then put some duct tape around it for extra support.
We cleaned all the siding, the gutters and two window awnings with it and it worked just great. I think it is going to hold up well as after all this usage it is still good as new.
By Litter Gitter from NC
Share Your Feedback:
Once you try any of the above solutions, be sure to come back and give a "thumbs up" to the solution that worked the best for you. Do you have a better solution? Click "Share a Solution" above!
Questions
Here are questions related to
Cleaning Vinyl Siding
.
Cleaning Vinyl Siding
We had an exterminator spray for yellow jackets. The insecticide has left yellow and brown stains on our white vinyl siding. How can we get the stains off? They seem to be baked on by the sun.
By Donna from Charleroi, PA
---
Most Recent Answer

By ordway71
08/03/2010
I would first see if they come off with water and agitation with a soft brush. The spot might be water soluble and easily removed this way. If the spots are persistent and not easily removed with water, maybe try a simple degreaser or all-purpose cleaner. Follow directions on container and start with a medium strength solution. Be gentle, and test a spot to make sure there will be no bad reactions.

I would also recommend calling the Exterminator and asking them to remove the stains. They should be very aware of the stains their product leaves behind, and should have told you this might happen and allowed you to possibly choose another form of exterminating.
Removing Creosote from Vinyl Siding
My daughter added a woodstove to one room in her house this winter. The stovepipe was such that it created a downdraft and caused creosote to get all over her vinyl siding. Does anyone have a solution or product that will work on this?
By Mainedame
---
Most Recent Answer

By Marylou08
02/23/2012
Could try to warm it with a hair dryer, scrape it off with heavy duty steel wool, or I'd try WD-40 that stuff works on a lot of things. Or try a hot water wash and scrub.
Related Guides
Related Posts