Organizing Kids Clothes
Keeping clothing organized is a real chore especially if you have kids in the house. Making it so that your child's clothing is clean and easy for them to locate can make mornings in your household a lot less stressful. This is a guide about organizing kids clothes.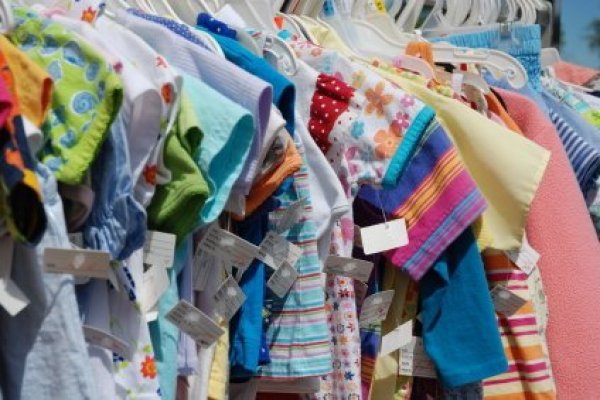 Filter

: All Articles
Sort

: Relevance
If you have children at your home whose clothes are strung and strewed all over, crying because they aren't old enough to find something to wear themselves, here's a trick I learned from raising six kids; his, mine, and ours!
When you do the laundry and it comes time to fold the clothes and separate them to put away, fold the pants or skirts lengthwise, lay the shirt or blouse face down, and fold it back around over the pants, making a "sandwich". Then, take tiny little safety pins and pin the bottom sleeve, pants legs, and top sleeve together.
The two and three year olds can't get the pins undone to try on a dozen outfits a day, you won't be getting the children's sizes confused on a busy morning and having to sort that out, and even hubby can figure out how to dress a toddler in clothes that match (don't you hate it when he meets you somewhere in public and has your little girl dressed in a frilly pink plaid skirt and her brother's camoflauge T-shirt?)
Plus, when you have a whiny "I don't want that shirt" morning ,you can say, "Well, pick one you like and bring it to me when you decide", knowing whichever one they pick, it will be a decent outfit and thereby ending a back and forth argument. Packing the diaper bag or backpack? A tenth of a second; just grab something and go!
By dollyslaffn from Darien,GA
Because of our work schedules, my husband usually gets our 2 year old son dressed in the morning. He's a wonderful father, but heaven help him, cannot put matching outfits together very well! To make things easier, I made up a set of hangers with the days of the week on them. On Sundays, I go through my son's closet and put outfits together, then hang one on each "day of the week" hanger. On weeknights, I take out the outfit for the next day and hang it on a hook that's next to our son's changing table. That way, my husband has an outfit all set to go in the morning, and I can rest assured that my son won't be going out in public looking like he chose his outfit himself!
By Lisa
Here is a fun way to get your girls ages 7 and up to clean out their closest. Hold a "Fashion" show, where they model each of their summer/winter outfits.
Because of our work schedules, my husband usually gets our 2 year old son dressed in the morning. To make things easier, I made up a set of hangers with the days of the week on them.
I have always folded clothing according to type, pants in a pants drawer, shirts with shirts, etc. Just recently I have begun to fold the kids clothing into "bundles" with shirts, pants, undies and socks, all rolled up into the longest article of clothing.
My 4 and 5 year olds pick out their own school clothes after I used this tip and are always in matching outfits. Before school started this year, we played model and took a photo of them in each outfit.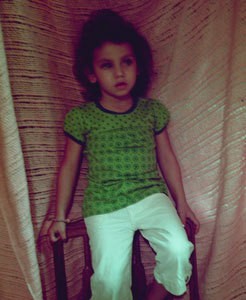 How do you store clothes for your children that don't fit them yet? Containers?
By Keli J.
February 9, 2012
0

found this helpful
Back when my kids were little, before there was all these nice plastic containers, I just made sure they were clean and fold them and stored them in cardboard boxes. Some of the fancier dresses, I left hanging in their closet. There wasn't a lot of fancy dresses.
February 10, 2012
0

found this helpful
Yeah, containers would probably be the best. I used to get long narrow ones that I could slid under there beds so they would be out of the way.
February 13, 2012
0

found this helpful
I used some put-them-together cubes in the top shelf of the closet. I use them as open face bins, one with clothes too big for each child. When an older sibling outgrows something, it goes in the "too big for" bin for the next child who might wear it.
Quite often when you buy or are given baby or toddler clothes they come in outfits. A matching top and bottom, maybe even with a matching hat. One way to keep these items together is to fold them and put them in large zip-lock bags before putting them away.
Because my kids grow so fast, we always end up with several sizes of clothes in circulation at any one time. So in my children's closets I added labels on the hangers of all their clothes with the size printed on it.
How do you organize your kids clothes when they have too many? I have wheedled my oldest daughter's clothes down some, but still not enough it seems. My youngest has way too many, but at the same time she is such a mess and always ruining her clothes with stains I can never get out, so I almost need a lot of clothes for her.
I just get so sick of so much laundry all the time. I thought maybe if I wheedled their clothes down to a certain number of tops and bottoms, or a certain number of "outfits", the laundry issue would get better. Really, how many outfits does one child need do you think? Any tips? Thanks.
By minnabird from Southcentral VA
September 20, 2009
0

found this helpful
I would buy a big new 39 gallon trash receptacle and write on it with Gold Paint Marker for CD's: This is NOT TRASH...
Store it somewhere out of the way, and put clothes in grocery bags, with cardboard labels on them. This is a good way to store things....you can also get a table top board and put on the top instead of a lid and use it as a table.
This way you can put clothes in it and just change them out every so often. I use these as storage for toys, etc, since the kids have so many.
September 23, 2009
0

found this helpful
I believe less is better. As far as our older kids who are on their own now. I remember piles of clothes. With our preschooler, I've kept it to about 2 to 3 weeks worth. It's done with a little variety so that some clothes are for church or special occasions and some just for going out/preschool. I've been able to find a lot of bargains at yard sales; that helps.
He has always had play clothes...don't care if they are stained, so I save money on Shout. :)
You will save money with your younger child due to hand me downs. :) Store them by size in containers or brown paper bags, marked by size.
October 3, 2009
0

found this helpful
Everyone really wears about 4 favorite tops or shirts. Same with pants so with 4 days worth plus a couple of Sunday best type clothes they have plenty. It's also frustrating to wash and fold everything neatly only to stuff it into an overfull drawer. Everything else should go to a garage sale or goodwill. Let the kids organize what they can keep and what goes.
Read More Answers...
Instead of trying all those clothes on my kids each season to see what fits (and my kids get tired after the first outfit), I lay an outfit (pants and shirt) that fit them just right on the bed as a pattern.
When putting clothes away in the closet, and you have a mix of everyday clothes and nicer clothes in the same place. I put the everyday use tops, blouses, and shirts on hangers inside out.
Tip: Different Colors for Different Kids
If you have more than one child of the same sex, use small dots of different colors of fabric paint on the bottom of their socks. Each child gets their own color. There will be no wondering who owns which socks. This also works on toothbrushes, cups, mittens, underwear, etc.

By Barbara from Virginia Beach, VA
Answers:
Different Colors for Different Kids
My mother-in-law raised 6 kids. The first 4 (all boys) were fairly close in age. She bought socks in various colors, one boy wore only white socks, the next wore socks of a different color or design and so on. I don't know if this idea will work for everyone, but it sure worked for her family. (06/21/2006)

By AnnMel
Related
© 1997-2016 by Cumuli, Inc. All Rights Reserved. Published by
ThriftyFun
.
Page
generated on August 22, 2016 at 1:23:14 AM on 10.0.0.66 in 4 seconds. Use of this web site constitutes acceptance of ThriftyFun's
Disclaimer
and
Privacy Policy
. If you have any problems or suggestions feel free to
Contact Us
.