With their various shapes and sizes, pots and pans can be difficult to organize. Getting your pots and pans organized will speed up cooking and keep your cabinets usable. This is a guide about organizing pots and pans.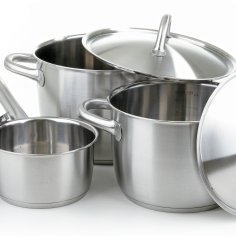 Filter

: All Articles
Sort

: Relevance
After years of struggling with my pot lids, trying to find the correct one, I used an old office file rack to organize them. It's great! They don't get lost in my cavernous cabinet and I always find the correct lid easily now. Plus it sure looks better than what I used to do!

I hate looking for things in a crowded cupboard. I fought "lids" for years. One day, I put a drawer silverware holder in the cupboard and simply placed my griddles and lids sideways in the divisions and have had no problems with them sliding around since then.
To keep my lids to my pans organized, I purchased a wire dish drainer and placed it in the cupboard beside my pans. I slide the lids in the slots the same you would do for plates and I no longer waste time and cause a lot of racket looking for the right lid. If some lids are too thick to fit into a slot you can remove the wire that holds the lids/plates into place to make it wider.

By Tammy R.
I found an old ladder at an antique store for $5. I painted it and hung it from hooks on the ceiling in the kitchen. I purchased screw-in hooks and put them on the rungs of the ladder and on the outside to hang pots, pans, and other kitchen items. Very inexpensive pots and pans organizer with country charm.

By BarwickJ from Ottumwa, IA
Put bubble wrap between your pots and pans to protect them from scratching each other.
By Kadi from Weehawken, NJ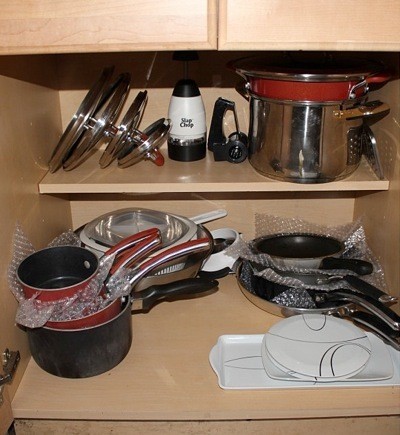 Would any of you happen to have some ideas on how to organize the pots and pans in my cabinets? The pots and pans just get thrown in the cabinet, where ever they can fit, and it is an absolute wreck down there! If anyone has some solutions or tips for my problem I'd really appreciate it!

Jordan from Arkansas
Answer
Was this helpful?
Helpful?
Yes
By guest (Guest Post)
Flag
My Mom has heavy-duty hooks screwed into the upper window casement of the window above her sink. So her skillets now hang in the window, out of the way, using previously unused space. This frees up a lot of space in her cabinets and the skillets are easy to get to when she needs them.
Reply
Was this helpful?
Helpful?
Yes
Read More Answers...
I need help organizing my pots and pan lids. I bought a lid organizer from Target but some of the wires are too close together to fit the lids in. Do you have any suggestions? This site is very helpful.
Answer
Was this helpful?
Helpful?
Yes
I am by nature a very stingy (frugal if you will) person who would never spend a dime unless absolutely necessary. I keep lids, cookie sheets, a cutting board and a microwave bacon rack in an ancient dish drainer which is no longer needed for dishes. Silver racks from old dishwashers make good storage in the garage for small garden implements.
Reply
Was this helpful?
Helpful?
Yes
Read More Answers...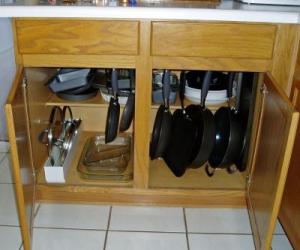 I like my pots and pans hanging so they aren't banging around, but I don't like looking at them. I also have a low budget. So I placed large cup hooks inside my cabinets. All my skillets, pots and pans hang in a nice neat row, easy to reach, but neatly hidden behind the closed door.
Comment
Was this helpful?
Helpful?
Yes
When trying to decide how to handle all the lids and bowls, pots and pans, always group by shapes. You will get more storage that way and a lot less hassle and mess.

By Phyllis
Comment
Was this helpful?
Helpful?
Yes