Organizing Pots and Pans
Solutions
Share on ThriftyFunThis guide contains the following solutions. Have something to add? Please share your solution!
After years of struggling with my pot lids, trying to find the correct one, I used an old office file rack to organize them. It's great! They don't get lost in my cavernous cabinet and I always find the correct lid easily now. Plus it sure looks better than what I used to do!

August 18, 2015
0

found this helpful
I use one for my cookie sheets and biscuit pans. Works great.
I hate looking for things in a crowded cupboard. I fought "lids" for years. One day, I put a drawer silverware holder in the cupboard and simply placed my griddles and lids sideways in the divisions and have had no problems with them sliding around since then.
Read More...
November 20, 2004
6

found this helpful
To keep my lids to my pans organized, I purchased a wire dish drainer and placed it in the cupboard beside my pans. I slide the lids in the slots the same you would do for plates and I no longer waste time and cause a lot of racket looking for the right lid. If some lids are too thick to fit into a slot you can remove the wire that holds the lids/plates into place to make it wider.
By Tammy R.
December 4, 2011
0

found this helpful
I have been doing this for a long while.
Read More Comments
January 31, 2006
2

found this helpful
I found an old ladder at an antique store for $5. I painted it and hung it from hooks on the ceiling in the kitchen. I purchased screw-in hooks and put them on the rungs of the ladder and on the outside to hang pots, pans, and other kitchen items. Very inexpensive pots and pans organizer with country charm.

By BarwickJ from Ottumwa, IA
November 21, 2016
0

found this helpful
I noticed that no one ever posted a photo of a DIY ladder for hanging pots and I just happened to like the idea also.
Here is a link to one site that shows how one person did this:
http://www.bobv ge/#.WDNiY1xg3IU
Read More Comments
June 20, 2016
0

found this helpful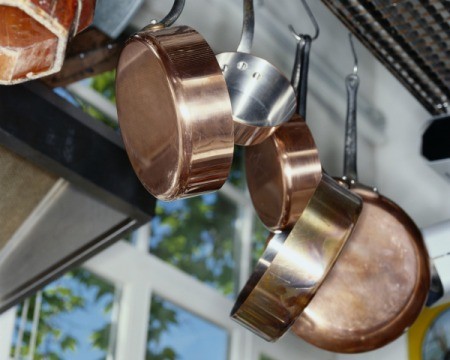 This is a guide about hanging pots and pans. One way to better utilize space in a kitchen with limited or unsatisfactory cabinet space is to hang your pots and pans.
Read More...
January 4, 2005
0

found this helpful
When trying to decide how to handle all the lids and bowls, pots and pans, always group by shapes. You will get more storage that way and a lot less hassle and mess.
Read More...
Questions
Ask a QuestionHere are the questions asked by community members. Read on to see the answers provided by the ThriftyFun community or ask a new question.
Would any of you happen to have some ideas on how to organize the pots and pans in my cabinets? The pots and pans just get thrown in the cabinet, where ever they can fit, and it is an absolute wreck down there! If anyone has some solutions or tips for my problem I'd really appreciate it!

Jordan from Arkansas
By guest client (Guest Post)
June 30, 2004
0

found this helpful
I turned my coat closet in my hallway into a pantry and use a shelf in there for my large pans and skillets, but not everyone can sacrifice a closet or may not have one. In the past I have left my cookware on the top of the stove with the matching lids on them. I also have space on the tops of my cabinets that is in the open and I use that for my large stock pots and roasting pan.
By guest client (Guest Post)
June 30, 2004
0

found this helpful
IF you rent you may not be able to do this but I put cup hooks and small nails on the outside of my cabinets and hung my iron skillets on these. There are out of the way, yet ready to use when I need them.
By guest client (Guest Post)
July 1, 2004
0

found this helpful
I also have a small kitchen and have had to learn to be creative. I have turned my skillets and griddle up on their side. I also keep my lids on their side. This has freed up room for my large pots and I fit as many inside of each other as possible.
May 26, 2005
0

found this helpful
Help! Does anyone have any tips for organizing all of my pots and skillets that are in my kitchen? My kitchen is small, not much cabinet space but my cabinets are getting horribly messy! Thanks for the suggestions.
Constance
By guest (Guest Post)
May 26, 2005
0

found this helpful
A wire rack that's used for holding file folders upright can also be used for pot lids, cutting boards, cookie sheets, etc.
Read More Answers
I need help organizing my pots and pan lids. I bought a lid organizer from Target but some of the wires are too close together to fit the lids in. Do you have any suggestions? This site is very helpful.
June 7, 2007
0

found this helpful
I organize mine in an old dish drainer.
June 7, 2007
0

found this helpful
I had alot of odds and ends pots, pans and lids. I thought I couldnt do without all of them. When we moved I got rid of alot of them along with many kitchen gagets that was collected through out the years. I went through them all and only kept a small amount. I dont know why I kept more then we really needed all those years. But I will say the local thrift shop appricated my donations. Also.. there are alot less dishs to wash.. thats the best part lol :)
June 7, 2007
0

found this helpful
I use an ordinary dish pan to store all my lids in after having the same problem. It has worked well for many years now. I use a standing pan file for my cookie sheets, muffin pans, and other flat things.
June 7, 2007
0

found this helpful
I do same thing as LaVa does! Use the drawer under
oven, my plastic lids I put in plastic open boxes
and pull out to search.
June 9, 2007
0

found this helpful
I keep mine in a two tiered file cabinet wire basket from the Container Store. Looks like a file cabinet but with wire sides. I have the largest drawers on the top and the bottom. All lids, including my 6 qt. pressure cooker, fit nicely in there.
I have included a picture from the Container Store web site. It shows 3 drawers in the unit. www.containerstore.com
We've had this since approx. 1985 and it's still functioning well. It's placed inside a cabinet.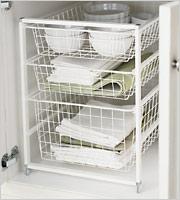 Read More Answers
Related Content