What kinds of food should I bring on my trip? I will be spending two nights at a hotel and will need about 7 meals total. I need some food ideas (besides tuna and bagels) that I could bring with me so that I don't have to spend money eating out. Thanks!
By Bella Swan from Forks, WA
January 20, 2010
0

found this helpful
When we go to Walt Disney World, we always stop at SuperWalmart to pick up food to eat while we are there.
For you, I'd go to a grocery store at my destination and pick up the food. In the deli section, there will be already prepared foods you can take back to the room to eat. My grocery store has pizza, soup, salad, roasted chickens, subs, etc already prepared and ready to eat. Its much cheaper than eating at a restaurant and the food is freshly made. Plus you dont need to worry about keeping things cold or hot.
January 26, 2010
0

found this helpful
Tortilla spread cream cheese lay a layer of budding meat then slice a pickle up length wise roll around your pickle. Wrap in plastic wrap. I used sweet pickle, hubby likes dill. If you have a lunch bag pack in there with a small cooling item.
Read More Answers...
I always pack my luggage over twenty-four hours in advance when I am taking a trip. I pack everything that I need in the bags. Then I take out the necessary cosmetics, medication, toothbrush, etc. from the bags that I need during the day and night. This way if you have forgotten anything, it is pretty easy to rectify. It is easier to put things into the bags at home than to buy them while you are traveling (and cheaper).
By cheaperthancheap from Boston, MA
In 1998, when we were expecting our first grandchild, I made a list of everything I needed to take with me to stay for a week, including my tooth brush and underwear.

Our daughter called while I was at work and said, "Mom, are you ready to be a grandma? My water just broke!" She herself was at work and being a nurse, they sent her right on up to the maternity ward.

We had a 4 hour drive to make and were packed and on the road within an hour, thanks to my trusty list of everything I needed to take with me. We made it in plenty of time to be there when our granddaughter was born, an experience I will always cherish and never forget.

I still use this list when getting our things together to go on a trip. It is quite worn now and over the years I have penciled in many items. I know exactly where my list is and I can be packed and ready to go in just a few minutes and have everything I need.

I would be lost without so I've got to take the time to retype it and save it on my computer.

By Betty from NC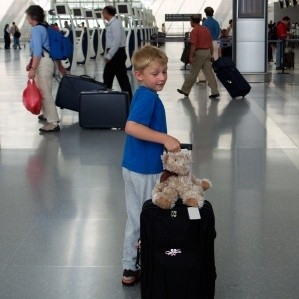 When my children were small, I would put together an entire outfit for each of them for every day we planned to be gone. I would include panties or undershorts as well as socks for every outfit. I would either put each outfit in a clear plastic bag or wrap and label them so that I could tell at a glance which child it belonged to and what it was. If one had an accident of any sort (like falling off the dock into the water), I had extras of everything for every child.
I'd roll each piece of clothing instead of folding anything, and surprisingly, they'd get less wrinkled, no matter what type of fabric. After being worn, I had white 13 gallon bags that were for dirty clothes only, and if we were in a place where we could do laundry, I'd include small plastic baggies of soap and dryer sheets right in that bag.
Those bits and pieces of organization was worth all the time it took me to put it all together. Shoes were all placed in clear plastic bags too, and they were never returned to their bag without being cleaned of all loose dirt etc. They went back into the bags ready to wear again.
It takes a bit of planning and some work before you leave home, but I found if I worked it all out on paper first, I could finish packing so much faster.
Each child had his or her own plastic bag with toothbrush, small toothpaste and any other personal toiletries they wanted to take. Into each of those bags went a clean washcloth to soak up any water or spilled liquid that escaped. I can't tell you how many times those washcloths saved me from having a wet luggage interior.
It's nice if every child can have his or her own small piece of luggage, but that's not always possible and unless each child is old and responsible enough to keep up with their own things, it just ends up making more work on Mommy and Daddy.
I still do most of the packing when I'm around my grown children and they are getting ready to take short car or long plane trips. They love having all their outfits right ready to put on. If they do change their minds about what goes with what, at least, everything is in clear plastic bags, and easy to see. I still roll everything and thank you to all those people who invented the new fabrics that don't even wrinkle. Be sure to make a current list of what is no longer allowed on airplanes so that when you start to pack, it's right there in front of you so that no mistakes are made.
Traveling, especially with children, can be made so much more fun if you plan carefully and prepare to take life a little easier. Don't forget that you're there to have fun too. It's also your vacation, so be ready to enjoy yourself.
Be sure to take along all prescriptions and an Emergency Kit of whatever you're allowed to carry on board if you're flying. You can add to it when you reach your destination if you need to.
Happy Vacation
By (Pookarina) Julia from Boca Raton, FL
My boyfriend lives out of state, and I'm flying down to meet him for an overnight trip. Does anyone have any picnic ideas I can pack and bring with me?

Here's my perimeters: I'm allergic to eggs, dairy and gluten/wheat. We won't have a refrigerator, though I can pack a small cooler with frozen things in my suitcase and check my suitcase.

I know my requirements are annoying, but I've wracked my brain and come up blank Could be because it's the end of the school year and I have report cards to finish! I'd hate to waste one precious second with him navigating traffic and dining out.

Shellee from Carson City, NV
By guest (Guest Post)
Flag
June 3, 2008
0

found this helpful
I love raw, unsalted cashews, which I buy in bulk, a kilo at a time, and transfer to a lunch box, muesli bars, bananas and other fruit. If you take sultanas or dried fruit, wash first, as it gets the grit out.
Keep a bottle of cold water with you, and refill every chance you get. Borrow a story tape or CD from the library because you'll be between your fave stations on the radio. And take your own soap, antiseptic wipes, first aid kit and toilet paper in separate zip-lock bags, "just in case".
Suggest, too, that you 'phone him at certain major areas, pre-arranged. No matter the temptation, DO NOT USE your mobile whilst driving unless you are being threatened by another driver. Recent statistics show that using a cell phone is equivalent to being drunk whilst in charge of a vehicle. And enjoy your private "me" time, as well as the anticipation of seeing your boyfriend. Rest if you get sleepy. Remember, he would rather see you arriving alive but late than see you in a coffin or hospital bed. Sorry, I'm a Mum, it comes with the territory. lol
June 5, 2008
0

found this helpful
OK again! What's a picnic without fried chicken. PERFECT luke warm. So pack it VERY COLD with an ice pack. Hard boiled eggs,a box of fresh strawberries a container of soft chocolate and ask him to bring a cold bottle of bubbly! Then ENJOY!
Read More Answers...
How many outfits do I pack in one bag? Don't forget the hairdryer, the straightening iron, soap, hairbrush, comb, shampoo/conditioner, makeup, and cream for the face. I am just trying to pack everything in one bag. Thanks.
By c.c. from Seattle
July 1, 2011
0

found this helpful
Depends on the size of the bag. Actually your clothing would probably be better off in one bag and your hair and face supplies, etc. in another bag.
July 1, 2011
0

found this helpful
Depending on where you are going, will you need the hair dryer? Many hotels have them, and if you are staying with someone you know, you can likely borrow it. If you have sample sizes of the products, they won't take much room, and if you don't have sample sizes, you may be able to put a couple of day's worth of each product into a smaller container, which will save a lot of space, as well. Your underthings can be put into a ziploc bag, flattened well, and the air let out, so that they make a very flat package. Don't forget about shoes; you can put bagged sample-size bottles of your products in them, or socks or undies. Choose clothing that can do double-duty. Skirts can go casual as well as be a little dressier, depending on what you will be doing. If you will have your own room, you won't need a robe. Don't forget you will be travelling in an outfit, which can be used again. (There is no If you will be taking a sweater or jacket, wear it to travel, you can always take it off and hang it over the seat.
How do I pack for 10 days without too many clothes?
By Marilyn K.
May 21, 2012
0

found this helpful
First, take only easy to hand wash and quick to dry clothes. Coordinate, coordinate, coordinate - each item should go with several other items. Second, what can you buy there? Toothpaste? Soap? Etc. Buy when you get there.
This will save space in packing. Use shoes as containers - stuff little things into the shoes as undies, etc. Check the weather where you are going and what you are going to do.
Lay out everything you want to take, and then reduce to half.
Back to coordinate. Select a main color for clothes and pack only that color and things that will go with it. This will give you more time for other things when you reach your destination as you can just grab something to wear knowing it will go with whatever else you have.