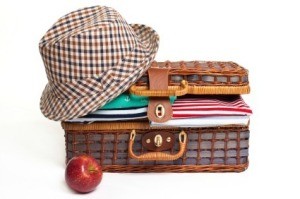 When traveling having everything you will need convenient and easy to find, can be a challenge. This guide is about packing for a trip.
Solutions: Packing for a Trip
Read and rate the best solutions below by giving them a "thumbs up".
I always pack my luggage over twenty-four hours in advance when I am taking a trip. I pack everything that I need in the bags. Then I take out the necessary cosmetics, medication, toothbrush, etc. from the bags that I need during the day and night. This way if you have forgotten anything, it is pretty easy to rectify. It is easier to put things into the bags at home than to buy them while you are traveling (and cheaper).
By cheaperthancheap from Boston, MA
When traveling, I always throw in a few extra quart size zip lock bags. Then when I buy something on the trip, such as lotions or perfumes, I put them in the bag to avoid any dripping or spilling on to my clothing. They're also great to put any jewelry in that you might take on your trip.
By Rita from Rossville, IL
Use the plastic pillbox/cases to store small pierced or clip on earrings. The larger sized pillbox/cases will hold larger earrings, rings, pins, etc. This method keeps jewelry organized and takes up very little space in the suitcase.
By Libby from TX
You know those storage bins that you buy with the lock on lids? Well when they are not in "use" and it is time to go on vacation, use them as your suitcase. When hubby and I go to the beach, we pack all of our clothes and necessities in these bins, put them in the back of the truck (does not matter if it rains, they are waterproof) and off we are.

Not a lot of cumbersome luggage and at the end of your vacation, put all your dirty clothes in these too. Easy packing, easy traveling. If the lids do not fasten real tight, secure with a bungie cord. Happy vacationing.

By Julie from Liberty, NC
I hate packing! There's so much to do before a trip that this chore is just an added nuisance!
So those items that will ALWAYS go on trips with me, I just have them specifically designated for trips, instead of packing them when the time comes. I just store these extras in my luggage!
I use ziplock sandwich bags for most of them that are labeled:

First Aid: (four or five bandaids, a teenie bag of Ibuprofen, antibiotic cream, etc.)
Beverages: (two or three tea packets, two or three coffee packets, a travel container of Equal, powdered cream packets, etc.)
Makeup: (I try to find tiny versions of my regular makeup, if possible. Lipstick, a smaller bottle of foundation --who needs a whole bottle for 4 days!, eyeshadow, mascara, etc.)
Shower/Hygiene: (a tiny toothpaste, tiny shampoo/conditioner, tiny hair gel bottle, etc.)
Electronics: (iPod charger, USB cord, phone charger, camera charger and battery, headphones, etc.) (These are specifically designated for traveling. They're duplicates of the household USB cord and iPod charger, etc.)

I also have designated "travel undies" and "travel socks" and a "travel cap" and "travel sunglasses", etc. They stay in the luggage and are only used on trips. So no packing of them is necessary!
If I find that I'm not going to use something on this particular trip (I need 5 pairs of undies on a week-long trip; only 2 on a weekend trip), I put them in a drawer specifically designated for "travel stuff".
Then, when I return from a trip, I unpack IMMEDIATELY (if I don't, the luggage sits exactly where I set it down, for weeks!). I refill anything that needs it (shampoo, pills, bandaids, etc.), wash anything that will go back into the luggage (undies/socks) and I'm ready to go in a flash on my next trip!
And I'll have confidence that I haven't forgotten anything, because it was already there to begin with! (like headphones!)
In 1998, when we were expecting our first grandchild, I made a list of everything I needed to take with me to stay for a week, including my tooth brush and underwear.

Our daughter called while I was at work and said, "Mom, are you ready to be a grandma? My water just broke!" She herself was at work and being a nurse, they sent her right on up to the maternity ward.

We had a 4 hour drive to make and were packed and on the road within an hour, thanks to my trusty list of everything I needed to take with me. We made it in plenty of time to be there when our granddaughter was born, an experience I will always cherish and never forget.

I still use this list when getting our things together to go on a trip. It is quite worn now and over the years I have penciled in many items. I know exactly where my list is and I can be packed and ready to go in just a few minutes and have everything I need.

I would be lost without so I've got to take the time to retype it and save it on my computer.

By Betty from NC
My husband and I just got back from a trip to the west coast to attend our son's retirement from the Navy after 24 years, then on to our daughter's wedding as well as visiting friends and family. It was a two week trip and we needed to take lots of clothes and accessories with us. One thing I found most useful was to place my earrings in those mini zip bags that you can buy for next to nothing at any craft store. I then placed all the bags into a small make-up bag to keep them all together. That made it so easy to find what I needed when I needed it. I don't know why I never thought of it before.
By Judy from Birmingham AL
When my 5 kids were younger and we were going to my mothers for a visit, I made a packing list. This was to make sure I took everything we would need. For each child I put how many clothes he/she would need, such as 4 pairs of underwear, 3 t-shirts, also toys, etc. I also did this for my clothes too. That way I did not forget anything as I checked off the list while I packed. This also worked in reverse, in packing to come home, I would check off the items on the list to make sure we didn't leave anything at grandma's.
By Linda from Bloomington, IL
When traveling with children, use a plastic zip bag to hold one outfit together, from underwear, socks to clothes. The children can dress themselves and be coordinated.

By Sharron
Give a "thumbs up" to the solution that worked the best! Do you have a better solution? Click here to share it!
Questions
Here are questions related to Packing for a Trip.
What kinds of food should I bring on my trip? I will be spending two nights at a hotel and will need about 7 meals total. I need some food ideas (besides tuna and bagels) that I could bring with me so that I don't have to spend money eating out. Thanks!
By Bella Swan from Forks, WA
---
Most Recent Answer

By roxi [4]01/26/2010
Tortilla spread cream cheese lay a layer of budding meat then slice a pickle up length wise roll around your pickle. Wrap in plastic wrap. I used sweet pickle, hubby likes dill. If you have a lunch bag pack in there with a small cooling item.
How do I pack for 10 days without too many clothes?
By Marilyn K.
---
Most Recent Answer

By Sheilah Link [5]05/21/2012
First, take only easy to hand wash and quick to dry clothes. Coordinate, coordinate, coordinate - each item should go with several other items. Second, what can you buy there? Toothpaste? Soap? Etc. Buy when you get there.

This will save space in packing. Use shoes as containers - stuff little things into the shoes as undies, etc. Check the weather where you are going and what you are going to do.
Lay out everything you want to take, and then reduce to half.

Back to coordinate. Select a main color for clothes and pack only that color and things that will go with it. This will give you more time for other things when you reach your destination as you can just grab something to wear knowing it will go with whatever else you have.
How many outfits do I pack in one bag? Don't forget the hairdryer, the straightening iron, soap, hairbrush, comb, shampoo/conditioner, makeup, and cream for the face. I am just trying to pack everything in one bag. Thanks.
By c.c. from Seattle
---
Most Recent Answer

By Jill [4]07/01/2011
Depending on where you are going, will you need the hair dryer? Many hotels have them, and if you are staying with someone you know, you can likely borrow it. If you have sample sizes of the products, they won't take much room, and if you don't have sample sizes, you may be able to put a couple of day's worth of each product into a smaller container, which will save a lot of space, as well. Your underthings can be put into a ziploc bag, flattened well, and the air let out, so that they make a very flat package. Don't forget about shoes; you can put bagged sample-size bottles of your products in them, or socks or undies. Choose clothing that can do double-duty. Skirts can go casual as well as be a little dressier, depending on what you will be doing. If you will have your own room, you won't need a robe. Don't forget you will be travelling in an outfit, which can be used again. (There is no If you will be taking a sweater or jacket, wear it to travel, you can always take it off and hang it over the seat.
I am traveling to Anchorage, Alaska. This trip is for a month or two. I am leaving July 16th, I want to pack really light and I know the weather will change. I'm going there for the birth of my daughter's first child. This is my first plane trip. Any tips or suggestions are needed.
By 123Helen from Senoia, GA
---
Most Recent Answer

By Noella [9]06/11/2009
Be sure and take a jacket. The temperature can vary from 90 to 45 in just one day even in the summer time. My brother lives in Anchorage and he says that no one goes anywhere without a jacket. If by any chance you might do some ocean fishing - you will need a winter coat, but you can find those usually at a second hand store like Salvation Army.

Be sure to check out the sites while you're there - Portage Glacier, walk the track around the town. Anchorage this time of year is beautiful!
My boyfriend lives out of state, and I'm flying down to meet him for an overnight trip. Does anyone have any picnic ideas I can pack and bring with me?

Here's my perimeters: I'm allergic to eggs, dairy and gluten/wheat. We won't have a refrigerator, though I can pack a small cooler with frozen things in my suitcase and check my suitcase.

I know my requirements are annoying, but I've wracked my brain and come up blank Could be because it's the end of the school year and I have report cards to finish! I'd hate to waste one precious second with him navigating traffic and dining out.

Shellee from Carson City, NV
---
Most Recent Answer

By Neil McMillan [1]06/05/2008
OK again! What's a picnic without fried chicken. PERFECT luke warm. So pack it VERY COLD with an ice pack. Hard boiled eggs,a box of fresh strawberries a container of soft chocolate and ask him to bring a cold bottle of bubbly! Then ENJOY!