Parenting a Picky Eater
Many children can be very picky eaters, causing concern and frustration for their parents. This is a guide about
parenting a picky eater
.
Solutions
Share on ThriftyFunThis guide contains the following solutions. Have something to add? Please share your solution!
I have taken care of over 200 kids (not all at once). Several of them had brought soda and candy bars for breakfast. I said no to that and made oatmeal. They never had oatmeal and refused to eat it.
I told them it was magic oatmeal. Before I dished the oatmeal into bowls, I put a couple of drops of food coloring in the bottom of bowl. I told them that they had to stir their oatmeal once the milk was poured. One had blue oatmeal and another red, green, and yellow. They got so excited they couldn't wait until they got their next bowl of oatmeal. They learned their colors at the same time!
By cj from Minot, ND
December 2, 2011
0

found this helpful
Great idea. You also deserve the vote just for getting the soda and candy bars away from the children. God bless you. We need more people like you in this world.
Read More Comments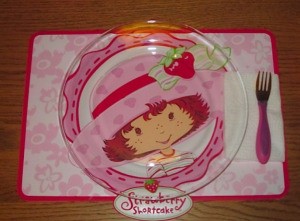 I bought a clear glass dinner plate from the $1 store. I set the plate on top of my granddaughter's Strawberry Shortcake placemat. When she eats her food, Strawberry starts to show through. My granddaughter gets all excited about seeing what is underneath.
By Louella from Billings, MT
If your child is a poor eater, put their child size portion on a big dinner plate. That way it looks like you're only asking them to eat a little bit. It's amazing how willing they are to eat a 'small dinner'.

By Mums' Page from Ireland
August 12, 2007
0

found this helpful
my mother always told me ' one spoonfull for how old you are, you dont want to look like a 3 year old do you?' and i always ate most of my supper :D
Read More Comments
I often have my grandson at my house. Being a toddler, he is a picky eater. I came up with this idea when we were reading a book called "Eating a Rainbow".
Read More...
Children are greatly affected by "shapes" of their food. The smaller bow tie pasta is great way to encourage them to eat. Get creative and serve food in different sizes and shapes for those picky eaters!
Read More...
Questions
Ask a QuestionHere are the questions asked by community members. Read on to see the answers provided by the ThriftyFun community or ask a new question.
I can't get my 6 year old to eat anything besides junk. I know if I don't buy it she can't eat it, but she won't eat anything then. She's an only child so it's not like she has a big kid to follow. I eat everything healthy you can think of, but she pays no mind to that. I'm constantly fighting a losing battle. Any ideas?
By CraftyMom from Pasco, FL
October 6, 2010
0

found this helpful
Lisa is right about offering a food over and over again. Just put a sprig of broccoli, or whatever, on the dinner plate every night and don't even mention it. Eventually if the child doesn't feel he/she is fighting with you about it (no one likes to lose) they will try it. Maybe they truly won't like it, and that's okay. But the point is they tried it and may find things they do like.
October 7, 2010
0

found this helpful
Another suggestion might be to limit the time she spends watching TV commercials. These are geared to children and are all sugar loaded and unhealthy. So they think that they want them, due to commercials. I actually went without TV at all while my daughter was young. Then I watched with her only a few selected TV shows, and it was OFF the rest of the time. Manipulation via the media is bad enough for adults to have their thinking shaped by it, and how much more so for younger minds!
Another option available is providing health drinks; i.e. she may not like carrots, as steamed, or cooked; how about fresh made from organic carrots carrot juice? Might try starting off with healthy smoothies with strawberries, adding banana, etc, letting her watch you and perhaps help you make them. You could call them health shakes (as opposed to "milk shakes") or whatever creative thing you can come up with! When making them you might say, what do you think it would be like with this added to it? Shall we try it and see? Betting she will be more than happy to consent and before long be smacking her lips!
October 7, 2010
0

found this helpful
When our two sons were young and hated all vegetables but loved spaghetti & meatballs, I started chopping up vegetables into very small pieces and adding them to the sauce not only to get more veggies in them but also to stretch the spaghetti sauce to last for several meals for them. They never knew about the veggies and I never told them. As adults, they are no longer picky eaters.
Read More Answers
October 26, 2007
0

found this helpful
My child is a very picky eater. Over the top. He will only eat a certain type of chicken nuggets from a certain store. That was for a few months, now he won't eat them. He is the same with salami. He won't eat really any veggies except the occasional not cooked carrot or canned green beans. He will not eat meat except a certain type of hamburger cooked only on the stove top. He is afraid of the texture and look of food. Last night he cried for 20 minutes because we made him eat 1 piece of broccoli and 1 cooked carrot that were dipped in ketchup.
I know, make him sit until he eats, well he will go for over 2 1/2 hours (he is 7). Any suggestions to help a picky eater with sight and texture phobias? Being cruel and forceful with this child is a waste of time. In every other aspect he is a great caring fun loving child. He is not autistic so I know that is not his problem. Thank you. Lisa
By guest (Guest Post)
October 28, 2007
0

found this helpful
Our grandson, now 24, was an extremely picky eater. I can't remember the ages he was but when very little he would eat only mac n cheese for breakfast lunch & dinner, then it was only broccoli for breakfast lunch & dinner, then it was chicken nuggets, hamburger or spaghetti for breakfast lunch & dinner. I let him eat whatever he wanted because I knew kids go thru different stages at different ages. He went thru a stage where his food could not touch each other on the plate or he wouldn't eat it. If the food didn't look or smell good to him he wouldn't eat it. I never forced him to eat anything - either eat or wait till the next meal. Now at 24 yrs old he piles his food one on top of the other and mixes it all up. There's not much food that he doesn't eat except for fish. He hates fish. He's also become a great cook and experiments a lot with different dishes. So I wouldn't worry too much about your 7 yr old - he's just going thru a phase, probably one of many, which he'll out grow sooner or later. My great granddaughter, 10 yrs old, is also an extremely picky eater eating only green salads, chicken nuggets, waffles & popcorn. She too has gone thru different stages of eating only certain foods. They outgrow it.
October 30, 2007
0

found this helpful
Feed the child all that you would feed to yourself and rest of the family. If it is not eaten, don't make any fuss, just take the plate away. Do the same thing the next day and the next. Over time you will see your child eat most of what you place in front of him. Don't cater to his/her picky eating habits.
November 5, 2007
0

found this helpful
I also have very picky children. If your child will ear catsup or ranch dressing (any type of condiments) place this on his food (usually first bite). I hope this works. I keep alot on hand when I try different recipes.
Read More Answers
May 30, 2008
0

found this helpful
My 8 year old son is getting pickier and pickier with food. He used to eat Chicken Nuggets, Grilled Cheese, Mac N Cheese, Cottage Cheese, Burgers and Hot dogs. Now all he wants is pizza.

He refuses the Nuggets saying they are not cooked right (but they are the same as always). Hot dogs he says we burned once and now he will not eat. Burgers, can only be cooked on stove and now he is saying he does not like the taste.

I think he has a thing with textures. All he wants is pizza or sometimes cheese tacos and only Granny Smith Apples. Any suggestions? We do try and make him eat other things but it is a long drawn out fight of wills. Is there a doctor I can take the child to and they would explain to him the importance of eating good? Help, I am so frustrated.

mom of 2 from Westland, MI
June 4, 2008
0

found this helpful
The best way to deal with a picky eater is give him two choices for meals: Take it or Leave it. When he's hungry, he'll eat what's given.
I know it's hard as a mom not to feed your kid, but he IS old enough to know if he's actually hungry or not.
When I first got my girls (my hubby's from his first marriage). They were incredibly picky also. This is what I did. I made dinner and said "this is dinner. You don't have to eat it, but THAT'S what's available." then every time they came to us wanting food. We'd send them to the left overs from dinner. If he wont' eat, he's not hungry enough.
Be well in heart and strong in spirit.
By guest (Guest Post)
June 8, 2008
0

found this helpful
Almost all children go through this and outgrow it just fine. The problem I had was my mother thought she was a short order cook. My take on it is don't cook special and keep the snacks out of the house. Stand firm and the problem will end. I always thought that this was something all kids went through. Unless your son has other problems I would assume that it is a stage he is going to.
Why is everyone assuming he has a problem as major as autism? Why would you think that an otherwise normal child has all of a sudden developed a major problem? I have ADHD and I would still be very aware of when I need to eat.I know several kids who have this and they still know enough to eat.
I feel that you in your answers are being destructive to the this families well being. I need you to think about how you would feel if it was your child who stopped eating and you were told he had a major problem. I have some very unladylike thoughts in my head at the moment. Personally I think you have blown this out of proportion.
Are you trying to tell me that all of the kids were perfect eaters? I personally have never heard of a kid who didn't do this at sometime. Please support this mother instead of making her have nightmares.
I feel that your kid is fine and that if you stand firm he will come around. Should the child not eat to the point of losing weight then the problem IS bigger and should have the doctor run tests.
I need to say I am not trying to say ADHD is nothing, as it has had a major inpact on my life as a child. Do NOT put off treatment if you think that is a problem. I know I was showing problems from early childhood on.
June 9, 2008
0

found this helpful
I read about having the picky eater help make the meals...pick what he/she wants, help make it, and they HAVE to eat what they pick and fix. Heard it works if you stick with it.
Read More Answers
My 3 year old son with autism won't eat anything but McDonald's fries, pancakes, and PB & J sandwiches. I have tried every trick in the book. Any suggestions? (Accepting potty training tips too.)
Robin from Palm Bay, FL
By guest (Guest Post)
November 20, 2006
0

found this helpful
Greetings from another mother in your shoes! As far as toilet training, there is a site that gives some great tips. It is AutistimToiletTraining.com. It was recommended to me and I have found some great tips. Alas, we are not trained yet, but we keep working. Bless you and your child, and we wish you successes.
By guest (Guest Post)
July 7, 2007
0

found this helpful
Hi, my son Conner (8) took forever to potty train too (he was almost 7 when we really got it). I'd like to share what worked with you!! Conner is an extremely visual learner, so I took some pictures of his (very cooperative) brother going through each step of toiletting...the pictures were clear, and showed what was supposed to happen in the toilet. I would take him to the bathroom and point to each stage of the process while using hand over hand to help with clothing and toilet paper. Soon after that stage, Conner was "trip-trained" he would go whenever I told him to...but never initiated the process. If I took him to the bathroom on a regular basis, he was dry, but if I forgot...we had a mess.
By this time he was able to read, so I wrote out a schedule for him, telling him where it was appropriate to pee and poop, and that it wasn't OK to do it in his pants. This finally seemed to do the trick!! After only a few days, he was nearly accident free. Apparently, my son just needed to know the "rules" of toiletting....and I had to be extremely vigilant. It took time for the Mom to be ready....once I was commited to the process, Conner progressed.
I hope this helps!
Love and Support,
Sheri D
By guest (Guest Post)
August 22, 2007
0

found this helpful
My son is also three and will not eat hardly anything either. I use to live in Palm Bay, Fl and now live in Arden, NC. I wish i could give you some helpful advice but i'm in the same boat. Have you had any luck recently. I also am having a horrible time with potty training. I pray everynight for answers.
shannon28704 AT yahoo.com
Read More Answers
We recently moved from the UK to Florida. My son was already a fussy eater but would eat chicken, sausages, fish fingers, pasta shapes in tomato sauce, cereals with milk, bread, and yoghurts. Now here in the US he won't eat anything, except some chips (fries) and a fish stick if we are lucky. If we ask him to try stuff we think he'll like he goes into a panic and makes up his mind he don't like it. How can I get him to try stuff without him going into melt down? It's heart breaking.
By Athers1
October 4, 2011
0

found this helpful
Have you tried having him involved with making meals? Perhaps having him pick a meal from a child base Cookbook. Kids also like Kids cooking classes maybe being around other kids would motivate him to try different foods that the group prepares and make some new friends.
October 5, 2011
0

found this helpful
We're looking at a reverse of the same situation-I've recently remarried and moved to the UK and my son will be bringing his 7 year old son to visit in the spring. The grandson has the same food requirements as your son.
For take-away, try the chicken nuggets at McDonald's and Burger King.
Then take him shopping at a big supermarket with the freezer sections in upright cases so he can see what is there. Fish fingers, as you know, are called fish sticks in the US, chicken fingers for some reason are called chicken fingers, lol, but the packaging on both show the actual food in the bag and what the food looks like after Mum gets them out of the oven-your little guy will be able to sort through the foods and find things that appeal to him to try.
Also, for the pasta shapes, Kraft sells the same boxes in the US as they sell in the UK, just the packaging is a bit different, and it's called 'Mac 'N Cheese and then the shapes are on the box.
Helping him to adjust (and moving to FL from the UK is a huge adjustment poor guy) by taking him alone to the grocery would be a big help-he'd feel special, and would have time to really think about what he can find. We plan to take our grandson on his own grocery shop when they arrive (they'll be here for a couple of years while my son is on a post-grad course).
Try Publix, very kid-friendly (upright freezers with big clear doors), Kroger is great too, and WalMart SuperCenters have the kid stuff right at their eye level, lol. Food Lion still uses chest freezers so it's hard for children to see into the selection, but their prices are good.
October 5, 2011
0

found this helpful
Forgot to add the way I know this works is that I tried it when I was visiting them this past spring. I took my grandson to the grocery store so that I could stock the cupboards with foods he would eat while he spent Spring Break at his dad's (My son's notion of a healthy meal consists of chicken nuggets-breakfast, lunch and dinner, lol).
My grandson thought it was very cool to spend two hours in the grocery with his gran, and we managed to both find foods he could eat (that were healthy) and pick out a few new things to try. It worked very well, and he thinks I'm the smartest gran in the world now.
When we found out my son is getting custody and coming over to the UK to do post grad work, my grandson was very excited about planning his 'grocery shop with Gran' as one of the first things he does when they arrive.
Read More Answers
I have a 5 year old son who has autism and he is a picky eater. He only eats French fries chicken nuggets and pizza from Lil' Caesar's. Can anyone suggest any tips to get him to eat more foods?

Queede from Detroit, MI
March 9, 2009
0

found this helpful
Hi I too have a 6 year old who is a picky eater too. She too has autisum. V8 Fusion is the way to go with her fruits and veggies. If he likes cheese try mac and cheese and cheese hot dogs. She still drinks from a sippy cup so she gets alot of apple juice or white cranberry peach which by the way is good. She also likes buttered noodles as long as I don't put parsley on it. She like toaster strudels and things like that I have used the pedi-sure with her a couple of times but it really makes her go. She does get choc or strawberry milk in the morning and she has her fruit snacks that she likes and cheese curls. If I make her kool-aid I use the splenda because I am diabeta.Runs in the family and dealing with the stress of raising her. Good luck, and my little one is trying stuff to I made homemade mac and cheese and she really like it. Also made her regular she like them too.
March 24, 2009
0

found this helpful
(Submitted via email)
Mom I am not only an OT in early intervention I also have a child with autism. She is now 15 and eats anything. Not always the case. We use the "No thank you bite." I control what is being served, she controls the amount. We started with measuring spoons and she would take just enough to taste. We gradually increased the size of the spoon to now be a tablespoon. It was completed over many months. We still introduce new foods to her this way with the tablespoon.
The rule is 1 spoon and that's all. If you like it you may have more. If not you do not have to have anymore and say "No Thank You." I also allowed her to use her fingers to feel the texture of the food. She will smell the food. She will also help prepare the food. Like I said it took many trials and months to get her on board but it has been successful for 12 years.
Believe me, I'm amazed what she will eat. If you receive a no thank you 1 time try again at another time. Food preferences change over time. I introduced this to the EI site I work at and we have begun to see success even with our most pickiest eaters. I know this is frustrating but hand in there you are not alone.
OT mom
April 27, 2009
0

found this helpful
Glad all of you are handling the gifts god gave you so well. I have two wonderful child all healthy, But I too went throught the bouts about not eating things. I even resorted to putting frozen spinach in my brownie mix. My husband and son didn't notice a thing. But now my son 17yrs. and goodness there's nothing he won't eat. But try this book "Deceptively Delicious" by Jessica Seinfeld, it's great for picky eaters. You can get it at your local library to try before you buy. But still have them try good wholesome food' Like mom always said one day you make like it. Yea right liver, beets, turnips yuck.
Read More Answers
Does anyone have any suggestions for how to get my seven year old son to eat anything but bread and butter? I have tried everything I can thing of, but nothing works. Unless we give him his bread and butter he won't stop crying. I don't know what to do, it is ripping the family apart. Please help.
By Brooke
May 26, 2012
0

found this helpful
Brooke I wouldn't worry too much, but it could be a medical problem. So I would get him checked out. But other than that you have to keep saying no. Why not change your diet so all the kids get equal and make sure there is no bread and butter at the table? Load the plate with food before you put them on the table and don't make him eat instead talk about your day and ask the other kids about their day. He will get sick of crying and just start eating.
good luck
May 26, 2012
0

found this helpful
I had some picky eaters back in the olden days. It became apparent to me that if they get hungry enough they will eat. If the bread and butter aren't available he'll eat other things if he gets hungry enough. Take a holiday from bread and as mc4life says fill the plates before putting them on the table.
I personally think a 7 year old should be past the time of crying to get his way. Tell him what a big boy he is when he doesn't cry. There is also the issue of proper nutrition. You need to consider that and really get this young'un to where he will like good things in addition to the b & b.
Related Content