Saving Money on Feeding Teens
Solutions: Saving Money on Feeding Teens
Read and rate the best solutions below by giving them a "thumbs up".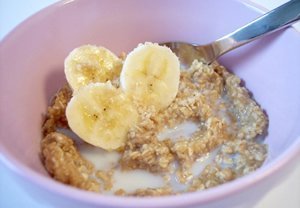 My teenage son swims at least 25 hours a week, and usually rides his bicycle the 5+ miles each way back and forth to practice. At 6 foot tall and 200 lbs, you can imagine how much our athlete can eat! I needed to cut the grocery bill, but didn't want to limit his food or discourage his already very healthy eating habits.
So, here's our solution:
Breakfast has to include a big bowl of oatmeal. Later in the day, he has to eat either a potato or a bowl of brown rice. Beyond that, he can choose whatever healthy foods he wants from what we have; these very cheap (but still healthy) options add enough extra to his diet to bring his other food intake back into the realm of the reasonable. He doesn't feel restricted, because these are "in addition to" what he feels like getting, preventing anyone from having to limit the rest.
I always keep a big pot of beans (from inexpensive dried beans) and a big bowl of rice cooked up and in the refrigerator. Again, these are cheap and healthy choices, and if it's easy to grab, it'll be chosen more often.
I also always keep cheap lettuce cut and available, as well as cheap frozen veggies (in winter) or fresh produce (when the farmer's market is open). I make sure the more expensive things take more work to prepare. I don't buy chips and expensive snacks like that, but do keep popcorn kernels on hand--again, both cheap and healthy, since we use an air popper.
The result? We spend "dramatically" less on food than any other family I know. And we still have happy, healthy teenagers, including the boy who, just before the new plan, ate 3 pounds of grapes at once and called it a snack!
Share Your Feedback:
Once you try any of the above solutions, be sure to come back and give a "thumbs up" to the solution that worked the best for you. Do you have a better solution? Click "Share a Solution" above!
Questions
Do you have a question related to this page?
Related Guides
Related Posts