Read and rate the best solutions below by giving them a "thumbs up".
Baby Shower Ideas
I am throwing a baby shower at my house for my sister and my house is not big, just a modest ranch. We are having dinner. How can I make sure everyone has a good time? Any ideas of what to do?

Sunflower71 from Detroit, MI

Answers:
RE: Baby Shower Ideas
03/30/2006
A nice easy game to play at a baby shower is to hand everyone of your guests a pacifier on a ribbon to be worn around their necks when they arrive. You pick out one common word; example, baby, cute, little, etc. This word is taboo. If a person is caught using the word they have to give up their pacifier to the person who caught them. At the end of the shower the person wearing the most pacifiers wins a prize. It's always a surprise because you could have a lot one minute and loose them all just a quickly.
By biffy62
RE: Baby Shower Ideas
03/30/2006
Fun ideas! We hosted a baby shower last year for a friend and I was in charge of games. One fun game we played was "Name That Baby". I typed up game sheets with clues about famous babies and the person who wrote down the most right answers won a prize. Questions included: Name the baby girl on the Flintstones. Name a famous candy bar. What is the name of Gwyneth Paltrow's baby. Name the famous 1920's era gangster. You get the idea. This was lots of fun, especially since we had guests ranging in age for 18 to 80.
By barb
RE: Baby Shower Ideas
04/06/2006
Another game that is alot of fun and harder to do than we think is the( Pin in the rice ) You get a big bowl and pour a large bag of regular cheap rice in it, Then buy 1 to 2 packages of small saftey pins and pour them into the bowl of rice, Mix it up really good. Blindfold the person then direct their hand to the bowl, Give them 1 or 2 minutes ( I used a timer ) they have to grab a pin, The person who grabs the most pins in that time period wins a prize. That game was a big hit. Good luck and enjoy yourself : )
By Lisa L. (Guest Post)
---
Homemade Christmas Gift Ideas
Ask shower guests on the invitation to "Help Mother Hubbard to fill her Cupboard" by bringing two jars of baby food to the shower. I always set out a big basket for the ladies to set their jars in.

Diapers

I also request that everyone try and bring a bag of diapers (newborn size) this really helps the new mom. For the first couple of weeks she is set on diapers.

Motherly Advice

As one of the party games I have a blank book that gets passed to each guest to write down some motherly advice in. A quick tip or some other secrets that a new mom needs to know or just a quick congratulations.

Necklace for Mom

I also set out on the table a couple of bowls of alphabet beads for the guests to make a necklace for the Mom with her and the new babies name. At first we go around the table and as each guest adds a bead, they tell the Mom to be one thing they love about her.

Prayer Candle

I also give each guest a candle to light on the day of the delivery. I ask that each say a prayer for Mom and Baby. It is a loving thing they can do for Mom and the baby.

By Debra in Colorado
---
Looking for Baby Shower Ideas?
---
Baby Shower Ideas
I have a baby shower coming up in early July. My problem is that is my boss's wife who I am very good friends with. The real problem is that she has very particular and expensive taste that don't fit in my budget. I want to do something special and I am at a loss. Please help! I don't have a lot of time either.
Karen from port clinton, OH
---
RE: Baby Shower Ideas
I went to a shower & we played a game where the hostess had a laundry basket full of baby items & we had to guess the price. The Price Is Right baby version. It was a ton of fun. Christine, In. (06/27/2006)
By Christine
RE: Baby Shower Ideas
One of the nicest things I've ever received or given as a Baby Shower Gift is a little on the Expensive side, but it really depends upon your budget. I like to purchase hardcover copies of A.A. Milne's Winnie the Pooh, not the Disney version, the original. It's very tasteful and a lovely legacy because you're encouraging reading to the child. Now, the book is pricey but if you can go to that amount it's a great gift. And should pass muster with the most pretentious of recipients.
If that's too expensive for your budget, look into a nice shawl that can cover both Mom and Baby during those late night feeds. Get something pretty but stay away from real wool because of potential allergies. (Synthetics should make it less expensive as well!) It's also different, something not everyone might think of.
If neither of these things fit into your budget, perhaps you could give us an idea of that budget so we can come up with some other ideas. Mary (06/27/2006)
By hpjrt
RE: Baby Shower Ideas
Books! Yes, books, books, books. I have a 2 yr old who has been read to since she was a zygote and books of any kind are an integral part of her day. If she received books for every birthday, Christmas, whenever gift, we'd both be thrilled. The best thing about books (especially baby books) is that they fit any budget. The A.A. Milne book is wonderful, as is any hardcover classic, but practical books for babies are great, too (and cheaper). When my daughter was younger, she would bite, rip, throw, etc. all her books, so she only had books with cardboard pages, or the "bath" books with plastic/foam pages. Many, if not all, classic childrens' stories are made in "board book" form now, Dr. Seuss, Goodnight Moon, Guess How Much I Love You, and even Winnie the Pooh.
My suggestion is to get as many classic story board books as will fit into your budget, and then find a small basket at a thrift or craft store to present the books in. If you size the basket so that the books fit with no room left over, it makes the gift look more expensive--any extra space left around the books means that you couldn't afford to buy more books to fill it! Even if it's a tiny basket with three books in it and a pretty bow, it will look amazing. Plus, the basket can be reused in the nursery. I still use a baby shower basket I received to hold diapers. Good luck! (06/27/2006)
By Marisa
RE: Baby Shower Ideas
Babies need toiletries for a very long time; so find out which brand the mother prefers and give that as a gift. Or give home-made (on the computer) vouchers Good for one evening's baby sitting/one cooked supper/two hours doing the washing/dishes/one morning's entertaining the older siblings or whatever. (06/30/2006)
By Willem
---
Baby Shower Ideas
I need party ideas for a friend's baby shower (girl), games, gifts, food, etc. I have never thrown or been to a baby shower before.
Kim from Nashville
---
RE: Baby Shower Ideas
An easy-to-do game I have used before is fun, easy and very frugal. Make a list of items a baby uses or needs or even an action word will work. Sample list:

PARDISE
CARPFIE
ETOBLT
Ask the players to unscramble the letters as quickly as they can. Set a timer (according to how long the list is). Every player will need a copy of the list, pencil or pen and paper. It's likely they will be writing on their laps so make some magazines available to use as a writing surface. When the time is up, the person with the most correct answers wins.
The dollar stores have fun little items that you can use as "prizes". They are even more special if they are wrapped up in pretty paper with cute bows.
If you plan on playing more than one game set the "prizes" out on a table and let the winner choose which one they want. Be prepared for a tie. If prizes are limited, have a second list you have made up ahead of time and let the tied contestants do a play-off. This time the one who gets all the words unscrambled first wins.
By the way, the answers to the scrambles above are:
DIAPERS
PACIFIER
BOTTLE
I did not check my own spelling, so please go ahead and do that. To add a little something special to another person's post regarding the guests each bringing a bag of disposable diapers, add something to the invitation that says everyone who brings a bag of diapers will get a raffle ticket or be in a special drawing (you can make these up yourself, something as easy as dropping a slip of paper into a hat or bowl with the guests name on it). Have a great time.
Oh, one more game I think is hysterical is to have a ball of string or yarn and a pair of scissors handy. Have each guest cut a piece of the string or yarn to the size of the mommy-to-be's belly, where she is widest around. There will be very short and very, very long strings. The one closest to the actual size wins. If there are a lot of people measure the mommy's belly then cut a string to that size to measure up against. If there are fewer people it's really fun and can become hysterical for each guest to measure her string around the guest of honor's tummy. Be sure to take lots of photos. (10/21/2008)
By Nancycorinne
RE: Baby Shower Ideas
This is a corsage I made for my daughter's shower and it wasn't really expensive. Here's what you need: Plastic spoons, pin backs, cotton balls, little bottles and babies, ribbon and flowers.
How to make: Glue a cotton ball inside spoon, then glue baby and bottle onto cotton ball. Glue pin back to handle. Insert ribbon through pin back and bring to front and glue down to front on handle. Then glue flower or what every you might want to use as decoration. Everyone like them. I got most of my stuff from the Dollar Tree and Wal-mart. Good luck. (10/21/2008)
By Pauley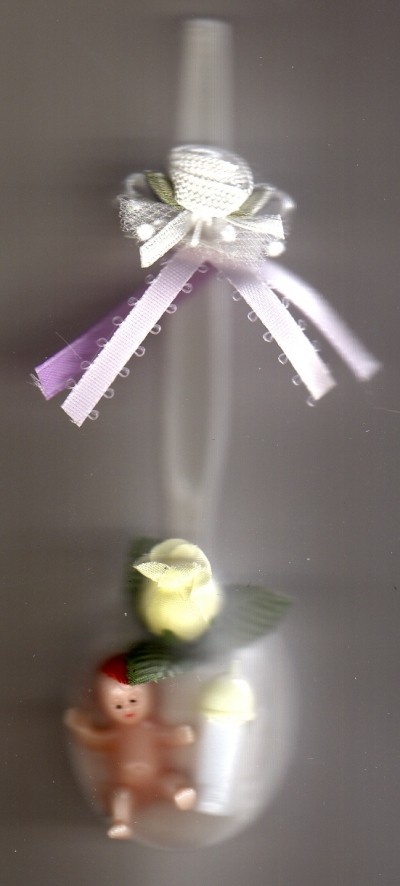 RE: Baby Shower Ideas
Here's a funny and semi-yucky ice breaker-door prize game for a baby shower. Take a stack of white paper napkins, and fold each one into a diaper shape. Pin the "diapers" shut with small safety pins. Make sure you have enough for each person to get one. However, in the middle of one diaper, smear a bit of mustard on the "diaper", to simulate baby poop. Dijon mustard looks more realistic, but regular yellow mustard works, too. After each guest selects a diaper, have the guests open them. The one who gets the "poopy diaper" wins a prize. It's been a fun game and well received at every shower I've attended. It's very inexpensive to put together too. (10/22/2008)
By KJ
RE: Baby Shower Ideas
For decoration you can make a diaper cake or a diaper wreath. They are really very easy to make and a whole lot less expensive than buying them pre-made. (05/25/2009)
By tambri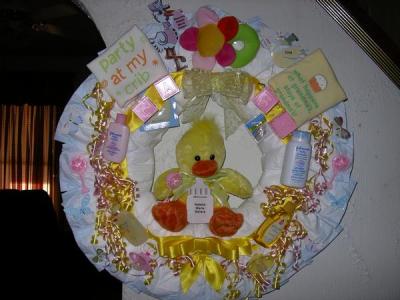 RE: Baby Shower Ideas
(05/25/2009)
By tambri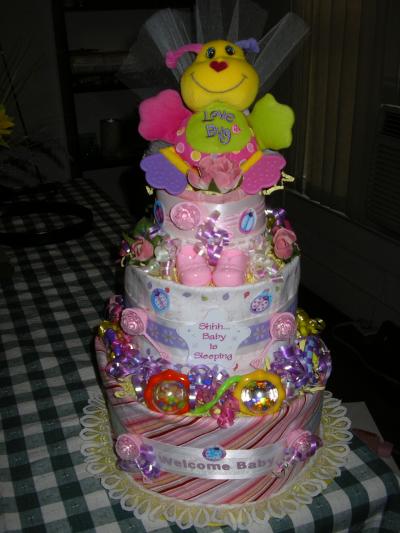 RE: Baby Shower Ideas
(05/25/2009)
By tambri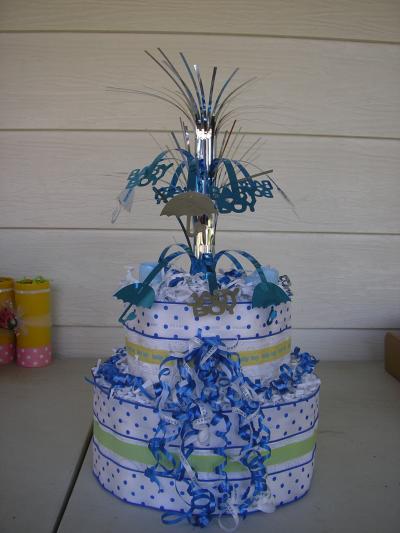 RE: Baby Shower Ideas
These baby rattle balloons are really easy to make as well and don't cost much at all. If you search youtube for balloon baby rattle it will show you step by step how to make them. Hope these pictures helped you. (05/25/2009)
By tambri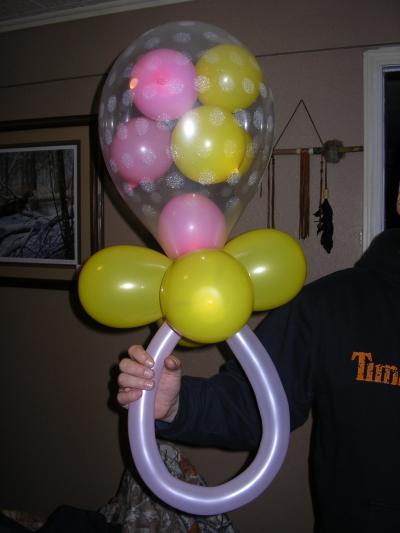 RE: Baby Shower Ideas
A baby clothesline is a great decoration at any baby shower. Very cute. (05/25/2009)
By tambri
RE: Baby Shower Ideas
I decorated a whole table for the mommy and daddy to be. I set the guest tables in a U shape facing the parents to be table. (05/25/2009)
By tambri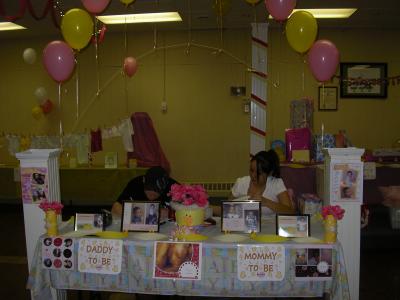 RE: Baby Shower Ideas
(05/25/2009)
By tambri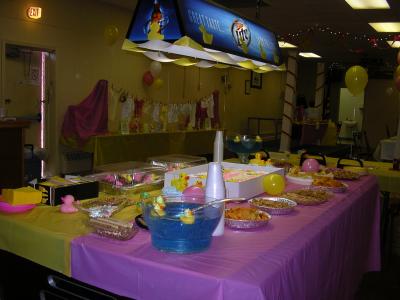 RE: Baby Shower Ideas
(05/25/2009)
By tambri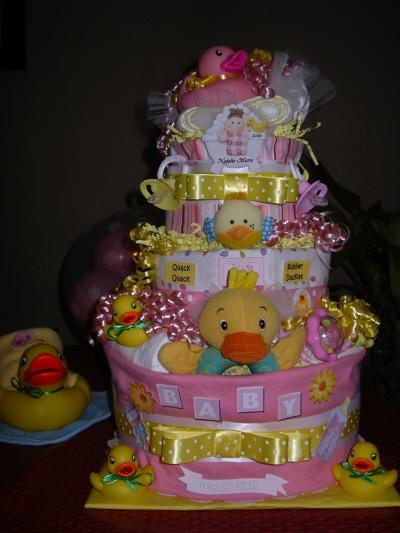 ---
Looking for Baby Shower Ideas
I am throwing my daughter a baby shower. I need ideas for foods to be served and the theme of the party. Can you please give me inexpensive ideas? I am on a budget.
---
Inexpensive Baby Shower Ideas
Does anyone have any ideas for a boy baby shower? It has to be cheap, I live on fixed income.