Getting Rid of Flies
Flies are not only annoying, but they can also be unsanitary. Getting rid of them is often a difficult undertaking. This is a guide about getting rid of flies.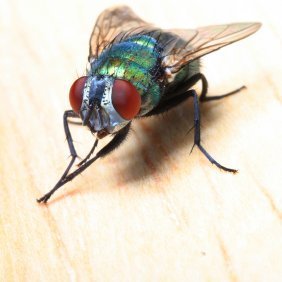 Filter

: All Articles
Sort

: Relevance
I live on a farm in the South. I came across an old folklore fly repellent remedy that I had never seen.
Take a zip lock bag, 1 quart size is best. Put 2 pennies in it. Fill the bag around 3/4 full of water and close. Hang it near the door ways.
In the barn they say to place where the stall windows and doors are.
I tried it, (felt a little foolish when I did it) and the flies went the other way!
They used to fly into the house and drive me nuts. They would die on the window sills and floor beneath the windows. I had to sweep 'em up once a week. Bunches of them, now there's none. Now I may see 1 or 2 flies that sneaked in, the whole summer in my house.
I was told that flies have many facets on their eyes and they do not like the water reflecting the sparkles in their eyes. They don't like the copper either.
So if you see it, believe me it works. What have you got to lose? I have mine hanging all year round. I've seen them at other people's homes and I just giggle to myself. If they only knew how good that works, around the world.
I have been noticing a lot of black flies this year in my office. The building is a typical Cape Cod style with two separate offices - one upstairs and one down. I have been renting the downstairs office for 23 years - the upstairs office has been vacant for 4 years. I went looking to try and find where these flies are coming from since I do not have open windows or doors. I went up to the vacant office and found hundreds of dead flies all throughout the space and when I went into the bathroom I found the toilet lid open and literally hundreds of dead flies in the bowl! I am totally skeeved out now and am not sure what to do?
August 6, 2015
0

found this helpful
Simple!
Someone should:
Clean the toilet and close the lid.
Clean the office.
Check all windows, doors, air conditioners in windows and other possible openings in the entire building and correct to stop all insect access.
This should stop further fly infestation. However, if you are still upset about any insect invasion, a pest control company can check the entire building and recommend solutions.
Flies are yucky, however, there are much worse problems in this world!
August 6, 2015
0

found this helpful
Phone the landlord and complain about all the flies. Report that the office above is full of them, and ask him to clean it up and investigate how those flies are getting in. It will be very difficult to rent out that office space if it is full of flies!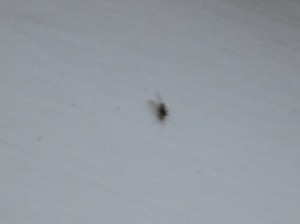 I have an infestation of tiny flies in my lounge and hall. They seem to want to gather around my window and sill. I don't know what they are, but at first I thought they were baby flying ants or fruit flies. I do have fruit in the dining room, but there aren't any flies in there and no flies in the kitchen. Could anyone tell me what I can do to eliminate them please.
By M. Coates
July 25, 2014
0

found this helpful
Clean all of your sink drains. They could be drain flies that lay eggs in the gunk that builds up on the drain pipes.
June 28, 2015
1

found this helpful
Use a small glass with straight sides, fill halfway with applecider vinegar and add a drop of dish lidquid stir once lightly and let sit! Place one on your kitchen counter and one where ever you seen the insects! You will see them in the bottom of the glass as they come for a drink and die! Don't think the promblem is solved after just seeing a few in the glass because they lay many eggs! After the glass has a lot of insects in the bottom empty, wash and replace with fresh vinegar and dish lidquid! It has been working for years for my family and friends! Past the info on to your family and friends like I did!
Read More Answers...
I have outside cats that I feed in a large platter. When the weather starts to get warm I have trouble with flies in and around their food and bedding. I've tried fly strips, but they don't work very well. Anyone have an idea how to get rid of and keep away the flies?
By Janet S.
May 12, 2014
0

found this helpful
I have put several drops of peppermint oil in my cat house, and it seems to repel flies. It does need to be refreshed every few days. I have read that lavender works as well although I have not tried it. Hope this helps.
May 12, 2014
1

found this helpful
I wouldn't recommend going to dry cat food. It can take a real toll on your cats kidneys over time. I feed one cat outside. I have found that I have to feed the cat and then bring the dish in to be washed. Otherwise not only do the flies congregate, but the racoons show up as well as any neighborhood dogs who might go by. I dont run my dishwasher every day, so I went down to the Goodwill and bought a stack of dishes of the right size. After the kitty eats I stick the dish in the dishwasher. George appreciates the nice clean dish. No more flies, dogs or racoons. Good luck to you.
Read More Answers...
We have a terrible problem with flies on the front porch. We tried hanging a large bug zapper, 2 fly strips, and 2 basil plants. The flies are still there. What can I do to make them go away for good? We have this problem every summer.
By Bobbi J. from Burlinton, NJ
June 19, 2012
0

found this helpful
I have heard the same thing that gardendreamer suggested. Only I heard that you put pennies in the bag of water. My neighbor has 5-6 small baggies with approx. 1 cup of water and 10 pennies in each baggie. She has them stapled going down the outside door frame of her enclosed sun room. She says it really works that she never has a problem with flies.
June 25, 2012
0

found this helpful
Try to think of what is attracting the flies. Are they hatching in a dead mouse under the porch? Are you eating food on your porch? Once you remove their source of food they will no longer be attracted to the area.
I have always liked Yard Guard sprayed around outside before I sat out.
Read More Answers...
I have a problem with flies, I don't like using sprays because of my pets. I have tried tying a bunch of lavender in the window, but the flies just sit on it. Has anyone any other "natural" remedies?
By Janet from Pietermaritzburg, South Africa
June 11, 2012
0

found this helpful
I am not sure if marigolds work for flies or not, but they work for other insects.
July 14, 2016
0

found this helpful
Marigolds DO NOT keep the flies away. They do, however, keep other insects from eating your plants and flowers.
Read More Answers...
How do I get rid of flies outside?
By Michele H.
June 2, 2011
0

found this helpful
If you are talking about a patio area, or a porch, somewhere that is close to the house, one good way is to take a brown paper bag, crumple it a few times, so that it has lots of wrinkles in it. Then put some plastic or newspaper inside so that the bag holds some form. Tie the top with a cord, and attach it close to an entry door, either the entry to the house, or to the closed patio, wherever you are wanting to prevent the flies. It is best to put it under a roof, or it will have to be replaced after rain, but it may be worth it if you have to have out in the open. The flies seem to think the bag is a hornets nest and they will stay away. We got this information from this site months ago, and it seems to work quite well here in S. Alabama.
June 3, 2011
1

found this helpful
Get a few empty, clean 2 liter (or similar size) plastic soda or drink bottles (ones without "handles"). Throw away the caps. Cut bottles apart horizontally (across the width of the bottles) about a third of the way down from top. Put some banana peels or other food remnants (no meat) in the bottles. Invert the top of each bottle and nestle it inside the bottom so that the cut edges meet. Fold some strong tape around the bottle where the edges meet to seal the edges together. Using a paper punch or awl, make a hole on opposite sides of each bottle just slightly below where the edges are taped. Using a length of twine or pliable wire for each bottle, thread one end of the twine/wire through one hole and tie it off so it won't come loose. Then do the same with the other end of the twine/wire and the opposite hole. Hang the bottles out of the sun where flies are a problem. When the bottles have quite a few flies in them, throw them out and make more. (I know a picture would have saved a thousand words, but I don't have one.) Hope this helps.
Read More Answers...
My condo is next to the dumpster. My small backyard is full of flies. What should I use to get rid of them?
By Sharon from El Cajon, CA
June 23, 2010
0

found this helpful
Besides calling the authorities on the dumpster, a trick I heard recently is to take a ziploc bag, fill w/ water and a couple of shiny copper pennies - hang them around and the flies will scram! Apparently, the reflective-ness of the copper and the flies eyesight - this unnerves them and they find someone else to bother. And, no pesticides either!
June 23, 2010
0

found this helpful
I don't know what really work to get rid of flies except for a can of Raid Spray. My husband brought those little sticky fly trap that you hang up in the cealing, in whichIi hate looking at it. Don't try those water bags filled with water because that do not work, I tried that already.
Read More Answers...
How do jugs of water placed around your yard help deter flies? I see them everywhere, and does this really work?
By Mary
March 23, 2012
0

found this helpful
I never heard of putting jugs of water around. I have heard of putting water in a ziplock bag and then hanging it by the door. It works a little. I read you can put lavender oil on paper or a cloth and it works real good. Just make sure you reapply the the lavender oil about once a week.
March 23, 2012
0

found this helpful
The flashing of sunlight in the water in the plastic bags is supposed to startle the flies into staying away. I don't know if this works or not. I do not put much faith in these sorts of solutions, but I suppose it wouldn't hurt to give it a try.
I need some help with controlling flies in the pet area outside. I would like to use a home remedy if possible.
By Alison from Garland, TX
June 1, 2010
0

found this helpful
I saw a hint some where that you can fill a ziplock bag with water and put 4 or 5 pennies in and zip it closed and hang it where you have a fly problem. I think a quart size would be large enough. I have not tried this yet, I would like to know if it really works.
July 6, 2011
0

found this helpful
I have chickens. The flies aren't to bad yet. But the hot weather is just now coming. I've put a basil plant in 2 garden windows and the bathroom and have not had a fly problem yet.
Read More Answers...
Flies here in south Alabama are terrible. A friend told about a natural fly repellent. I decided to try it. It's basil! It actually works. I planted seeds in two flower pots, thinned them out, (three or four plants to a pot). After the plants are six to eight inches tall, be sure to "head" the plants (pinch off the heads before they produce flowers). This also encourages the plants to bush out. Place out on your patio, deck or back door.

Before sitting the plants by the back door flies were continually coming in as the door opened. Problem solved! I will definitely use basil again next year. Flies do not like the strong odor / scent of basil. Even as small plants they did a very good job.

By roadgypsygranny from Atmore, AL
On my front porch I have flies. I had an exterminator come to see if something died under the porch they are so bad. But after paying $300, nothing was found under the porch. You don't open your mouth as you pass to the front door.
© 1997-2016 by Cumuli, Inc. All Rights Reserved. Published by
ThriftyFun
.
Page
generated on July 22, 2016 at 8:03:49 PM on 10.0.2.128 in 997 msecs. Use of this web site constitutes acceptance of ThriftyFun's
Disclaimer
and
Privacy Policy
. If you have any problems or suggestions feel free to
Contact Us
.