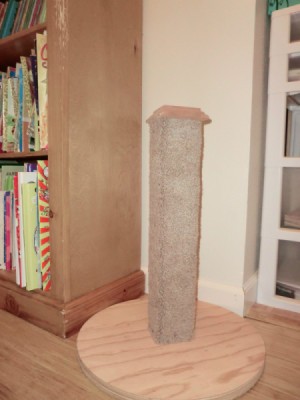 Cats love to scratch on things especially furniture. Prevent them from ruining your furniture by giving then an alternative place to sharpen their claws. This is a guide about building a cat scratching post.
Ad
---
This is a video about building a cat scratching post.Cats love to scratch on things especially furniture. Prevent them from ruining your furniture by giving then an alternative place to sharpen their claws. View the full project here: Making a Cat Scratching Post
Solutions: Building a Cat Scratching Post
Read and rate the best solutions below by giving them a "thumbs up".
When I got a new kitten, I went to the pet supply store to get a scratching post, but was astounded by the price! So, I made one myself. I got a large cardboard bolster/tube from an upholstery store (they were throwing it out so, free!) and bought some sisal rope for $6.00. I wrapped it around my tube, and propped it tightly under my bar. My kitten LOVES it! That's her peeking around it.
Easy Peezy Lemon Squeezy!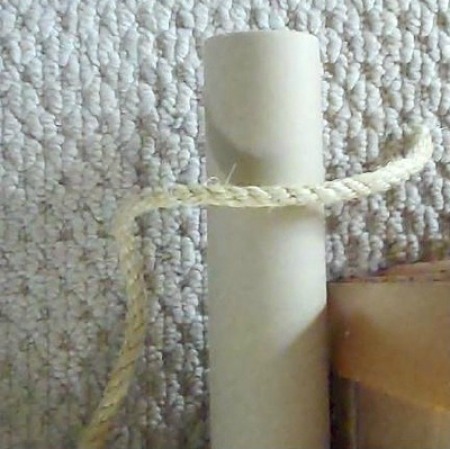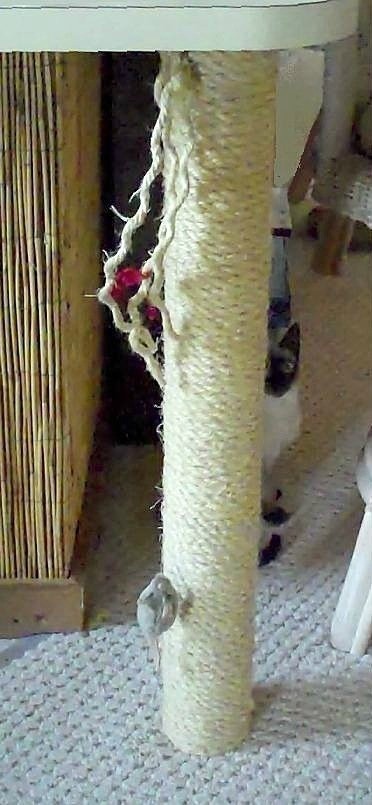 By Trina from Sunny South, FL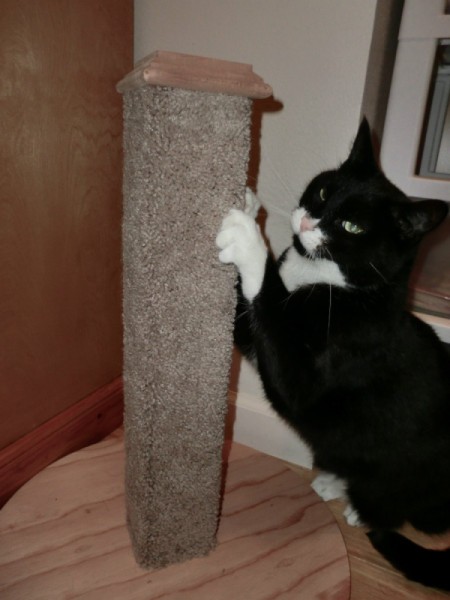 Our cat Oolong decided to start scratching our book case. Apparently he was mad that we got rid of our big cat tree. My husband and I decided that we would make him a small scratching post that we could put next to where he was scratching. These cat scratching posts end up costing less than $10 to make.
Approximate Time: 1 hour
Yield: 1
Supplies:
1 3 x 3 wooden post ($3.00)
1 post cap ($1.00)
1 pre-cut plywood circle ($4.00)
3 wood screws ($.25)
1 carpet remnant (at least 18 x 15 in.)
nail gun or glue
staple gun
utility knife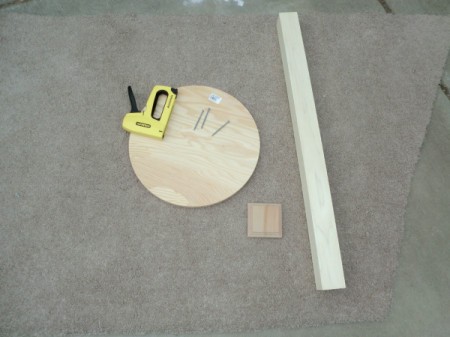 Ad
---
Steps:
Find the center of the circle and trace around your post for placement later. Then find the center of the square that you drew and mark it and a few other spots for screws. (Note: To find the center, use a right triangle...)
Pre-drill holes for your screws at the marked spots.
Lay carpet, backing side up. Measure out a rectangle (18 in. x 15 in.), marking the lines with a Sharpie. Then using a utility knife and a straight edge, cut out the piece of carpet.
Lay your post on the carpet piece. Pull the edge up and over the post, placing the edge about halfway across the side. Hold the carpet edge down and staple all the way along the edge to secure it. Be sure to push down hard on the stapler to ensure that they go all the way through the carpet and into the wood.
Holding the post tightly against the carpet, begin to roll the post onto the next side. Staple the bottom and top edges. I added an addition staple in the middle too. Repeat on the next two sides.
Lay the remaining carpet against the post and using a Sharpie mark it (on both ends) where it overlaps the starting edge of carpet. Then lay the post back down and use a straight edge to cut off the excess carpet.
Pull the carpet edge up tight to the other edge and staple it down all along the edge. Once you are done stapling, use a hammer to tap all of the staples in as far as you can. This will help prevent your cat's claws from catching on them when they are using the post!
Set the circular base on top of the post, being sure to center it. Secure the base onto the post with wood screws. If possible, sink the screws in so that they sit just below the surface to avoid damaging your floor later.
Turn the scratching post over and secure the post cap to the top with a nail gun. Note: You can finish the base and cap any way that you want (i.e. paint, stain, etc.). I chose to leave this one unfinished, as I am thinking about decoupaging comic book pages onto it. :)
Here is the damage that Oolong caused to our bookcase. We set the post next to it and brought him over to show him that it was there. Luckily he used it right away, so hopefully he will leave the bookcase alone now!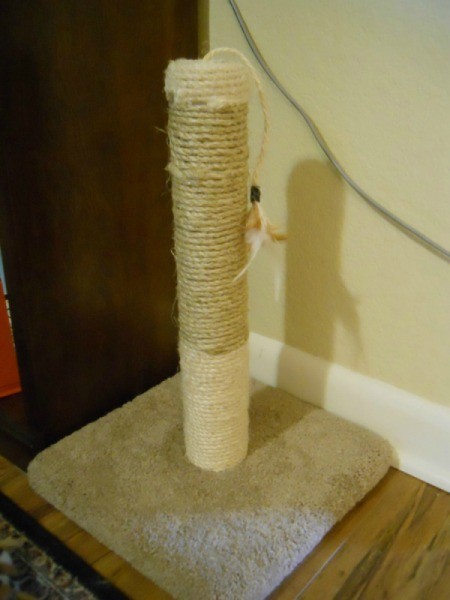 My kitties really love their sisal scratching post. They had finally shredded the the sisal in the area that they use the most. Rather than buy a new one, we decided to repair this one. I purchased a spool of 1/4 inch sisal from Lowe's.
Supplies:
existing sisal covered scratching post
spool of sisal
scissors
hot glue gun and glue sticks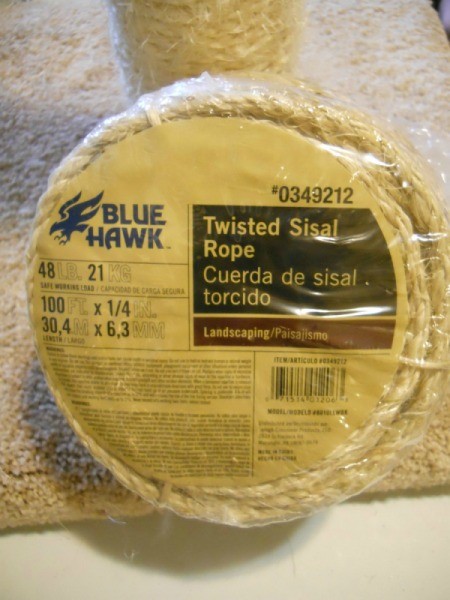 Ad
---
Steps:
This can be done by one person, but we found that it worked much better with two. One person applied the glue and the other attached the sisal, adjusting and tightening as we went.
Cut the damaged sisal and remove from the post down to the intact part at the bottom.
Cut off the unwound sisal.
Begin running a bead of glue around the circumference of the post and wrap the sisal tightly, pressing into the glue.
Continue until you either reach the top, or in our case the intact sisal near the top. Cut the sisal and glue the end. We needed to insert a small length to fill a bit of a gap where we ended. Now your kitties are back in the scratching post business.
I did notice it took a day or so for them to start using the repaired post. I assume that either the glue or the sisal had an odor that needed to dissipate first.
After reading many a book about cats, and observing many cats as a foster parent for the local humane society, I learned that different cats like different surfaces to scratch on. We observed our cats inside and out, and could tell that most of them liked scratching on the trees.
So when one of our trees was cut down. We used a branched section that was very stable and placed several pieces of plywood at different levels on the branches. Usually these pieces were placed between two branches to make them more stable.
We had 3 levels and each level had a different texture or activity. One level was carpet, we used an old bath mat and used glue and staples to hold it to the plywood. Between 2 of the levels we wrapped the trunk with sisal rope. Then placed a cat bed on one level. We stapled the bed to the level so it wouldn't fall off.
On the lowest level we hung several toys so that they can bat and play with them. This was much more stable and cheaper than any cat tree we found in the store. All the cats loved it.
Source: Brandon and Ericka W. who were my roommates and helped with the design
By Stephanie from Bay City, TX
Logs for firewood make a great scratching area for cats and kittens, also you can roll a ribbon rug from the dollar store around one and tie it with a sash making sure there are no loose ends. Lay this around to scratch on. A square carpet patch can be put on a log with a large sash and it can make a good scratching post too. I like providing things for the kittens to do to get them more socialized.
By Robyn Fed from Hampton, TN
Making a cat scratching area is easy if you use an old bath mat and tie it around an old log or a cinderblock or brick. These make good door holders too! They love to scratch on these. Also, cats love those ladders that have large areas to step on, I used one as a cat climber. They love them too!

By Robyn
Give a "thumbs up" to the solution that worked the best! Do you have a better solution? Click here to share it!
Questions
Here are questions related to Building a Cat Scratching Post.
Is there any other way of building a homemade cat scratching tower/post?
By Sharon W
AnswerWas this interesting? Yes No
---
Best Answer
By Cricket 205 896 11/15/20110 people found this helpful
I built one for my cat. Actually 3 cats ago. Anyway, the one I built is a simple 3 shelf unit with corner posts. Each shelf is covered with stick on carpet pieces, and each post is covered tightly with sisal rope. Putting the rope on was the hardest part of the job, as it needs to be pulled and wound as tightly as you can get it, and then some more. I wore thick work gloves for this part because otherwise the rope will leave your hands bleeding.

You can fashion the tower in any style you want. If you google "cat scratching posts" you will find a lot of different ideas. You could even fashion a post against a wall and alternate the shelves on one side and the other all the way almost to the ceiling. Cats do love to be up high!

The main thing is to make each shelf large enough for the cat to lay down on comfortably. And to position the shelves to that the cat can jump easily from one to the other. Covering the shelves with a fairly rough type of carpeting will provide a surface to be kneaded on. And covering the pole with sisal rope is important to give the cat the scratching post that all cats need, whether they've been declawed or not.

Good luck with yours!
---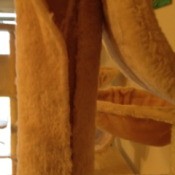 To put the sisal rope on the tube, do you staple or nail it at the top and bottom or do you use a glue gun? If so, is it special glue and do you just use the glue on the top and bottom of the pole? Or all underneath the rope? I would love to know what is used. Thanks.
By Gloria N.
AnswerWas this interesting? Yes No
---
Most Recent Answer
Archives
Thrifty Fun has been around so long that many of our pages have been reset several times. Archives are older versions of the page and the comments that were provided then.
<div align="right">
</div>
My husband and I wanted to buy a scratching post for our two kitties. We looked at prices of stuff at the pet store and online and it was too much. Then, I thought about it and said, "They are charging $40-$50 for wood and some rope or pieces of carpet. What a ripoff! We could do that ourselves."

So, we went to Home Depot where they have a discount wood bin. We found one piece of wood that was about 2x4x36 inches. We had it cut in half. We glued those two pieces together parallel to each other. We took a length of rope about 50 feet long and wrapped it around the glued together pieces. We also bought a piece of particle board about 48x12 inches. We had it cut into two pieces so each piece was about 24x12 inches. Then, we glued those two pieces, one on top of the other to give it a stable base. We then glued the long part onto the particle board.

Mind you the measurements were not exact. We felt they did not really need to be exact for this purpose. We bought odd size pieces, because we were buying from the discount bin and that was what was available. The glue is still drying, so we don't have a picture of the cats playing with it yet. Altogether, I think we spent about $7.00 to make this toy for our cats.

Source: Myself. I just looked at pictures online and decided I could do it.

By crazyliblady from Pittsburg, KS
Feedback:
RE: Make Your Cat's Scratching Post
Great idea! I have been thinking about doing the same thing but have only bought the sisal rope. I think with your instructions, I might have a weekend project ahead! (08/20/2008)

By Toolgirl
RE: Make Your Cat's Scratching Post
We did the same thing with our cat. My husband is a do it yourself so he always has his own "spare " wood bin. He just cut the piece of wood for the post,cut the base nailed it together and slapped some remnant carpeting we had lying around onto it. The cat loved it fine! I mean really, if you know how to do it yourself why give the money out to the big chain stores for one that's going to cost you at least double what you built it for! (08/21/2008)

By DEBRADJ.
RE: Make Your Cat's Scratching Post
The glue finally dried, but it still felt a little wobbly for our rambunctious kitties, so my husband got out the drill and drilled the bottom to the top. It's now solid. The glue is still pretty smelly and my kitties won't touch the scratching post. I would the smell of the glue and the wood are why. The seem to be just fine with trying to scratch up the woodwork in the house. (08/21/2008)

By crazyliblady
RE: Make Your Cat's Scratching Post
Most people just expect their cat to know what a scratching post is for, but many have to be taught how to use it. Catnip helps and dangling interactive toys like a peacock feather or a fishing pole toy helps. I also found that my cats liked their post laying down better than standing up. The base makes the angle perfect and I hide surprise toys under it too. We made ours out of sisal rope and left a 12 inch tail for them to play with. Hope your kitties have fun with their new toy! (08/21/2008)

By katklaw777