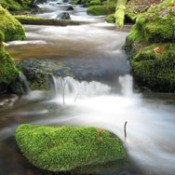 Tips for growing moss on rocks.
Moss Recipe
I've never actually tried this, but I've been meaning to. Here is a recipe I've been told works well to give planters and rocks that aged look.
Put a handful of whatever type of moss you want to grow into a blender with 1/2 teaspoon of sugar and a can of cheap beer (or buttermilk) and mix it up just long enough for it to get thick and soupy. For the sake of your blender, try and remove as much dirt from the moss as you can.
Use a paint brush to spread the mixture over items you want to grow moss on, including on the ground between stones in walkways and paths. Keep these items in the shade and mist them once in a while to keep then from drying out. In anywhere from a few months to a year you should start seeing some moss growth.
I've also read you can paint plain yogurt directly onto planters and rocks and then rub those items with garden dirt containing moss spores. If you're not familiar with what moss spores look like, when they sprout up from the moss, they look like little bristles of hair with wheat seeds on the tips.
By Ellen Brown
Mix Moss And Buttermilk
I read this somewhere and tried it and it actually does work. You go into the woods and collect moss from the ground or trees and you put it in a blender with buttermilk then pour the mixture on your rocks. I didn't like the idea of putting it my blender, so I put it in a jar and shook it and poured it on.
The only problem I had was the rocks that got more sun, the moss would dry out and die. But if I kept it damp with the hose now and then it would survive. Not sure what makes it work unless it is the cultures in the buttermilk, but it worked for me. I hope it works for you.
By Mividaloca291
Try Yogurt
I was given a slightly different recipe. Blend a small amount of moss with plain yogurt, then spread the mixture on the item/area that you want the moss to grow.
By Claudia - MD
April 8, 2007
0

found this helpful
Get an old blender or mixer from a yard sale or flea mkt.They you can have it dedicated to your moss.
April 10, 2007
0

found this helpful
the picture is beautiful, i had to set it as my background for puter. Sorry, i have no advise.
January 12, 2011
0

found this helpful
Moss never acutely die, if your moss has dried out, that means is in a hibernate stage, just add water and it will come right back to it's lush self. Mosses loves water! Also if you do some research, there are some mosses that grow faster then other, because some species of moss will clone them selves as well as reproduce. It is also a myth that mosses don't like sun, they do, there are even some moss species that live in desert. But if you do have your moss in direct sun light they are going to need more water.
January 8, 2012
0

found this helpful
I guess for encouraging moss to grow on rocks the dairy products simply help the moss 'smoothie' to stick to the rock surface and not fall off (heaven help you when it rains though and all washes away, so best to cover it with clear plastic until it takes). You could use any sticky creamy organic stuff. It's not about any spooky nutrients.
Regarding moss for bonsai, my method is simple. I gather moss from rocks when it's dry as it's much easier to handle. I use a very stiff old artists brush to scrape the moss into a tray - the stiff brushing action automatically turns it into a fine consistency, like 'floss', incorporating obvious mature moss filaments as well as spores, plus the very fine first generation moss growths that seem to be green film.
I mix this dry moss 'floss' with equal amounts of dry fine soil, add a little water to moisten the mixture so that it adheres to itself, then I just press the mixture onto my rocks and bonsai landscapes. Because it's a malleable mixture the growth looks natural in my landscape, whereas if you just lift off lumps of growing moss from outdoors and press that on your bonsai you simply get incongruous lumps of moss, or a moss 'toupee' that doesn't look like it grew naturally in your landscape.
Once planted, I use a spray bottle and mist it with water every day. The result is superb. One of my small moss mountains is under a glass dome to keep it humid, which looks nice too. The small moss filaments look like distant pine trees on the side of a mountain cliff. Love this stuff!