Banana Pancake Recipes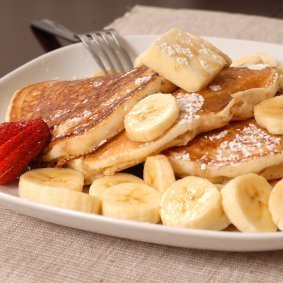 Banana pancakes are a great alternative to plain. Not only do you have that short stack to smother in syrup if that is your style, but you have the added nutrition of fresh bananas. These fruity cakes can also be eaten without added sweetener due to their naturally sweet flavor. This page contains banana pancake recipes.
Solutions: Banana Pancake Recipes
Read and rate the best solutions below by giving them a "thumbs up".
Don't know what do to with those leftover bananas? I mash up left over bananas that are starting to brown into pancake mix and add cinnamon and chocolate syrup. My grand kids love it. You have chocolate, cinnamon, banana pancakes. Yummy!
By Marlene from Seagrove, NC
Share Your Feedback:
Once you try any of the above solutions, be sure to come back and give a "thumbs up" to the solution that worked the best for you. Do you have a better solution? Click "Share a Solution" above!
Questions
Here are questions related to
Banana Pancake Recipes
.
Perfect Banana Pancakes
Do you have a great recipe for banana pancakes? Please share it.
By Lewissan from Port Orchard, WA
---
Using Pancake Mix

By frugal
09/21/2012
I use regular pancake mix. I add a dash of cinnamon powder and a very ripe banana to the mix and cook as usual. They come out great. If you want a bit extra bananas cut firm bananas in rounds and saute in butter for about 1 to 2 minutes and pour over pancakes with syrup.
---
Perfect Banana Pancake Recipes

By judyandtommy
09/20/2012
Here is a great recipe for banana pancakes
Ingredients:
1 cup all-purpose flour
1 tablespoon white sugar
2 teaspoons baking powder
1/4 teaspoon salt
1 egg, beaten
1 cup milk
2 tablespoons vegetable oil
2 ripe bananas, mashed
Directions:
Combine flour, white sugar, baking powder and salt. In a separate bowl, mix together egg, milk, vegetable oil and bananas.
Stir flour mixture into banana mixture; batter will be slightly lumpy. Heat a lightly oiled griddle or frying pan over medium high heat. Pour or scoop the batter onto the griddle, using approximately 1/4 cup for each pancake. Cook until pancakes are golden brown on both sides; serve hot.
Archives
Here are archived discussions related to this page.
Making Banana Pancakes
Do you have a good recipe for banana pancakes or do you just add some mashed bananas to the regular recipe? Thanks.
Dorothy
---
RE: Making Banana Pancakes
Check out these two sites :-) I personally liked the look of the recipe on the first link best :-)
http://www.breakfast-and-brunch-recipes.com/bananapancakerecipe.html
http://www.epicurious.com/tools/searchresults?search=banana+pancake (10/01/2008)
By Deeli
RE: Making Banana Pancakes
I make them often. I use regular pancake mix and sliced bananas. It works best to put the slices on your griddle for maybe 15 seconds and then flip them, then right away pour on the pancake mix. If you don't fry them just a bit they don't get hot enough (for me.)
But you only want to fry one side, the side that will be inside the pancake. If you let the other side fry then when you put the mix on, the bananas will get too brown. Then I put a few pieces of uncooked banana on top of the stack. Delicious. (10/01/2008)
By Estella
RE: Making Banana Pancakes
Thanks for the recipes! I might try some of those! (10/02/2008)
By WildIrish