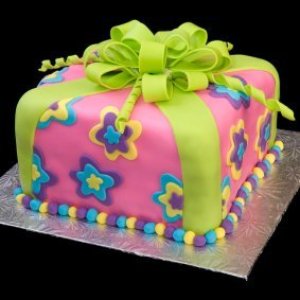 Fondant covered cakes are very popular right now. If you don't want to buy pre-made fondant, you can make your own. This is a guide about making homemade fondant.
Ad
---
Recipes
Read and rate the best recipes below by giving them a "thumbs up".
Ingredients:
1/4 cup butter
1 (16 oz) pkg. miniature marshmallows
4 Tbsp. water
1 tsp. vanilla extract
2 lbs. confectioners' sugar, divided
Directions:
Place butter in a bowl and set aside.
Place marshmallows in a large microwave-safe bowl, and microwave on High for 30 seconds to 1 minute to start melting the marshmallows. Mix the water and vanilla extract into the hot marshmallows, and stir until the mixture is smooth.
Slowly beat in confectioners' sugar, one cup at a time, until you have a sticky dough. Reserve 1 cup of powdered sugar for kneading. The dough will be very stiff.
Rub your hands thoroughly with butter, and begin kneading the dough. As you knead, the dough will become more workable and pliable. Place the dough out onto a work surface dusted with confectioners' sugar. Continue kneading until the fondant is smooth and no longer sticky to the touch, 5 to 10 minutes.
Form the fondant into a ball. Wrap it tightly in plastic wrap and refrigerate overnight.
When ready to use, allow the fondant to come to room temperature, and roll it out on a flat surface dusted with confectioners' sugar.
Servings:
Makes approx. 2 1/4 lbs.
By Laurel from Port Orchard, WA
A wonderful and inexpensive way to have a beautiful cake at any function is to make it yourself. I've begun using a recipe for home made fondant (sugary "dough" icing for cakes) using powdered sugar and mini marshmallows!
There are about a thousand recipes online and the end results are beautiful and delicious! I've made fondant for a fraction of the cost than you can get pre-made at a craft store! And in my opinion, it tastes much better!
By Carrie from El Paso, TX
The very best fondant is buttercream fondant. It is basically any buttercream frosting with no liquid. You can use real butter, but sparingly, mostly Crisco. Mix everything together, then if it needs a little moisture, add only 1 or 2 teaspoons of water, no more!
Some recipes on line call for lemon or orange oil, I used clear vanilla or regular vanilla, or any other flavorings you would like. I have also used invisible Kool-Aid or colored Kool-Aid for flavor. Fun!
By Mary from Atascadero, CA
Share Your Feedback: Have you tried this recipe? Do you have your own variation which you would like to share? Click "Share a Recipe" above!