Cake Mix Cookie Recipes
A quick and easy way to make cookies is to start with boxed cake mix. This page contains cake mix cookie recipes.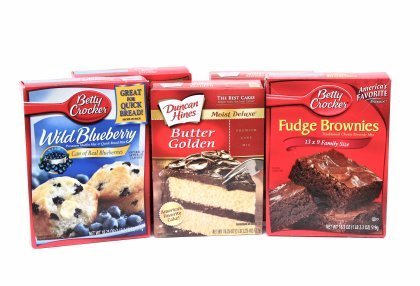 Filter

: All Articles
Sort

: Relevance
I love quick recipes! These have only 4 ingredients (one of which is water) and are super fluffy. They are also lower in fat than most cookies, as there is only 4 tablespoons of shortening in the entire batch. I made mine with devil's food cake mix, but will soon be trying angel food among others.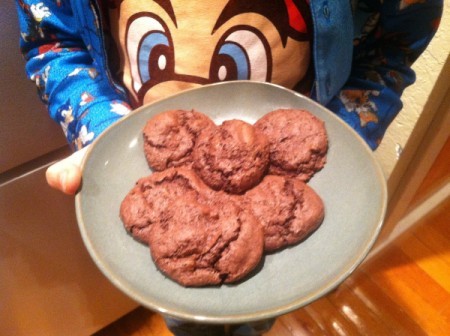 Total Time: 15-20 minutes
Yield: 24 cookies
Ingredients:
1 box devil's food cake mix
2 eggs
4 Tbsp shortening, melted
6 Tbsp water
Steps:
Add cake mix, 2 beaten eggs, 4 tablespoons melted shortening and 6 tablespoons water to a bowl and blend well.
Drop by large tablespoons full onto greased cookie sheets.
Bake in a 350 degree F oven for 11 minutes.
Put in hand, bring to mouth, chew. Now smile.:) Repeat.
Source: I modified a recipe from "Money Saving Recipes".
One day about 4 years ago, our local market had a special on cake mix. If you bought 24 boxes (a case), you could have them for 59 cents each. So, I bought 24 assorted flavors and put them in my freezer. After preparing several cakes, my family said "Enough!". So the rest sat in my freezer for about a year.
I was wondering what to do with all those extra boxes when I remembered I had heard of making cookies from cake mix. I opened a box of chocolate mix and poured it into a bowl. I thought I would experiment, as I had no recipe to use. My first try was the right one! Just 3 tablespoons each of oil and water made the perfect dough for rolled or sliced cookies. Baked in a moderate oven for about 10 minutes and out came perfect, crunchy chocolate cookies. I dusted them with powdered sugar and they were a huge hit.
And the BEST part? One box made 6 dozen 1 1/2 inch cookies. For about 63 cents! That's less than 10 cents a dozen! Chocolate, lemon, and gingerbread mixes were the best, I added a bit of ginger to the gingerbread because we like them VERY ginger-y. You may come up with more variations, but you can't beat the price! Now I buy cake mix every time it is on super sale, even at a dollar a box it is still a bargain!
Ingredients:
1 box cake mix
3 Tbsp. water
3 Tbsp. oil
optional spices may be added to taste
Directions:
Mix the cake mix with the water and oil. I knead it with my hands to get the right consistency for cutout or sliced cookies.
Roll out a portion of the dough to desired thickness, I like about 1/8 inch.
Cut into shapes with cutters or just cut into squares or diamonds with a knife. Keep them about 1 1/2 to 2 inches in diameter.
Bake on a lightly greased and floured sheet or parchment at 350 degrees F for about 8-10 minutes. Check them at 6 minutes as some cook faster than others.
When slightly tanned, remove from oven, cool, and frost or sprinkle with powdered sugar. Makes about 6 dozen.
By plumcottage from NJ
This afternoon, I spent less than 40 minutes making 3 batches of cookies, all using cake mix. I used all white cake mix, but you can use yellow or chocolate if you like depending on the type of cookies you want to make.
The first batch was just plain raisin cookies. Add 2 eggs (beaten) and 1/2 cup olive oil (not virgin, just plain cooking olive oil. Beat those two ingredients together in a large enough bowl. I do not use a mixer, just a big fork. Add half the box of cake mix. Stir well, then add the other half box of cake mix. Add as many raisins as you think you'd like. About 1/2 or more cups is fine. Place dough in a covered container or plastic bag and pop into the refrigerator.
You can bake them a couple of hours later, or the next day. Form into balls about the size of a small walnut, and place on parchment paper or lightly greased cookie sheet. Bake about 8-12 minutes at 375 degrees F depending on how brown you want the cookies to be. I like using parchment paper as I just remove all the cookies at once onto a wire rack, (parchment and all) and immediately add an already "loaded" new sheet of parchment onto the cookie sheet and into the oven they go. Making cookies never happens so fast.
I put together a batch of chocolate chip cookies following the same procedure, and they'll be baked the same way. The third batch was chock full of finely chopped pecans also following the same procedure and they'll also be baked tomorrow morning in the same manner.
If you don't have time to bake them tomorrow, place them in an airtight container and freeze. Thaw out when you're ready to bake and you can have nice freshly baked cookies anytime.
This is easy enough for even the least experienced cook to make a lot of different kinds of cookies in a very short time. The cookies can be frosted if you like, but they don't need anything else to make them delicious. All the best.
By pookarina from Boca Raton, FL
I'm looking for recipes for cake mix cookies or bars.
Pat
February 15, 2011
0

found this helpful
http://allrecipes.com/Recipe/Easy-Lemon-Cookies/Detail.aspx
This lemon cookie recipe is GREAT. I've made it numerous times and everyone who tastes the cookies loves them. I've tried the same recipe with red velvet cake mix and it wasn't good. I've got an orange mix and a banana mix I want to try soon just to see what else can work.
Still, the lemon is wonderful and so easy to make.
February 18, 2011
0

found this helpful
I have made these cookie's many times and very easy..
1 box spice cake
1 large can pumpkin
1 BAG semi sweet chocolate chips
mix cake mix and pumpkin until well blended then pour in chips, mix well, drop by table spoon full onto parchment paper or ungreased cookie sheet into a 350 oven for 18 min.
Very good and easy!
Read More Answers...
I have seen many cake mix cookie recipes. Does anyone have a TNT, never-fail version? I would like to try a really good one. Thanks!
By JudyR from DSM, IA
August 23, 2011
0

found this helpful
Here's the recipe I use (I believe it came from allrecipes.com originally but I can't be sure). This recipe has never failed me & my kids love the results!
Cake Mix Cookies
1 package cake mix
2 eggs
1/2 c vegetable oil
1 c mix-ins
Preheat oven to 350*F. Put a box cake mix in a large bowl & add eggs and vegetable oil. Mix well until the batter shows no lumps. Stir in mix-ins. Using a teaspoon, drop batter about 2" apart on an ungreased cookie sheet. Bake for 8-10 minutes.
The mix-ins I use depends on the flavor of the cake mix. For instance, I combine chocolate cake mix & either white chips or peanut butter chips; funfetti cake mix & mini M&Ms; yellow cake mix & chocolate chips. Use your imagination & your families favorites.
August 23, 2011
0

found this helpful
These are the best I've ever had.
1 pkg. Duncan Hines white cake mix
1/4 c. brown sugar
1 c. semi sweet or white chocolate chips, or half & half, or half & 1/2 c. Heath or Reese's Bits
1/2 c. nuts (I use pecans)
3/4 c. oil (I use Canola)
1 egg
Roll 1-1 1/2 teaspoonfuls into balls. Bake at 375 F for 10-12 min.
Read More Answers...
I would like recipes that uses dry cake mixes to make cookies, cakes, etc. I especially would like the ones using angle food cake mixes with the additions of one or two other ingredients.
I have used the cake mix recipe for making cookies for a couple of years now. I am always looking to make old recipes healthier. Here is what I have come up with to add fiber and to cut the fat and calories.
So quick and easy. Mix the three ingredients and drop about 1 tablespoon into powdered sugar. Bake 10 minutes and check for doneness.
Lemon cookies made out of cake mix.
Can anyone please tell me how to turn an applesauce cake recipe into a cookie recipe?
Thank you in advance.

By Danialle from Polson, MT
November 11, 2010
0

found this helpful
I found a great little cookbook at my aunts house called 101 things to do with a cake mix.
Heat oven 375 degrees F. Mix 1/2 cake mix with PB, butter, water and eggs stir until smooth. Add remaining cake mix. Shape dough into small balls about 2 tsp., then flatten balls with a fork dipped in sugar.
Make the most of your cookie making time by using simple ingredients to make 3 different kinds of killer good cookies.
Related
© 1997-2016 by Cumuli, Inc. All Rights Reserved. Published by
ThriftyFun
.
Page
generated on August 25, 2016 at 10:46:31 PM on 10.0.2.119 in 4 seconds. Use of this web site constitutes acceptance of ThriftyFun's
Disclaimer
and
Privacy Policy
. If you have any problems or suggestions feel free to
Contact Us
.