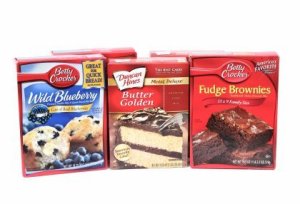 A quick and easy way to make cookies is to start with boxed cake mix. This page contains cake mix cookie recipes.
Solutions: Cake Mix Cookie Recipes
Read and rate the best solutions below by giving them a "thumbs up".
This afternoon, I spent less than 40 minutes making 3 batches of cookies, all using cake mix. I used all white cake mix, but you can use yellow or chocolate if you like depending on the type of cookies you want to make.
The first batch was just plain raisin cookies. Add 2 eggs (beaten) and 1/2 cup olive oil (not virgin, just plain cooking olive oil. Beat those two ingredients together in a large enough bowl. I do not use a mixer, just a big fork. Add half the box of cake mix. Stir well, then add the other half box of cake mix. Add as many raisins as you think you'd like. About 1/2 or more cups is fine. Place dough in a covered container or plastic bag and pop into the refrigerator.
You can bake them a couple of hours later, or the next day. Form into balls about the size of a small walnut, and place on parchment paper or lightly greased cookie sheet. Bake about 8-12 minutes at 375 degrees F depending on how brown you want the cookies to be. I like using parchment paper as I just remove all the cookies at once onto a wire rack, (parchment and all) and immediately add an already "loaded" new sheet of parchment onto the cookie sheet and into the oven they go. Making cookies never happens so fast.
I put together a batch of chocolate chip cookies following the same procedure, and they'll be baked the same way. The third batch was chock full of finely chopped pecans also following the same procedure and they'll also be baked tomorrow morning in the same manner.
If you don't have time to bake them tomorrow, place them in an airtight container and freeze. Thaw out when you're ready to bake and you can have nice freshly baked cookies anytime.
This is easy enough for even the least experienced cook to make a lot of different kinds of cookies in a very short time. The cookies can be frosted if you like, but they don't need anything else to make them delicious. All the best.
By pookarina from Boca Raton, FL
So quick and easy.
Ingredients:
1 box any flavor cake mix
1 egg beaten
2 cups whipped topping thawed
Directions:
Mix the three ingredients and drop about 1 tablespoon into powdered sugar. Bake 10 minutes and check for doneness. Bake at 325 degrees F. Do not over bake.
By latrtatr from Loup City, NE
Ingredients
1 package of yellow or white cake mix
1-1/4 cup peanut butter
1/4 cup soft butter
1/4 cup water
2 eggs
Directions
Heat oven 375 degrees F. Mix 1/2 cake mix with PB, butter, water and eggs stir until smooth. Add remaining cake mix. Shape dough into small balls about 2 tsp., then flatten balls with a fork dipped in sugar. Bake 9-10 minutes, a little under done is the best results (soft cookie), otherwise the cookie get hard.
Source: I have had this recipe for a long time, not sure where it came from
By Cathy from Hewitt, NJ
Lemon cookies made out of cake mix.
Ingredients:
1 box lemon cake mix
2 medium eggs
1/4 cup oil
some powdered sugar
Steps:
Mix cake mix, eggs, and oil, mixing until no lumps are present.
Drop onto sprayed cookie sheet so they do not touch.
Bake at 350 degrees F for 8 - 10 minutes.
When cookies start to brown around edge they are done.
Let cool, and then sift powdered sugar on top.
By Robyn [361]
Ingredients
1 pkg. white cake mix
1/2 cup cooking oil
2 Tbsp. water
1 cup chocolate chips
1/2 cup chopped nuts
2 eggs
Directions
Blend cake mix, oil, water and eggs. Stir in chocolate pieces and nuts. Drop from teaspoon onto ungreased cookie sheet. Bake at 350 degrees F for 10-12 minutes. Top of cookies will be pale. Make 3 1/2 dozen.
By Robin from Washington, IA
I have used the cake mix recipe for making cookies for a couple of years now. I am always looking to make old recipes healthier. Here is what I have come up with to add fiber and to cut the fat and calories.
Ingredients:
1 box of cake mix (any flavor)
2 beaten eggs
1/2 cup unsweetened applesauce
2 cups of dry quick-cooking oatmeal
3/4 cup of chips if desired (chocolate, peanut butter or white chocolate)
Directions:
Mix ingredients together. Drop by walnut-size balls onto ungreased cookie sheet, flatten slightly with bottom of glass. Cook for 15 min in a 350 degree F oven. Cool on wax paper. Makes 4 dozen cookies.
Ingredients
1/2 cup butter
1/2 cup packed brown sugar
2 tablespoons water
1 egg
1 (18.25 ounce) package white cake mix
1 cup chopped walnuts
2 cups semisweet chocolate chips
Directions
Preheat oven to 350 degrees F (175 degrees C). Grease a 9x13 inch baking pan. In a large bowl, cream together the butter and sugar until light and fluffy. Mix in water and egg, then stir in cake mix. Finally, mix in nuts and chocolate chips. Spread mixture into pan. Bake for 30 to 35 minutes in the preheated oven. Cool completely before cutting into bars.
I also have made this with 1 cup of candy bars crushed instead of chips or nuts. I have used butter finger candy bars and peanuts. I use yellow cake mix. Try different stuff, easy recipe. Yummy.
By Tamsy from Texas
I would like recipes that uses dry cake mixes to make cookies, cakes, etc. I especially would like the ones using angle food cake mixes with the additions of one or two other ingredients. I would appreciate other uses for cranberry whole berry sauce used in making cookies, etc. as I was blessed with about a dozen cans of this. Are there sugar free cake mixes on the market? Thanks for any suggestions on these subjects.

Marifay from Brodhead, WI

Give a "thumbs up" to the solution that worked the best! Do you have a better solution? Click here to share it!
Questions
Here are questions related to Cake Mix Cookie Recipes.
I have seen many cake mix cookie recipes. Does anyone have a TNT, never-fail version? I would like to try a really good one. Thanks!
By JudyR from DSM, IA
---
Most Recent Answer

By Rachel [1]08/23/2011
These are the best I've ever had.

1 pkg. Duncan Hines white cake mix
1/4 c. brown sugar
1 c. semi sweet or white chocolate chips, or half & half, or half & 1/2 c. Heath or Reese's Bits
1/2 c. nuts (I use pecans)
3/4 c. oil (I use Canola)
1 egg
Roll 1-1 1/2 teaspoonfuls into balls. Bake at 375 F for 10-12 min.
I'm looking for recipes for cake mix cookies or bars.
Pat
---
Most Recent Answer

By Bonnie Ducharme02/18/2011
I have made these cookie's many times and very easy..
1 box spice cake
1 large can pumpkin
1 BAG semi sweet chocolate chips

mix cake mix and pumpkin until well blended then pour in chips, mix well, drop by table spoon full onto parchment paper or ungreased cookie sheet into a 350 oven for 18 min.
Very good and easy!
Can anyone please tell me how to turn an applesauce cake recipe into a cookie recipe?
Thank you in advance.

By Danialle from Polson, MT
---
Most Recent Answer

By Patty Harris [1]11/11/2010
I found a great little cookbook at my aunts house called 101 things to do with a cake mix.
Archives
Thrifty Fun has been around so long that many of our pages have been reset several times. Archives are older versions of the page and the feedback that was provided then.
My family raves over the different cookies I make now. Catch the name brand cake mixes on the loss leader sales at 68 cents or less. Put any flavor mix into the bowl and mix in 2 eggs and 1/2 cup of vegetable oil. I like to throw in 6 oz of chocolate chips, and sometimes a couple of tbsp of brown sugar. Drop by spoonfuls onto cookie sheet and bake at 350 degrees F for 10 minutes or so.
Every single cookie I have whipped up, they eat them up like candy. Much better than store bought ones, and a hundred times easier than totally by scratch ones, and cheaper. Today I used the BC butter pecan mix and added the chocolate chips. They raved over them, tasted a lot like a fantastic slightly different version of a chocolate chip cookie. I am disabled so this makes me happy because I can get in and out of the kitchen and makes the family happy too!
By Lori from Marion, AR
---
Different Cookies from Cake Mixes
I tried my first cake mix cookies. BC Devils food Cake mix. They were a BIG hit. (06/01/2006)
RE: Different Cookies from Cake Mixes
My sis in law makes these at Christmas and they are good. I will try this as it sounds good and easy. (06/01/2006)
By meoowmom
RE: Different Cookies from Cake Mixes
Wow, what a great idea. I have always been a better cook than a baker since my hubby doesn't care for sweets (I care for them too much!) but we have two young children now and I'd like to be able to make them homemade cookies but not spend too much time at it. I'm sure they could even help me make these, they sound so simple! (06/02/2006)
By Debbie52
RE: Different Cookies from Cake Mixes
I have been making these "cake cookies" for years, my kids love them too! I especially like the cookies made from spice cake mix and strawberry cake mix. (06/02/2006)
By glowgirl
RE: Different Cookies from Cake Mixes
It sounds like fun-experimenting with the different flavors and possibilities! (06/04/2006)
By
RE: Different Cookies from Cake Mixes
I tried these cookies for the first time, using Strawberry cake mix and added white chips. they were delicious! My grandkids loved them. Thanks for the recipe. (06/09/2006)
By gramma Elly
When making cookies with cake mixes, do you follow the cake mix directions before you add the butter and egg? I never bake so I just don't know. I was not able to drop the cookies. I just added the butter and egg, but they are a little too hard. Thank you.
By Angelgirl10
---
RE: Making Cookies With Cake Mix
Forget the cake directions. Just follow the cookie directions. Take mix and add egg and melted butter or whatever it says. Cookie batter usually is hard. The oven will heat it and melt it flat. Use 2 spoons. One to scoop and another to scrape it off (to drop). Good luck. (05/14/2009)
RE: Making Cookies With Cake Mix
The easiest cake mix cookie recipe I know is this:
1 cake mix
1 ripe banana
2 eggs
1/4 cup water
Mix all ingredients well until smooth, thick batter forms. Stir in nuts, chocolate chips, etc. if wanted. Drop by spoonfuls on greased/Pam sprayed cookie sheets. Bake at 350F degrees for 12 - 15 minutes. Yields about 4 dozen cookies. Bake until barely brown for soft cookies.
Some combinations I have tried are white cake/almonds or walnuts or white chocolate chips, chocolate cake/chocolate chips, yellow cake/toffee or butterscotch chips, yellow cake/1/2 cup oatmeal and 1/2 cup raisins. I just used a funfetti cake mix with no additions, and it made nice sugar cookies with the colored sprinkles throughout them. (05/14/2009)
By Omanana
RE: Making Cookies With Cake Mix
I make cake mix cookies all the time. I use:
one box of dry cake mix
1 egg
1 stick melted margarine
1/4 cup of brown sugar
Mix all ingredients together. Roll into balls. Place on cookie sheet and bake about 8 minutes. Any flavor cake mix can be used and you can add nuts, chips, or anything else you'd like. (05/16/2009)
By PRISM192