Miniature Cheesecake Recipes
Videos
Watch and rate the videos below.
Solutions: Miniature Cheesecake Recipes
Read and rate the best solutions below by giving them a "thumbs up".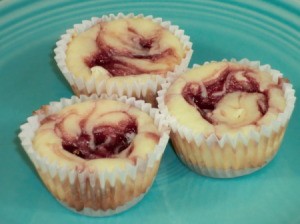 These mini cheesecakes are a perfect grab and go treat that you are sure to love. This recipe can easily be made using a regular sized muffin tin for a heartier dessert. :)
Ingredients:
For the crust:
1 1/2 cups graham cracker crumbs
4 Tbsp. butter, melted
3 Tbsp. sugar
For the filling:
2 lbs. cream cheese, room temperature
4 large eggs, room temperature
1 1/2 cups sugar
pinch of salt
1 tsp. vanilla extract
For the raspberry swirl:
6 oz. fresh raspberries
2 tbsp. sugar
OR:
Directions:
Preheat the oven to 325 degrees F.
Line cupcake pans with paper liners.
Place graham crackers in a large measuring cup and smash with your hand. (I put a baggie over my hand so that the crackers wouldn't poke me.) To ensure that all of the crumbs were small, I poured the crumbs into the baggie and smashed them more with the glass measuring cup.
In a small bowl, combine the graham cracker crumbs, melted butter, and sugar. Using a fork, stir until well blended and all the dry ingredients are moistened.
Put 1/2 Tbsp. of the mixture into each cupcake liner. Press firmly into the bottom. (I used a small medicine cup to evenly press the crumbs down.)
Bake crusts for 5 minutes. Place on a cooling rack and allow to cool completely.
To make the filling, place cream cheese in a bowl and beat on medium-high speed until fluffy. Add sugar and beat until smooth. Mix in the salt and vanilla. Add eggs one at a time, mixing well after each addition.
Return the crusts to the muffin tin. Put 1 Tbsp. of filling into each muffin liner.
To make puree filling: Combine raspberries and sugar in a blender or food processor. Process until smooth, then pour through a fine mesh sieve to remove the seeds.

To use raspberry jam: Place approx. 1 cup of jam into a microwave-safe bowl and heat until runny.

Drop 1/2 tsp. of warm jam into the center of each and using a toothpick swirl the jam into the filling.
Bake 18 minutes, or until filling is set, rotating the pan halfway through baking. Check frequently at the end of the cook time and check with a toothpick. They will appear puffed up at first but will settle down as they cool.
Transfer the cheesecakes to a wire cooling rack and let cool to room temperature. Transfer them to the refrigerator and chill for at least 4 hours before serving.
This recipe makes A LOT of mini cheesecakes. You can freeze them and defrost to serve. Or you can make some minis and a batch of full-sized cupcake ones too (that's what I did!).
To make cupcake sized cheesecakes:
24 miniature cheesecakes topped with sour cream and cherry jam or drained crushed pineapple. There is not a lot of sugar in this recipe. I like all the ingredients and that they are small.
Ingredients:
1 (3 oz.) pkg. cream cheese
1/2 cup butter or margarine
1 cup flour
Filling
12 oz. cream cheese
4 Tbsp. sugar
2 eggs
2 tsp. vanilla
sour cream
raspberry or cherry jam or drained crushed pineapple
Directions:
Have all ingredients at room temperature. Cream the cheese and butter together until smooth. Blend in flour. Divide into 24 small balls and put in 24 small muffin cups. Press pastry on base and side with the fingers to line each cup evenly.
Blend the 12 oz cream cheese, eggs and vanilla until smooth. Spoon into pastry lined muffin cups. Bake in preheated 350 degree F oven for 20 minutes. Cool.
Spread the cheesecakes with sour cream and top with jam or with drained crushed pineapple.
Source: A Texas Cookbook from a long time ago!
By Robyn Fed from Tri-Cities, TN
Mini Cheesecakes I
Ingredients
12 vanilla wafers
2 pkgs. cream cheese (softened)
1/2 cup sugar
1 tsp. vanilla
2 eggs
Directions
Line muffin tin with foil cupcake liners. Place 1 vanilla wafer in each liner. Mix cream cheese, vanilla and sugar on medium speed until well blended. Add eggs; mix well. Pour over wafers, filling 3/4 full. Bake 25 minutes at 325 degrees F. Remove from pan when cool; chill. Top with fruit, preserves, nuts or chocolate. Be creative!
By Robin
---
Mini Cheesecakes II
Ingredients
48 mini cupcake liners
1 cup graham cracker crumbs
4 Tbsp. butter
2 8 oz. packages of cream cheese, softened
1/2 cup sugar
2 eggs
1 tsp vanilla
1 can each blueberry and cherry pie filling or fresh fruit if you prefer
Directions
For crust: Mix together well and place 1 tsp into each cupcake liner and gently press.
Or: Place one vanilla wafer into each liner.
Beat cream cheese on high until light and fluffy. Gradually add sugar, mix well. Add eggs and vanilla. Beat well. Spoon into liners (do not overfill) bake at 350 degrees F for 10 minutes. When completely cooled (this can be done right before serving), spoon about 1/3 tsp of the fruit filling over each cheese cake. Chill.
Makes 48
You may also make two cheesecakes by pouring the filling into a graham cracker crust. It takes a little longer to bake (25 to 30 min) top with fruit or fruit filling.
By PJ from Sylvester, GA
These are absolutely wonderful! I first had them at a baby shower at church and have had them many times since. They are not only good for showers and get-togethers, but I think they are a great snack for the kids after school.
Ingredients:
2 (8 oz.) pkgs. cream cheese, softened
3/4 cup sugar
1 Tbsp. lemon juice
24 vanilla wafers
24 paper baking cups
2 eggs
1 tsp. vanilla
1 can pie filling - I use cherry, but you can use whatever you like.
Directions:
Beat cream cheese, sugar, eggs, lemon juice, and vanilla until light and fluffy.
Place a vanilla wafer in each paper baking cup in muffin tin. Fill 2/3 full with cream cheese mixture.
Bake at 350 degrees F for 15-20 minutes or until set.
Top each with pie filling. Chill. These freeze well.
Cooking Time:
15-20 Minutes
By Robin from Washington, IA
Share Your Feedback:
Once you try any of the above solutions, be sure to come back and give a "thumbs up" to the solution that worked the best for you. Do you have a better solution? Click "Share a Solution" above!
Questions
Do you have a question related to this page?