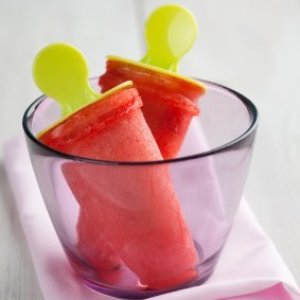 Popsicles are a fun treat to eat make. Making your own popsicles is easy and allows you to create healthier options. This page contains homemade popsicle recipes.
Ad
---
Solutions: Homemade Popsicle Recipes
Read and rate the best solutions below by giving them a "thumbs up".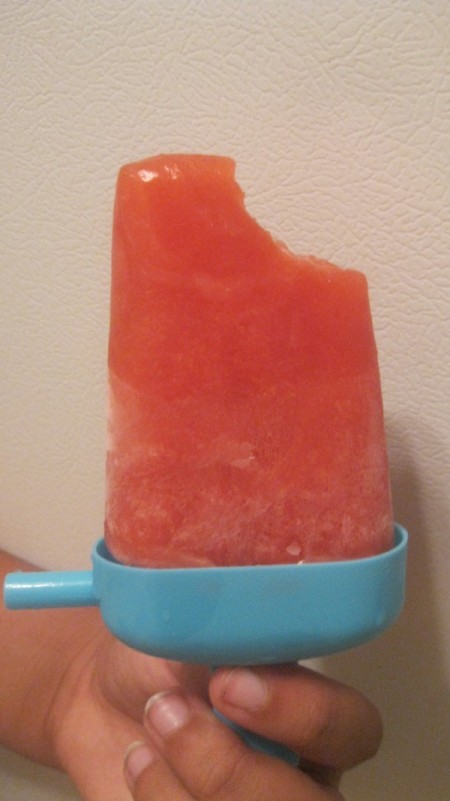 I just saw this in an old magazine and had to make it right away. I love that I had all the ingredients. These popsicles are so refreshing and delicious on a hot summer day. My kids really love them.
Approximate Time: 10 minutes, plus freezing time.
Yield: 10 3-oz popsicles
Ingredients:
2 lb cubed seedless watermelon
1/2 lb hulled, halved strawberries
1/2 cup sugar
3 Tbsp fresh lime juice
pinch of salt
Ad
---
Steps:
Puree watermelon in a blender in batches.
Strain watermelon juice through a fine-mesh sieve into a large bowl. Discard the solids.
Puree the strawberries. Add to watermelon juice.
Add sugar, lime juice and pinch of salt. Stir mixture until sugar is dissolved.
Pour mixture into 10 3-oz popsicle molds. (If you don't have molds, you can pour the mixture into little paper cups and put a stick in the cup).
Freeze until solid, about 3 hours or so.
Enjoy!
Source: Everyday Food magazine
Ingredients:
1 pkg jello (choice of flavor)
1 pkg Kool-Aid (choice of flavor)
2 cups hot water
2 cups cold water
1 cup sugar
Directions:
Shake Jello, Kool-Aid, sugar, and hot water to mix. Add cold water and shake. Pour into popsicle molds and freeze. If you don't have popsicle molds, use paper cups and craft sticks.
By Sandy from Graettinger, IA
I have been making a lot of popsicles lately and wanted to try something different. I thought that a Shirley Temple popsicle would be delicious. I used a naturally flavored carbonated water. There was no calories or artificial sweeteners. The kids loved it. They keep asking when I am going to make more!
Approximate Time: a few minutes, plus freezing time
Yield: as many as you would like
Ingredients:
Maraschino cherries & syrup
carbonated water The one (I used cherry flavored)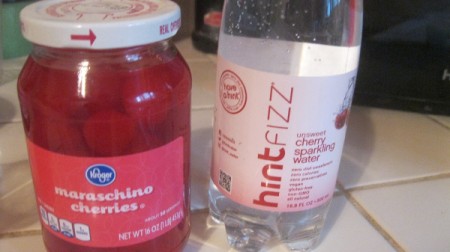 Ad
---
Steps:
Pour some maraschino cherry syrup into your popsicle molds. I filled mine about 1/4 of the way.
Plop in a cherry or two.
Fill the rest of the mold with your carbonated water. Don't fill all the way, to make room for the mixture to expand while freezing.
Add your popsicle tops.
Freeze for a few hours until completely frozen.
These are made from juice you've already paid for, and fairly healthy popsicles. I freeze the juice from canned fruit in popsicle molds. I also use the liquid that forms in a bowl of cut watermelon. My kids love them and they keep me from wasting the extra juices.
By Tina11 from Ottawa, IL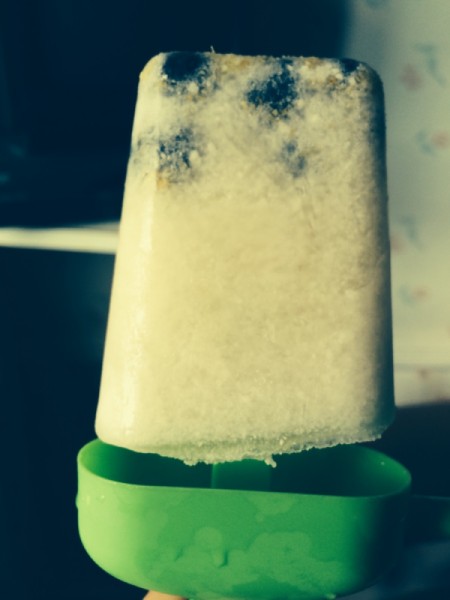 These pops have real pieces of fruit in them. They also have little pieces of coconut. They are very easy to make, as well.
Approximate Time: 5 minutes, plus 5 hours refrigerating and freezing time.
Yield: 6 pops
Ingredients:
14 oz can unsweetened coconut milk
1/4 cup agave syrup
1/8 tsp sea salt
zest of 1/2 lemon (I used dried orange peel and it worked out well)
1/3 cup blackberries, raspberries or blueberries (I used blueberries)
Steps:
In a bowl, stir the coconut milk, agave syrup, salt and zest. Then stir in the fruit.
Refrigerate for AT LEAST an hour to prevent crystals from forming.
Put into Popsicle molds and freeze (about 4 hours).
Source: July/August 2014 Shape magazine
Link: www.shape.com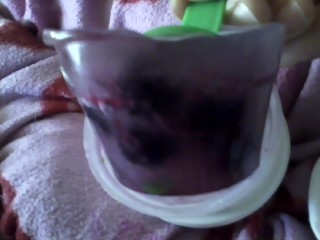 We have been eating those yummy jello cups you can buy at the grocery store that come in multi-packs. I have been reusing the little cups to make ice pops, and using the thousand and one pop sticks we have to make pops out of them.
I just fill the little emply jello cups with water and then plop a teaspoon or two or whole frozen blueberries. Then I plop a plastic stick in there and freeze. They have been a huge hit. They are the perfect pop container as the pop comes out easily. They are also easier to get out of the mold. I put the little plastic pop holders at a sideway angle so they won't pull out of the pop. We love it!
I have resigned myself to paying more for wholesome food. Although blueberries at first glance are expensive, they are awesome brain food.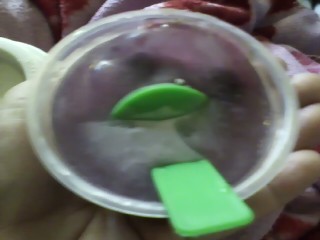 By Robyn [373]
This is a tasty blend of fruit, nuts and spices.
Ingredients:
1 cup water
1 banana
51 almonds
6 dates
1/2 cup raisins
1/4 tsp cinnamon
1/2 cup Sucanat (or 1/4 cup honey)
Steps:
Add all dry ingredients and a half cup of water.
Blend at high speed for 5 minutes.
Add rest of water and banana. Blend one more minute.
Pour into Popsicle mold and freeze.
Source: Found this recipe online.
By starlite [4]
I saw a photograph of this in an online search. I think this is a wonderful way to get children eating more fruit and I can make these with sugar-free Jelly granules as I am a diabetic. I am going to make a big batch for myself and my nieces and nephews. I hope you enjoy making and more importantly, eating them!
Ingredients
1 package of any flavor Jello
1 cup of fruit
Popsicle molds
Directions
Prepare the Jello according to the package. Cut the fruit into bite sized pieces and place into the mold. Fill with Jello in the liquid state. Place in freezer for at least four hours before devouring. Makes 6
Source: An online blog
By Monique from Somerset, UK., Weston-super-Mare
Kids love these!
Ingredients:
1 pkg. flavored gelatin (any flavor)
1 pkg Kool-Aid (any flavor)
1 cup sugar
2 cups hot water
Directions:
Dissolve ingredients in hot water. Add 2 cup cold water. Mix well. Pour into ice cube trays or molds and freeze.
By Robin from Washington, IA
Here is an easy and inexpensive cold treat to make for your kids. Even the big kids, namely me, like them on hot summer days.
Mix together 2 cups plain yogurt, 1/2 cup crushed pineapple and 6 ounces frozen orange-juice concentrate. Pour into 3-ounce paper or plastic cups. Freeze for 45 minutes or until mixture begins to thicken. Insert a wooden craft stick into the center of each pop. Freeze for about 4 hours or until pops are solid.
By Bobbie G from Rockwall, TX
Kool-Aid Popsicles I
Ingredients
2 cup hot water
1 pkg. unsweetened Cherry kool-aid
1 pkg. Cherry jello
1/2 cup sugar
2 cup cold water
Directions
Dissolve sugar and jello mix in hot water; add kool-aid mix. Mix in cold water. Pour in popsicle molds. Freeze. (can use any flavors of jello and kool-aid you wish.
By Terri
---
Kool-Aid Popsicles II
This saves money on store-bought popsicles.
In bowl mix:
1 unsweetened kool-aid packet
1 3-oz. box of jello
1 cup sugar
Add 1 very hot cup of water and mix well.
Put in 2 quart pitcher and add cold water to fill pitcher (or less water if you want sweeter popsicles).
Pour into popsicle molds and freeze.
P.S. For cherry popsicles I buy cherry kool-aid and cherry jello or whatever flavors you want you can do the same thing for.
By Becky
Ingredients
Directions
Put fruit and juice through a food mill or the blender. Puree till thick. Freeze in 5 ounce paper cups with spoon or popsicle sticks.
By Ardis
Homemade popsicles made from fruit juice are much more economical and healthier than pops bought from the store. And if you are just a little bit creative, you can make layers, and combinations that are fun for your kids.
By Vickie
Give a "thumbs up" to the solution that worked the best! Do you have a better solution? Click here to share it!
Questions
Here are questions related to Homemade Popsicle Recipes.
I would love a recipe to make a tasty sugar free Popsicle or frozen ice bar.
By Pamila K.
AnswerWas this interesting? Yes No
---
Most Recent Answer