My family ate at Olive Garden the other night. Does anyone have a recipe for the Chicken Gnocchi Soup? It was wonderful!

JoAnne from Florida
By guest (Guest Post)
December 14, 2008
0

found this helpful
This recipe taste just like the olive garden except I added a fresh bay leave and 2 stalks of celery and 4 cups of milk and perfection. If you like it thick leave the milk the same. Great job.
By guest (Guest Post)
December 15, 2008
0

found this helpful
Only one better, at Macaroni Grill. Just seem to be more "stuff" in it. The taste a bit different, but better, Still the Olive Garden very good.
By guest (Guest Post)
January 15, 2009
0

found this helpful
Your recipe sounds great Heather. I don't recall any carrot in the soup but am going to give your recipe a try. Sounds so good in this cold right now. Thanks!
By guest (Guest Post)
January 26, 2009
0

found this helpful
please pass the recipe for this amazing soup on to me if someone finds it
By guest (Guest Post)
February 27, 2009
0

found this helpful
I tried this recipe and it is the closest you can come to the soup at Olive Garden. As with the Olive Garden soup, it can taste a little different each time you make it. From beginning to end it takes about 10 min. of prep and 30 min. cook time.
1/3 cup butter
2 cloves of minced garlic
1 lb. chicken cubed or large chunks
1/3 cup flour
1/2 carrot shredded
1 stick of celery shredded
1/4 cup onion shredded
1/2 cup fresh spinach torn in pieces
2 cups whole milk
2 cups heavy cream (I use half and half)
3 chicken bullion cubes
Cracked pepper to taste
17.6 oz. of Gnocchi
On medium heat.
Melt butter in a soup pot, add in the garlic and sautee, add your chicken and cook through out
Add flour and stir in flour and mix well until the flour is cooked into the chicken.
Next add your milk and heavy cream
Then add the veggies(Carrots, Celery, Onion, Spinach)
Add three bullion cubes
Add your Gnocchi last it takes 3-4 min. to cook throughout
Mix ingredients well until soup thickens and stirring occasionally. Cover and simmer for 10 minutes.
April 15, 2009
0

found this helpful
This recipe is absolutely delicious. I also found that it was a little thicker than I liked, even though I used half and half and skim milk... I also added more and more vegetables as I went along; next time I make it I will double the amount of spinach and carrots I use, and cut out the celery altogether (everything else keeps its texture so well).
This is definitely one of my new favorite dishes.
July 30, 2009
0

found this helpful
The recipe By kimbraman1961 is excellent. I made it last night and it tastes just like the soup I had at Olive Garden. The only difference was that this recipe had lots more ingredients. Maybe the restaurant I ate at was making skimpy soup. But this recipe makes a hearty soup. The only Gnocchi I could find was potato gnocchi and that tasted different from the restaurant version. Next time I go shopping I'll see if I can find a different kind of gnocchi. The carrots and spinach looked beautiful in the creamy base. Oh it was yummy!
August 1, 2009
0

found this helpful
How much will Kimbraman 1961 recipe make?
September 7, 2009
0

found this helpful
I loved it also, tried this recipe.
Prep time: 10 min
Cook time: 45 min
Ingredients:
Boneless Skinless Frozen Chicken breasts
1 jar Alfredo Sauce (Bertolli is my fave)
1 can chicken broth
1/3 c. milk
1/3 c. butter
parsely flakes
1/3 c. water
1 can chopped spinach
salt
pepper
celery seeds
garlic quarter
2 cans pilsbury biscuits cut into fourths
Directions:
In a deep baking dish pour half of one can of chicken broth, water, pepper and salt. Lay number of chicken breasts that will fit (depends on amount cooking.) - I used 5.
Next, Pour remainder of can on top of chicken breasts, add a garlic quarter cut in half, salt and pepper, parsely flakes and celery seeds.
Cover with aluminum foil and place in oven on 375 degrees until cooked thoroughly. Drain broth and set aside. Chop chicken and set aside. Discard garlic.
In a large pot pour the alfredo sauce, 1/3 c. milk, and half of the cooked broth. Bring to a slow boil, stirring constantly. If soup is too runny you can add tablespoon flour to thicken. Add quartered biscuits. These will cook in the broth.
Add drained spinach, additional seasonings and broth to taste. Last, add chopped chicken and the butter.
Serves 4
Useful Tip: You can store the remaining chicken broth and freeze for another meal.
October 28, 2009
0

found this helpful
I just made kimbraman1961's recipe and it's very good, but the spinach can be a bit overwhelming so next time I'm using less than a 1/2 cup. I used canned spinach and I don't know how different it tastes than fresh. Also, depending on how thick you want it to be, you might think of substituting some of the milk for chicken broth. When I had it at Olive Garden it was fairly watery due to them adding water to make it last. That night I actually ended up getting the very last bowl of it. :)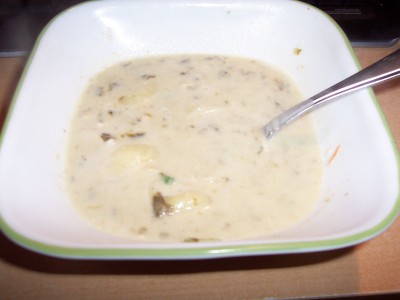 Read More Answers