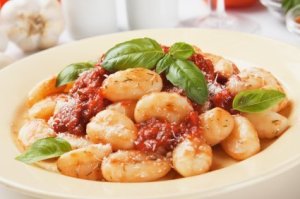 Using either homemade or purchased gnocchi, you can create a delicious meal. This page contains recipes using gnocchi.
Ad
---
Solutions: Recipes Using Gnocchi
Read and rate the best solutions below by giving them a "thumbs up".
Gnocchi (pronounced nee o kee) are tasty teeny potato dumplings that are a wonderful alternative to traditional pasta. There are a few steps for this casserole, but the effort is worth it. If you have any leftovers they taste just as great reheated the next day.
Ingredients:
3 medium zucchini, sliced 1/4 inch thick
1 small onion, diced
1 tsp. minced garlic
2 Tbsp. extra virgin olive oil
1 (14.5 oz) can diced Italian tomatoes, not drained
Salt and pepper to taste, if desired
1 lb. fresh or frozen gnocchi
8 oz. fresh mozzarella cheese, shredded
Directions:
Preheat oven to 350 degrees F.
In a large skillet, heat the olive oil on medium high heat; add the onion and garlic and saute until softened, about 5 minutes.
Add zucchini and cook, stirring occasionally, for 5 minutes.
Add the tomatoes and stir to combine, season with salt and pepper to taste, cover, reduce the heat and simmer on low.
Meanwhile, prepare the gnocchi according to the package, drain, gently stir the gnocchi into the skillet mixture, let simmer one minute and remove from heat.
Place half of the gnocchi mixture into an 8 x 8 inch baking dish, sprinkle half of the cheese on top, layer the remaining gnocchi on top of the cheese and then sprinkle the remaining cheese over the top.
Bake for 25 to 30 minutes, uncovered, and serve.
This recipe is for three pounds or gnocchi so you can cut the ingredients into 1/3 or prepare them all, freeze the extra two pounds on a baking sheet, then transfer to a freezer bag for future use.
By Deeli from Richland, WA
Roasted gnocchi makes a brilliant and time-saving alternative to roast potatoes or fries and can be found inexpensively in most supermarkets. Heat two tablespoons of sunflower oil till smoking in pan on the hob or in the oven, then shake in the gnocchi. In about five to eight minutes, shake the pan to turn the gnocchi. They should be ready when golden brown, about 15 minutes. These are delicious - better than fries!
By lucy from Oxford UK
Ingredients:
2 tbsp canola or olive oil
1/4 cup finely sliced carrots
1/4 cup finely chopped celery
1/2 cup finely sliced onion
1 tbsp minced garlic
1 14 oz can diced Italian spiced tomatoes
1/2 tbsp Italian seasoning (or season to your taste)
1/4 tsp pepper
1 package prepared gnocchi
Fresh parmesan cheese
Directions:
Heat oil in frying pan. Saute carrots, celery and onion until onions are clear. Add tomatoes, garlic & seasonings. Heat & stir. You can either add the gnocchi here & eat or simmer the sauce for about an hour until it's become a puree.
Cook gnocchi according to package directions starting at the same time or later depending on how you're cooking the sauce.
Add gnocchi to sauce, mix & serve with freshly grated parmesan cheese.
NOTE: Chicken, chopped & browned, or seafood can be added to make this a complete meal.
Give a "thumbs up" to the solution that worked the best! Do you have a better solution? Click here to share it!
Questions
Here are questions related to Recipes Using Gnocchi.
My family ate at Olive Garden the other night. Does anyone have a recipe for the Chicken Gnocchi Soup? It was wonderful!

JoAnne from Florida
AnswerWas this interesting? Yes No
Ad
---
---
Most Recent Answer
The server at Olive Garden told me that this soup has orange juice and brown sugar in it. I don't see it in these receipes.
---