Cauliflower Mashed Potato Recipes
Solutions: Cauliflower Mashed Potato Recipes
Read and rate the best solutions below by giving them a "thumbs up".
Having diabetes 2 and trying faithfully to watch what I eat to keep my weight down I found this great little recipe for Mock mashed potatoes. Granted it isn't the real thing but very close. It really is very good. If you love mashed potatoes but shouldn't be eating them please try these. recipe below,
Ingredients:
8 cups cauliflower florets or a small head of cauliflower
1/4 cup Kraft Lite Ranch dressing
1 green onion, thinly sliced
Directions:
Bring water to boil in large sauce pan. Add Cauliflower, cook 15 minutes or until cauliflower is very tender. Drain cauliflower, add dressing and mash until cauliflower is light and fluffy. sprinkle with onions. Serve.
Yields: 8 servings (1/2 cup each)
Contains: 50 calories per serving and 6g of carbohydrates.
By Connie from Ballwin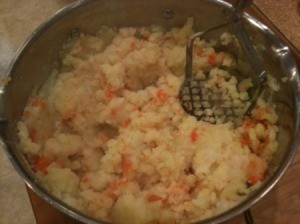 A new spin on a classic favorite. These mashed potatoes are made with potatoes, cauliflower, and carrots. They are as delicious as they are colorful.
Ingredients:
3 medium baking potatoes (1 lb.), peeled and cubed
1 cup coarsely chopped cauliflower
1/2 cup sliced carrots
1/4 cup light sour cream
1/4 tsp. salt
2 Tbsp. grated Parmesan cheese
Directions:
In a medium pot cook potatoes, cauliflower, and carrots. Cover them in enough boiling water for them to cook for 15-20 minutes or until tender. Drain.
Mash the vegetables with a potato masher or beat with an electric hand mixer on low speed.
Add sour cream and salt. Mash or beat until combined. Season with additional salt and pepper, to taste. Top each serving with Parmesan cheese.
Source: Kid Favorites Made Healthy cookbook
By Laurel from Port Orchard, WA
Share Your Feedback:
Once you try any of the above solutions, be sure to come back and give a "thumbs up" to the solution that worked the best for you. Do you have a better solution? Click "Share a Solution" above!
Questions
Do you have a question related to this page?