Homemade Chex Mix Recipes
Solutions: Homemade Chex Mix Recipes
Read and rate the best solutions below by giving them a "thumbs up".
There's nothing like sweet and salty together.
Ingredients:
2 cups Corn Chex
2 cups Rice Chex
2 cups Wheat Chex
3/4 cup salted mixed nuts
6 Tbsp. butter
1 Tbsp. season salt
4 tsp. Worcestershire sauce
1 package Easter M&Ms
Directions:
Preheat oven to 250 degrees F. Heat butter in large shallow baking pan in oven until melted. Remove, stir in season salt and Worcestershire sauce. Add Chex and nuts. Mix until all are coated. Heat in oven 45 minutes.
Stir every 15 minutes. Remove from oven and let cool completely on absorbent paper or your M and Ms will melt. After the mix is cooled, add M and M's and stir. Makes around 8 cups.
Source: My own addition to an old family tradition.
By latrtatr from Loup City, NE
Ingredients:
1 cup (2 sticks) butter
2 Tbsp. Worstershire sauce
1 1/2 tsp. garlic salt
1 1/2 tsp. onion salt
1 1/2 tsp. celery salt
2 small or 1 large can mixed nuts
4 cups each Wheat Chex, Rice Chex, Cheerios, and pretzels
Directions:
Melt butter butter. Add Worstershire sauce, garlic salt, onion salt, celery salt, mixed nuts, cereal and pretzels. Place in large pan suitable for stirring. Bake at 225 degrees F for 2 hours, stirring often.
Makes about 4 quarts. When grandma put this recipe together, in 1960, it cost her $1.80 to make. I made it in 1980 and it cost $3.28. In 1991, it cost me between $7 and $8.
By Shelly from Spring Hill, KS
Share Your Feedback:
Once you try any of the above solutions, be sure to come back and give a "thumbs up" to the solution that worked the best for you. Do you have a better solution? Click "Share a Solution" above!
Questions
Here are questions related to Homemade Chex Mix Recipes.
Peanut Butter Chex Mix Recipe
I'm looking for a Chex mix recipe that has peanut butter and I believe honey on it, but no powdered sugar. My husband is diabetic. I would appreciate your help.
By Lou Ann from Cozad, NE
---
Most Recent Answer

By Jilson
11/23/2010
www.chex.com has a gazillion recipes; hopefully you can find one (or ten) that will work for you!
Party Mix Recipes
Does anyone have recipes for 'party mixes' that uses nuts, fruits, or cereal. My family loves the Chex party mix and would love to try some new ones. THANKS

Debra from Hampton, TN
---
Most Recent Answer

By Jantoo
11/18/2007
I like MartyD's sister's idea. Make your own concoction and Never give out the recipe. Let 'em enjoy it and try to figure out what you put in it.
Photos
Here are photos related to this page. Rate the photos that you like the best.
Click here
share a photo.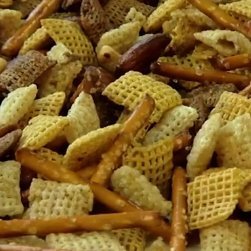 Learn how to make this classic snack mix with Thrifty Fun's how to video. This is the original chex mix recipe off the box of General Mills Chex Cereal. This is a great snack mix to put out during the holidays or to even give as gifts!
READ MORE