Pretzels can be used to make some interesting sweet and savory entrees. This page contains recipes using pretzels.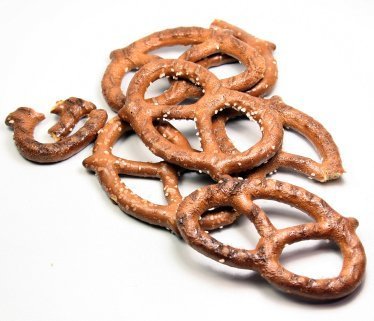 A few months ago I had some mini pretzel rounds that were sandwiched together with what appeared to be caramel and then covered in icing with sprinkles. They were absolutely delicious. It was a catered event so I couldn't get the recipe.
Does anyone (Robin) have any ideas on how these are made or perhaps you've had something similar and know how to make them. I'd appreciate it. I want to make a batch to give as a gift. Thank you
By Kathy from Sylvania, OH
---
Most Recent Answer
December 10, 2010
drmeidl, you should place your picture in the Thriftyfun contest. I love the idea of using cookies like Nutty Buddies for Santas. Pretty presentation.
---
By Elaine 173 889
This is one of those sweet and salty cookies that make such a good combo.
Ingredients:
8.5 oz. (a scant two cups) cake flour
8.5 oz. (1 2/3 cups) bread flour
1 1/4 tsp. baking soda
1 1/2 tsp. baking powder
1 1/2 tsp. kosher salt
1 1/4 cups unsalted butter
1 cup light brown sugar
1 1/2 cups white sugar
2 eggs
2 tsp. vanilla extract
1 lb. chocolate chips (I use mini chips)
hard pretzels, crushed
Directions:
Sift together flours with other dry ingredients except sugar. Cream together sugar and butter until light and fluffy. Mix in eggs one at a time and vanilla. Mix in dry ingredients and mix until just incorporated. Then fold in chocolate chips. Cover dough with plastic wrap and let sit in fridge for 24 hours. This is done so flour has time to absorb the liquid.
Make balls the size of a golf ball. Press dough ball into crushed pretzels on the top. You can make them smaller if you like but would have to adjust cooking time.
Servings:
Depend on how large you make cookies
Cooking Time:
18-20 Minutes
Source: Macheesmo website
By Elaine from Belle Plaine, IA
By mc4lifes 26 8
My recipe is for chocolate dipped pretzels. I like this recipe because it is great for parties, holidays, candy baskets, and just for fun. The kids like them. I have to be careful when I make them or they will eat them all. I recommend long prezel rods and twists because they are easy to make and great wrapped up as presents.
Ingredients:
1 package (12 oz.) semi-sweet chocolate chips or chopped chocolate
1 Tbsp. shortening
2 dozen pretzel rods or large pretzel twists
Assorted sprinkles or small candies (optional)
1/2 cup white chocolate chips (optional)
Directions:
Prepare a baking sheet by lining it with aluminum foil. Combine the chocolate chips or chopped chocolate and the shortening in a large microwave-safe bowl, and microwave until the chocolate is melted, stirring after every 20-30 seconds. When chocolate gets overheated, it thickens and becomes unworkable, so watch your chocolate carefully! Take it out of the microwave when there are still unmelted chips remaining, and stir until the final chips melt.
If dipping pretzel rods, hold a rod by one end and dip it in the chocolate, leaving an inch or two uncovered. If you are dipping pretzel twists, drop the whole pretzel in the chocolate and submerge it slightly. Use a fork to pull the pretzel out of the chocolate.
Shake the chocolate-dipped pretzels several times to remove excess chocolate, and place it on the prepared baking sheet. If you are using sprinkles or small candies, sprinkle them on when the chocolate is still wet. Repeat with remaining chocolate and pretzels. Place the pretzels in the refrigerator for about 30 minutes to set the chocolate.
If desired, melt the white chocolate and drizzle it over the pretzels for a decorative look. Briefly return the candy to the refrigerator to set the white chocolate before serving
Servings:
24 chocolate-dipped pretzels
Prep Time:
10 minutes Minutes
Cooking Time:
10 minutes Minutes
Source: about.com
By mc4lifes from Sydney, NSW
Ingredients
1 Bag of square pretzels
Bags of candy melts in different colors (for Christmas I use green, red and white; for Easter pink, white and other pastels)
Directions
On a microwave plate put about 10 pretzels and a candy melt on top of each. Microwave for about 40 seconds. Remove from microwave and using your finger push the candy melt down onto the pretzels so it sticks. Candy melts will be slightly melted. With spatula move pretzels to waxed paper to cool.
They look very pretty and taste good. They make inexpensive gifts in a transparent gift bag tied with a pretty ribbon or served on a plate. What could be easier?
I bought one of those large containers of pretzels at BJ's and used 3 bags of candy melts (red, white and green) and made over 300 of these one afternoon. I used the 3 bags of melts but only half of the container of pretzels, which are great eaten by themselves as a low-fat snack. Enjoy!
By Happy from Hockessin, Delaware
I simply melt white or milk chocolate bricks (found in the baking section of the grocery store) in the microwave for about a minute. Dip the pretzels in the chocolate and put them on waxed paper on a cookie sheet.
Then find your birthday party decorations, and pull out all your decorative sugars and other cake decorations. Ask your children to decorate the pretzels however they like.
After they cool off, the fun is tasting them all and deciding which ones you like best.
By Marci L. from West Monroe, LA
Small pretzel sticks make great skewers for bite-sized appetizers - nothing to throw away.

By June S.
By Jean F. 1
The recipe calls for 2 cups pretzel rods, crushed. I want to use pretzel sticks or other forms of pretzels I have on hand. How do I substitute?
By Jean F
This is a pie crust made out of pretzels, margarine and Splenda. We do not use margarine, but prefer to use butter. That is the only difference I have really made to this old recipe. Sometimes I prefer to use honey instead of either Splenda or sugar. We rarely use sugar at all anymore. Also pure maple syrup can be substituted at the same measurement.
Approximate Time: 15 minutes
Yield: 1 9x13 inch pie shell
Ingredients:
3/4 cup margarine or butter
2 cups crushed pretzels
3 Tbsp maple syrup, honey or Splenda or sugar
Steps:
Bake at 375 degrees F for ten minutes.
Cool then add whatever pie filling you want. This one works good with Jello mixed with fruit and cream cheese and Cool Whip.
By Robin 5,893 29
Great dessert with what I think is a 'summer' flavor.
Ingredients:
1 1/2 cups crushed pretzels
1/2 cup sugar
1 cup soft margarine
1 pkg. lemon pie filling, cooked
1 (8 oz.) container Cool Whip
1 (8 oz.) container soft cream cheese
1 cup powdered sugar
Directions:
Crush pretzels, cream with margarine and sugar. Press in bottom of 9x13 inch pan and chill. Prepare pudding as directed and cool. Beat cheese, add powdered sugar, and fold in Cool Whip. Put on crust. Add lemon pudding and refrigerate overnight.
By Robin from Washington, IA
By Robin 5,893 29
These are a favorite of my husband. He will eat them almost as fast as I can make them!
Ingredients:
1/2 cup margarine
1/2 cup white sugar
1/4 cup cocoa
1 egg
1/4 cup water
1 tsp. vanilla
2 cup flour
Frosting:
2 oz. unsweetened chocolate
2 Tbsp. margarine
2 cup powdered sugar
1 tsp. vanilla
Directions:
Combine margarine, sugar and cocoa; beat egg, water and 1 tsp. vanilla. Gradually add flour. Divide dough into 24 pieces. Roll each piece into a 12" rope on a lightly floured surface. Bake at 350 degrees F for 10 minutes. For
Frosting: In saucepan, melt chocolate and butter. Remove from heat; add powdered sugar and vanilla. Blend enough hot water until glaze consistency. Dip pretzel in frosting and cool on wax paper. Great Christmas cookies!
By Robin from Washington, IA
Take some pretzel sticks and stick them into the heated chili beans. Stand them upright onto a plate and serve The pretzel stick acts like an edible toothpick. Kids love it and it's a good way to get them to eat their beans.

By Vickie from Canton
Place on prepared cookie sheet and freeze at least 30 minutes till frozen solid. Then melt semi sweet chocolate chips as above and dip each pretzel 1/4 the way up the white chocolate dip...
Place pretzels on greased baking sheets in a single layer. Place chocolate kisses in center of each ring. Bake at 275 degrees F. for 2-3 minutes until chocolate is softened.