Easiest and best tasting Veggie Burgers I've ever made. Serve with Lemon Aioli.
Ingredients:
Burgers:
1 can (19 oz.) Romano or white kidney beans, drained and rinsed
1 egg
1/2 cup dry bread crumbs
1/4 cup chili sauce or salsa
1 green onion, chopped
2 tsp. vegetable oil
Lemon Aioli
2 cloves fresh garlic
1 tsp. grated lemon zest
1 Tbsp. lemon juice
1/3 cup regular or low-fat mayonnaise
1 tsp. extra-virgin olive oil
Directions:
Burgers: Pour about three-quarters of the Romano beans into large bowl; mash with fork. Stir in remaining beans along with egg, dry bread crumbs, chili sauce and green onion. Shape into 4 patties. (To make ahead,wrap in plastic wrap and refrigerate for up to 24 hours.) In non-stick skillet, heat oil over medium heat; cook patties, turning once, for 10 to 12 minutes or until golden.
Lemon Aioli: Peel and finely mince the garlic or use a garlic press. Place the garlic in a 2 cup or larger bowl. Add the lemon zest and lemon juice to the bowl. Add the mayonnaise and oil and stir well to blend. Serve at once or refrigerate, covered, for up to 2 days.
You could also use orange zest and juice in place of the lemon.
By sooz from Toronto, ON
Do you have a recipe for a veggie burger?
By Linda
April 23, 2013
0

found this helpful
This is my favorite veggie burger. It comes from one of my favorite veggie/vegan blogs: Oh She Glows
Check out her site..she has wonderful recipes, even if you aren't a vegetarian or vegan, it's a way eat healthier.
Our Perfect Veggie Burger
http://ohsheglo t-veggie-burger/
Ingredients:
1/2 cup onion, diced
1 large garlic clove, minced
Flax eggs: 2.5 tbsp. ground flax + 1/2 cup warm water, mixed in bowl
1 cup oats, processed into flour* (other flours might work)
1.5 cups bread crumbs
1 cup grated carrots
1 cup cooked black beans, rinsed and roughly pureed or mashed
Heaping 1/4 cup finely chopped parsley (or fresh herb of choice)
1/3 cup almonds, chopped (toasted if preferred)
1/2 cup sunflower seeds, (toasted if preferred)
1 tbsp. Extra Virgin Olive Oil
1 tbsp. soy sauce
1.5 tsp. chili powder
1 tsp. cumin
1 tsp. oregano
Kosher salt and black pepper, to taste (I used about 1/2 tsp. kosher salt)
Directions:
In a large skillet, sauté onions and garlic in 1/2 tbsp. oil. Mix your flax egg and all the seasonings together in a small bowl and set aside for at least 10 mins while you prepare the rest of the ingredients.
Place all ingredients (except spices and salt) into a large mixing bowl and stir very well. Add the flax egg/seasonings and mix well.
With slightly wet hands, shape dough into patties. Pack dough tightly as this will help it stick together. I made 8 medium patties.
Cooking methods: Our preferred method of cooking was frying in the skillet!!
My notes:
I use chopped toasted walnuts and almonds instead of sunflower seeds. I also add a couple of good squirts of BBQ sauce into the mix. It gives great flavor.
I also mix ALL the seasonings in with the flax egg. That way the seasonings are evenly distributed. I don't always follow the recipe exactly, I add various other things to it based on what I have in my fridge at the time. But roughly chopped toasted walnuts are awesome in this! They give great crunch.
I have found that using the food processor works great. The beans get all smooth and much easier to handle. Just smashing with the potato masher didn't work well for me at all! You may have to add more breadcrumbs if it's too wet. Panko works great too.
I have a burger press that I use so that the burgers are all the same size and they fit the bun.
When frying, be sure to cook them long enough to get a nice brown crust on the outside. They don't fall apart so easily, plus they look like "real" hamburgers!
Experiment with your burgers...I never make them the same way twice!
June 20, 2013
0

found this helpful
I left these plain but feel free to add whatever spice or herb you like. I like mine topped it with DIY organic sprouts & condiments. They are chock full of vitamins too.
Estimated Cost per burger: $0.75
Easy Sweet Potato and Quinoa Burgers
1/4 cup quinoa (cooked = 1/2 cup)
1 small sweet potato (diced small cubes) about 1 1/2 cups
1/4 cup diced onion
1 tsp Sriracha sauce (optional)
Salt & Pepper to taste
In a small frying pan, heat a little olive oil and fry onion until browned. Set aside. Cook quinoa as per directions on package. Boil sweet potato for about 10 minutes. In a medium bowl, add onion, quinoa, sweet potato and other ingredients and mash well. Place in fridge for about 30 minutes or until mixture is cooled.
Shape two burgers and dust with flour. Cook on each side for a few minutes until browned and heated. Serve on bun with condiments if desired. Feel free to play around with this recipe by adding garlic or other spices!
These burgers are rich in Vitamin A, Iron, Fiber & Protein! Each burger has about 180 calories and about 1.5gr of fat (excluding oil that might be used for frying onion or burger).
Good luck!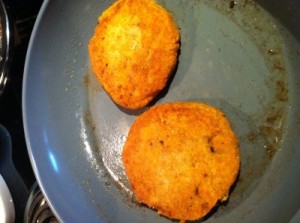 I need a recipe for veggie burgers like the kind I usually buy in the frozen section of the market. The last time I tried to make my own they fell apart.
By Elena from White Plains, NY
December 6, 2010
0

found this helpful
You should be able to get enough info from these two recipes to make successful veggie burger patties ;-)
Chickpea Pita Burgers
Ingredients:
1 (15 oz) can chickpeas, rinsed and drained
1 (4 oz) can diced green chiles
2/3 cup packed fresh cilantro leaves, chopped
2/3 cup panko bread crumbs
Salt and pepper to taste
1 large egg, lightly beaten
2 tbsp extra virgin olive oil
Smoked gouda cheese slices, to taste
4 (about 5 inch) pocket pitas, split
Avocado spread (mashed avocado, sour cream and lemon or lime juice mashed together to taste) or Dijon mustard and mayonnaise mixed to taste
Directions:
Blend the chickpeas, green chiles and cilantro until finely chopped in a blender or food processor. Transfer the mixture to a medium bowl and stir in the panko crumbs and salt and pepper. Stir in the egg and form the mixture into 4 patties.
Heat the olive oil over medium low heat in a large skillet. Cook the burgers for 4 minutes, turn over and cook for about 3 minutes. Top the patties with the cheese and continue to cook for about 1 minute more.
Meanwhile, mix your avocado spread or mustard and mayonnaise mix and spread on the inside of 4 of the pita slices.
Place the cooked chickpea burgers on the condiment topped pita slices, top each with the remaining four pita slices and serve.
Chickpea Burgers
Ingredients:
1 can (15 1/2 oz) chickpeas, rinsed
4 green onions, trimmed and sliced
1 egg
2 tbsp all purpose flour
1 tsp oregano
1/2 tsp ground cumin
1/4 tsp salt
2 tbsp extra virgin olive oil
Directions:
Pulse the chickpeas, scallions, egg, flour, oregano, cumin and 1/4 teaspoon salt in a food processor just until a coarse mixture forms and then form into 4 patties.
Heat the oil in a large skillet over medium high heat, add the patties, cook until golden, about 4 to 5 minutes, then turn and continue to cook until golden brown, about 2 to 4 minutes.
December 7, 2010
0

found this helpful
I've made these, and they have had good reviews from friends, from a recent magazine, though I can't remember which one!
Veggie Burgers
Prep time: about 40 minutes
Makes: 8 burgers
1 c. water
½ c bulgur
¾ c old-fashioned oats
1 T olive oil
1 med. Onion, finely chopped
10 oz. mushrooms, finely chopped
½ c walnuts, finely chopped
2 cloves garlic, finely chopped
1 carrot, cut up
1 stalk celery, cut up
¼ c. fresh parsley, packed
1/8 t. dried thyme
1 lg. egg white (I used two whole eggs)
1/3 c. grated cheddar cheese
Salt and pepper
Non-stick cooking spray
Bun, lettuce, tomato, onion, etc.
1. In microwave-safe bowl, microwave water and bulgur on high, 5-7 minutes or until water is absorbed.
2. In 12-in. nonstick skillet, toast oats on medium, 3 minutes. Transfer to food processor.
3. In skillet, heat oil on medium. Add onion; cook 7 minutes, stirring. Add mushrooms, nuts, and garlic; cook 8 minutes or until liquid evaporates, stirring.
4. In food processor with oats, pulse carrot, celery, parsley, and thyme until finely c hopped. Add egg white, cheddar, bulgur, mushroom mixture, and ½ teaspoon each salt and pepper. Pulse until well combined.
5. Scoop ½ cup mixture; pat into 3 ½ inch round. Place on waxed paper. Repeat. Wrap and refrigerate up to 3 days or freeze up to 3 months. Do not thaw before cooking.
6. Spray 12-in. nonstick skillet with cooking spray; heat on medium 1 minute. Add burgers in 2 batches; cook 10 to 12 minutes or until browned, turning once. Serve with buns, lettuce, tomato and onion, if you like.
Each serving: About 195 calories, 8 g. protein, 18 g. carbohydrate, 11 g. total fat (3 g saturated), 4 g. fiber, 11 mg. cholesterol, 230 mg. sodium.