Solutions: Tent Camping Tips
Read and rate the best solutions below by giving them a "thumbs up".
Camping tips I've learned from years of camping in a tent at the race track!
Use plastic see through containers, marked and organized. I had one that I wrote "Kitchen" on the side of and whatever had to do with cooking went in that box.
Pack you non perishable food in cardboard boxes with lids that you can use as kindling on the last night after the food is gone. (in an office, printer paper comes in great boxes.)
The night before we leave camp, I combine the drink cooler and what food is left into one cooler. I dry the other cooler and put all the dirty clothes in it.
A small piece of medium-grade sandpaper can be used for smoothing the joints of a tent pole for a better connection, roughing up fabric for a repair patch or striking a match.
Try to bring multi-purpose items. For example, pack your clothes in one of those plastic 2 or 3 drawer small shelving units. It serves 2 purposes, a suitcase and a table in the tent. Or, get a cooler that has a seat cushion on top. Stuff like that.
Bring string. Pin it to a small tent leak in the ceiling and run the string to the floor, away from the head of beds or sleeping bags. Water will run down the string.
By laidback racing from Charleston, SC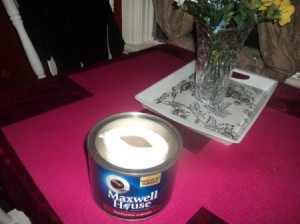 If your planning a camping trip, use an empty, clean coffee container to store your toilet paper in. Be sure it has a lid, that way if it rains it won't get wet.
By coville123 from Brockville, Ontario
Going on a camping Holiday? Great! But don't forget to bring a light-weight blue foam ground mattress to place under you when you sleep, and also a plastic sheet to place over your tent. Two basic rules of camping have always been 1: to place more under you then on top and 2: cover your tent with a water proof plastic or treated nylon. Rain or humidity must not reach the actual tent. Have a great and comfortable camping Holiday!
Share Your Feedback:
Once you try any of the above solutions, be sure to come back and give a "thumbs up" to the solution that worked the best for you. Do you have a better solution? Click "Share a Solution" above!
Questions
Here are questions related to
Tent Camping Tips
.
Making a Portable Pop-up Privacy Curtain
I am planning a road trip out in the desert with a group that will include men and women. There is very little tree or shrub cover and the trip will be several days long with very little "civilization" for many hours at a time. I am trying to figure out how to construct or where to find a portable pop-up curtain/shield so that all members of the group can stop for the inevitable potty breaks and still have a little privacy in these open spaces.
It needs to be compact/lightweight, portable, and freestanding. I need ideas. Thanks in advance.
By TG64
---
Most Recent Answer

By sabrinadog
01/21/2012
Walmart sells a variety of portable pop-up shelters to fit any budget.
Related Guides
Related Posts