Read and rate the best solutions below by giving them a "thumbs up".
Repairing Scratched Eyeglasses
Does anyone know how to remove scratches from eyeglass lenses?
Marie from Petersburg, VA
---
CD Cleaner
I have found that using the lens cleaner for my CD player works very well (12/03/2005)
By Stacey Liddle
Sports Supply Store
There is a cream for taking scratches out of face masks for kids hockey helmets. Most sport stores handle it. I have used it on my motorcycle windshield and it works great. Maybe this will work on glasses too. (12/20/2005)
By Tom Mann.
Etching Cream
Do not use etching creme! That is used to scratch glass to create images. (12/20/2005)
By Paula in GA
Eye Doctor
My glasses went flying across the parking lot one day (don't ask) and were hopelessly scratched. I went to the eye doctors to get another pair and they fixed them for free! Ask to see if they can be fixed. Looking through scratched lenses is not good for your eyes. (12/20/2005)
By lindaljh1
Take Them Back
I would take the glasses back to an optical shop, you never said if the lenses were glass or most likely plastic, coated or not. some things good for glass is not good for the plastic lens.
P.S. I have heard of using black grease pencil for sunglasses, mark over glass and buff it out with soft cloth. not sure if it would work on regular glasses. (12/20/2005)
By Diamondee
Liquid Lense
Liquid Lense is not worth a darn it just fogs the glasses they are voluntarily giving everyone's money back that bought it. At least we received a letter from them haven't received the refund yet but I did send the remaining bottle back. (12/20/2005)
By janneba
Buffing
My hubby put a soft cloth on his electric drill and buffed his glasses, he took the lens out, worked great, getting ready to ask him to do mine. (12/21/2005)
By jmz2005
Professional Help
I think this is a job for the pros. Take the glasses to the place where you bought them and they will likely buff out the scratches for free (It's an easy thing to do and creates good will and lasting customers.) (12/21/2005)
By Claudia-MD
Baby Oil
put a bit of baby oil on each lens and buff with a soft cloth like a chamois. Works for me. (12/22/2005)
By lorac456
The Coating
I was just at my eye doctors about my glasses because of scratches on the lens. They told me that it was anti-reflective coating wearing off of them and they cannot fix that. (12/22/2005)
By phishphan98
Pledge
I asked the place where I got my eyeglasses if they could buff out the superficial scratches on my lenses, they said that they do not do that, but to try Pledge furniture polish because it will fill in the scratches. I just used this method not ten minutes ago and low and behold it works! Not all of the scratches disappeared, but the majority of them did! If you have plastic lenses, you may not want to go this route. (01/15/2006)
By kittykat24
Reflective Coating
I live in an isolated/remote area. My glasses are scratched. I have tried all the hints mentioned on this site and nothing worked. Toothpaste made the glass worse. What I did not realize until I read it here was it could be the reflective coating wearing off with the scratches and I am now making it worse. Guess I will be squinting until I make it back into civilization. (01/17/2006)
By Samantha
Silver Polish
Wright's Silver Polish worked great on my CDs as per their website; ask them if they've had success on plastic lenses. Microsponges like Mr Clean are great for any type of glass but not on clear and soft plastics! (02/26/2006)
Removing Anti-Reflective Coating
There is a product for removing anti-reflective coating from eyeglasses. I work in an optical lab and have done this many times.There is some risk but if done properly it works almost all of the time.You might try contacting an optical lab. (04/08/2006)
By Ron
DVD Repair Kit
i just used a dvd/CD repair kit, it worked great. I put a drop of solution on scrape and buffed with soft buffer by hand for a minute, wiped off residue and no more scrape. My transition lenses still work perfectly and they look brand new. Saved me 235$. As I have not seen this method listed anywhere I just wanted to get it out there. (04/13/2006)
By Bryan
Don't Bother
Don't put your glasses in a microwave, and don't polish them with toothpaste or furniture polish. Dumb, dumb, dumb. Take them to an optometrist for an opinion.
Don't bother with Liquid Lense. All it does is cover the scratches with a temporary polymer coating to give the appearance that the scratches are gone. They're not, and the additional coating can muck up your prescription. Anything that sounds too good to be true probably is (don't you think that other more reputable companies would be offering such a product if it actually worked?). (08/17/2006)
By Bruce
Different Materials
Eye glasses can be made of several different materials: Trivex, Polycarbonate, High Index, Plastic, Glass
Trivex combines the crisp optics of plastic lenses with the durability, light weight, and impact resistance of polycarbonate lenses making Trivex an excellent choice for three-piece mountings.
Polycarbonate lenses are thinner and lighter than traditional plastic eyeglass lenses. In addition, they are very impact resistant. This durability makes them a good choice for children's glasses, drill mount frames, sports eyewear and safety glasses.
High Index lenses have been created in a variety of new plastic materials that bend light more than the conventional plastic used for eyeglasses. This means less lens material can be used to correct the same amount of refraction.
Plastic lenses are much lighter and less breakable than glass lenses. They are great for prescription sunglasses due to their tintability factor. You an virtually tint a plastic lens to any color.
Glass was the first lens material used to make modern-day eyeglasses. Its earliest use is documented back to the 13th century in Venice, Italy. Glass lenses have excellent optical qualities, but are heavy and uncomfortable to wear.
On top of all of this, different glasses have different coatings made with different materials. All of these coatings have different chemical properties, react differently to different solvents, and have different hardnesses.
Glass, and all of the different plastics (polymers) used in eyeglass lenses have different hardnesses, and are dissolve in different solvents.
Pledge may work fantastically on one polymer, but cause another to melt.
Toothpaste may not contain an abrasive hard enough to scratch glass, but it may absolutely ruin plastic lenses. Also, the abrasive in Toothpaste isn't fine enough to get an optical quality 'buff' on any material, so this method is just ridiculous.
Microwaving your lenses is just idiotic, those polymers all have different melting points, and it would take superheated steam to melt a scratch in a glass lense.
Unless you are a chemist or an engineer, don't try to fix your eyeglasses unless you know EXACTLY what you are doing. (08/23/2006)
By Will
Rain-X
I'm actually having pretty good luck with my polycarbonate lenses by using the Rain-X towelettes I bought at Wal-Mart automotive department. After cleaning with the Rain-X, I polish them with a microclothe. The scratches are still visible, but seem to distort the image much less. (10/07/2006)
By David
For Plastic Lenses
I found this thread while looking for a way to fix my own lenses. My anti-reflective coating was peeling and spotting terribly. I will never get AR coating again, although it cuts down on glare, it's a magnet for dirt and grease and peels quickly.
On another (optometrists' professional association) thread, I found the suggestion to use glass etching cream (available from arts & crafts stores). This only works on PLASTIC LENSES. DO NOT USE ON GLASS LENSES. Apparently, AR coating, like glass, is silicate based so the glass etching cream eats off the coating but does not damage the plastic lenses because they are polymers, no silicate based.
You brush a thick layer of the cream on each lens, wait 20-30 minutes, and rinse with lukewarm water. Be careful of metal frames and the screws of your glasses, as the cream will damage metal. (My frames are plastic). I just tried this, and it worked great! Hope this helps someone. (12/08/2006)
By Colleen
Don't Use Toothpaste
Do not use toothpaste for several reasons: it makes such small scratches on plastic lenses that they appear foggy, it leaves mineral buildup in the scratches making them more visible. Don't use that lens doctor junk either, it is difficult to apply just right so that it doesn't leave streaks and the bristles of the brush will come off and stick to the coating. It only lasts a day or so or until you try to clean them. It's the worst $10 I ever spent. (12/12/2006)
By Seth
Silver Polish
I read all these suggestions as well as some from another website. I tried Pledge and it helped a little bit. What DID work very well was silver polish! The particular brand that I used was Hagerty silversmith's polish, a bottle I have had sitting on a shelf for years. I don't know if that particular brand is still sold or not. And I don't know if the brand really matters. It worked for me. (12/28/2006)
By Bill Porter
Buffing Wheel
I use a high speed buffing wheel and very mild abrasive. I used a jewelers buffer. The abrasive was designed to remove the gold welding line left when rings are sized by cutting and welding. It cuts metal, gold. It will cut a line in your glasses if you use too much pressure.
At one time I used this method to remove scratches from used-returned electronics items, radios etc.
Use a very light touch and practice on something you do not value or can afford to discard. This method removes a layer of plastic so you must remove an even amount across the lens. It will not remove deep scratches but it will remove clouding caused by using toothpaste and low speeds. (01/03/2007)
By justruckn
Eye Doctor
Take them to your eye doctor, a lot of things here sound a lot like trying to fix your car with lawn furniture and garden hose. (01/16/2007)
By Bluntman
---
Repairing Scratched Eyeglasses
How do you repair scratches on eye glasses? I have scratches in the glass and they are deep. Can I get a home remedy? Maria
---
Ashes
I use cigarette ashes.Cover scratch with ashes, rub in good with fingers, for a few minutes. Then wash good water. May need to repeat. I have used this method for years. Cigar ashes do not work. (02/21/2007)
By Jan, Suring, WI
---
Repairing Scratched Eyeglasses
---
Repairing Scratched Eyeglasses
Does anybody know how to remove scratches from eye glasses?
Upulgamage
---
DO NOT USE ARMOUR ETCH FOR EYEGLASSES
With all these reviews you read here about using Armour Etch to get rid of scratches on eyeglasses, take heed. I ruined my glasses and made them worse by using it. Now I have to go get a new pair. It left a foggy part on my glasses then I decided to do the whole lens. It was removing something from the glasses and scratching them more than they were. So please take my advice and don't use for eyeglasses. (08/23/2008)
By Kelly B.
RE: Repairing Scratched Eyeglasses
Here is what finally took the anti-glare coating off my eyeglasses. It doesn't get easier than this. Buy a can of Mess Master. It is marketed by a company called Design Master. Spray it on both sides of the lenses. It will not harm plastic or glass lenses. It did not harm my metal frames. It will immediately raise the coating. Clean with a soft cloth. Wear gloves and use it outside, it stinks. Very fast and clean, amazing, and wonderful. Wish I had used it first. (09/04/2008)
By gayle47
RE: Repairing Scratched Eyeglasses
I tried with using toothpaste on my anti reflective (AR) prescription lenses, takes quite a long time to clear the AR coating though. But it really worked. (09/04/2008)
By Pyarn
RE: Repairing Scratched Eyeglasses
My very old can of BRASSO (Price tag 48 cents) did a fast, perfect job of removing the cloudy, scratched AR coating from my hi index lenses. Thanks for the great tip. (09/07/2008)
By Codman
RE: Repairing Scratched Eyeglasses
If the scratches are not too severe you can polish the lenses with RainX. It will fill in most minor scratches and also repel dirt and moisture. It will also keep glasses from fogging up in climate changes. (09/10/2008)
By Moish
RE: Repairing Scratched Eyeglasses
Ditto on avoiding Armour Etch: it did not, repeat not, help remove scratches from my hi-index plastic eyeglass lenses at all. Only made them cloudy, more scratched and impossible to see through. I don't know if this means any anti-glare coating they may once have had is long gone, and the scratches are on the actual lenses themselves, or if this means there are a lot of stockholders in Armour Etch online, but I know from my experience I'll never buy this again. Armour Etch: fine for etching glass as a hobby, terrible for repairing scratched eyeglass lenses. (09/16/2008)
By goryboy
RE: Repairing Scratched Eyeglasses
I tried the Armour Etch and it did just what I read here. It took the scratches right off. I am so happy because I have had these glasses for the past two years just sitting in a drawer. They were too cloudy to wear at all. This product worked like a charm. I got it at Micheal's for $10.99. (10/03/2008)
By Joyce G
RE: Repairing Scratched Eyeglasses
I got regular Crest toothpaste, and scrubbed with a tooth brush about 3 minutes and rinsed off, and repeated about 12 times (front and back), until all the AR coating was gone. No scratches, they were better than new. After bringing them to Walmart, and seeing my warranty had run out, they said it would be $244 for new ones. I will never buy AR coating again. What a scam. Not only are my glasses clear, they are minty fresh-ha. (11/19/2008)
By Mike R.
RE: Repairing Scratched Eyeglasses
Mine were both scratched and cloudy. I used Mothers Carnuba cleaner wax (bottle, not paste) and several soft cloths. It's not only safe for clear coats (you can use the rest to polish the car) but it worked pretty well on my 10 year old lenses. (11/25/2008)
By Adhell
RE: Repairing Scratched Eyeglasses
I had coating problems with my last pair so I tried to get them to give me lens with no coating. As I remember it was set up that way and then there was some "oh but they all have this coating" bad news when I went to pick these up. I couldn't find the Armour Etch but I did find the Whinks at Wal Mart and thanks to Mr Greenman I gave it a try. We tried it on one lens of an old pair first and it worked great. The picture shows the contrast on the old pair. Then we did the new ones. It's a sobering thing to do this when you depend on the glasses and I wouldn't have even thought of trying it without about 2 dozen of you saying it worked.
It worked. We approached it cautiously concerned the Whinks would hurt the lens, so we ended up getting most of it the first time with 1 to 4 Whinks to water the first time then we added another shot of Whinks and left both lenses another 5 minutes. There are some scratches but the AR crap is off. Thanks a lot and $200 + saved. (11/29/2008)
By Don M.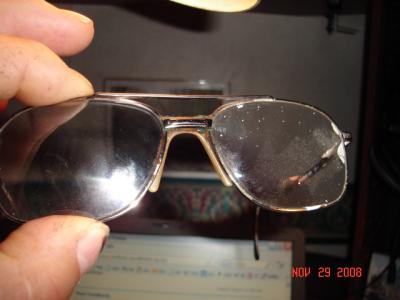 RE: Repairing Scratched Eyeglasses
I was trying the toothpaste remedy, which was working, but very slowly. Since I use a baking soda paste to whiten my teeth and it doesn't scratch the enamel, I decided to try a baking soda paste on the plastic lenses. The paste worked faster and just as well as the toothpaste option. (12/02/2008)
By LJ
RE: Repairing Scratched Eyeglasses
For those out there with scratched Anti-reflective coating on their PLASTIC eye glasses, the best solution to use is Armour Etch found at craft stores. Don't waste your time trying other things, this product really works.
Just put a thick coating on the lenses (one side at a time). Wait 5 minutes and rinse, no need to rub or scrub. Wish I could tell the world about how well this product works to remove the AR coating on plastic eye glass lenses. I also was skeptical about using it, but don't be as long as you have plastic lenses. Don't use on glass lenses, this product is used to etch glass, but does not effect plastic.
I can see again! (12/08/2008)
By Rainbow
RE: Repairing Scratched Eyeglasses
Was I heartsick when I got a bad scratch right in the middle of the lens from a bad hit with a truck side view mirror so, I took the best of this blog and placed my old electric toothbrush in a bit of Dutch cleanser and pressed the button and did one quadrant to each lens like you do your mouth. Rinsed in a dish of cold water. Took a lens cloth and buffed 30 seconds each side of the lens and wa lah! The scratch is gone and the glasses are sparkling. Plastic lens and glass lens. Cost: 5 cents. (12/19/2008)
By wong_josie
RE: Repairing Scratched Eyeglasses
Although I have't tried anything yet it seems to me that the ideas that have a grit material or Armour Etch would work well if you want to remove a coating. (Like a scratch protector or anti glare.) My dad's an optical engineer and I'm an engineer too, what these products do is remove that film, so you're getting to the original layer of the eyeglasses. If you don't have the film I would try the products that are more like a wax to fill in the holes. (12/30/2008)
By Loretta
RE: Repairing Scratched Eyeglasses
I had a more unusual result which might explain some others peoples variable result. I too had scratches in the surface finish (only a little in the lens itself). I tried Armour Etch and was initially very pleased, it seemed to be working well. However, it took many goes at 5min+ each time and ultimately I still had some scratched coating left. But I remembered that I had speced both anti-reflective and anti-scratch coatings, so I reasoned that maybe one coating responded to the Armour Etch and the other didn't.
Next I tried the toothpaste trick that some have found useful. That worked for the remaining coating but left a strong fog. Examining them under a microscope (I work with small devices) I realized that the fog was more like a calcium deposit. I am sure there is a suitable solvent for that, but I managed to get it off with about 30 minutes of vigorous polishing. So, now I have clean, clear glasses.
So, if you've had less than perfect results with Armour Etch, especially if you think all is lost, try toothpaste as well. And then, if you have a very mat filmy deposit, buff like crazy. It took a lot of work, but it did work for me. Just remember to use the cleanest, softest cloth otherwise you might be adding to the scratches and they will be on the plastic of the lens itself.
I would also add that my lenses are high index and therefore harder. Softer plastic lenses may be scratched by toothpaste. Also, I don't think that anyone has pointed out that old spectacles, or very weak prescriptions, might be made of glass and then Armour Etch will ruin them. (01/17/2009)
By Jon
RE: Repairing Scratched Eyeglasses
After searching around for methods mentioned in this thread, I decided to swing past the store I purchased them from. 400$ worth of lens is on its way under warranty. I'll have a spare set after I take the coating off the old lens. If your glasses have warranty, definitely use it. (02/04/2009)
By Cody
RE: Repairing Scratched Eyeglasses
I just wanted to thank everyone for the suggestion of using Armour Etch to repair scratched eyeglasses. Our new puppy got a hold of my glasses and dragged them on the floor. One of the lens was scratched right in the middle and it was very annoying. I read all the posts and I was happy there was a solution to my problem. I purchased the Armour Etch at Michael's, but it took me a few days to get up the nerve to try it. My glasses have transition lens and I was afraid that the Armour Etch would take away their ability to become sunglasses. I decided to use the Armour Etch on the outside of the lens only and it worked great. It took off the scratches and the glasses look like new. It didn't affect the transition lens either. They still work. Thank you again. (03/22/2009)
By millieipm
---
Repairing Scratched Eyeglasses
I just read here that Armor Etch will remove scratches on eye wear. I have just a plain pair of glasses (no anti-glare coating). But they do have transition lenses. They're only three months old, but already have a couple scratches on one lens. Will Armor Etch work on these scratches, or is it just for lenses that have the anti-glare coating?
By jmju from MN
---
RE: Repairing Scratched Eyeglasses
Amour Etch is a cream to add frosting to glass, permanently. You may be thinking of Amour Coat that is for tires and dashboards, that is pretty oily. Don't take a chance, go to the place where you purchased your glasses to get them looked at, they can fix them. If you aren't near the original place you purchased your glasses, go to a near one, even a mall usually has a Lens Crafters or such. Replacing a lens that you ruined from trying something that can't be reversed is too expensive. (06/19/2009)
By OrahLee
RE: Repairing Scratched Eyeglasses
Here's something you probably already have: rubbing compound. Remember when we used to do our own cars. The polishing compound (the white stuff) doesn't work as well, but the ocher colored rubbing compound with a little bit of rubbing takes it right off. I'm assuming we're talking plastic lenses, that the scratches are in the anti-reflective coating, and that you can get along without the coating. You can get along if you can now see again. (06/21/2009)
By H.L.Taylor
RE: Repairing Scratched Eyeglasses
After reading many of the postings here and noting the reference to hydrofluoric acid as the active ingredient in Armour Etch, I remembered that automobile wheel cleaner had HF in it as well. I looked at the current ingredients in several bottles of wheel cleaner I had in the garage and did not find HF; the current active ingredient is ammonium bifluoride and/or ammonium fluoride, both of which are somewhat safer than HF. I removed both lenses and sprayed the wheel cleaner on them, using a plastic container lid to keep the liquid contained. I let it soak for about 5 minutes, rocking the lenses occasionally to maintain liquid on all of the surfaces, then rinsed them with water and dried them. It worked very nicely at removing the myriad of minor scratches I had. (09/11/2009)
By 68Bevr
---
Repairing Scratched Eyeglasses
Can toothpaste be used to remove scratches from eye glasses?
---
Repairing Scratched Eyeglasses
How can I fix scratches on my plastic eye glasses lenses?