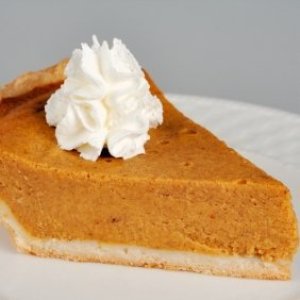 Solutions: Saving Money on Pumpkin Pie
Read and rate the best solutions below by giving them a "thumbs up".
Here's a sweet pumpkin treat that doesn't need a pie shell.

Make a pumpkin smoothie by chilling a 15-ounce can of pumpkin and a 12-ounce can of evaporated milk. Combine the pumpkin and milk with 8 ounces of low-fat vanilla yogurt, 1/4 cup granulated sugar and 1/4 tsp. pumpkin-pie spice. Blend until mixture is smooth. Whip 1 pint of whipping cream until soft peaks form. Divide smoothies into four glasses and top with whipped cream. Sprinkle with additional pumpkin-pie spice before serving.

By Linda from Eustis, FL
Last night, I found myself making a pumpkin pie and realized I was out of cinnamon AND nutmeg and had no premixed pumkin pie spice. Not wanting to run to the store, I rummaged through my spice cabinet in search of alternatives and found Chinese 5 spice blend.

Chinese 5 spice blend contains Star Anise, Fennel, Cinnamon, Cloves and Pepper. It gave an interesting spicy flavor to the pie which offset the sweetness.

Jess in Oregon
Give a "thumbs up" to the solution that worked the best! Do you have a better solution? Click here to share it!