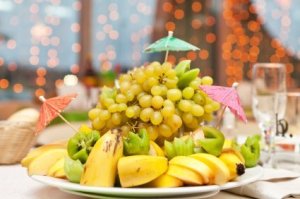 When planning a casual wedding you will want to serve food complementary to this relaxed approach to your special day. This is a guide about casual wedding food ideas.
Solutions
Share a solution for this guide today!
Questions
Here are questions related to Casual Wedding Food Ideas.
I am catering a wedding of 200 and not sure of how much to purchase of each item since there multiple.
The items are: chicken tenders, barbecue smokies, ham and pimento cheese tortilla pinwheels, turkey and cream cheese chive tortilla pinwheels, smooth chicken salad pinwheels, strawberry cream cheese pinwheels, pineapple cream cheese pinwheels, cheese, pepperoni and cracker platter, fruit platter, watermelon, oranges, pineapples, kiwi, strawberries, vegetable cups w/celery n carrots. chips, spinach dip, I will also need honey mustard sauce, ranch sauce, barbecue sauce, etc., black and green olives, nuts and mints, tea, and perhaps some kind of pasta.
By Linda
I asked about this about a week ago, but still could really use some help. I am catering a wedding for 200 and will be serving the following: chicken tenders,
little smokies
ham and pimento cheese tortilla pinwheels
turkey cream cheese tortilla pinwheels
smooth chicken salad tortilla pinwheels
strawberry cream cheese tortilla pinwheels
pineapple cream cheese pinwheels
cheese, pepperoni cracker tray
celery, carrots in cup w/ranch dressing
chips
colorful pasta
strawberry, orange, pineapple, watermelon fruit tray
nuts, mints
olives (black, green)
tea
sugar
honey mustard, barbecue sauce
spinach dip
By Linda