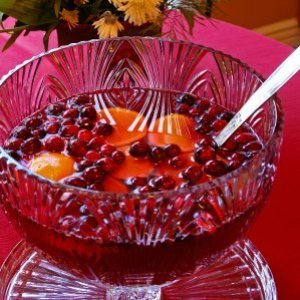 Wedding punch is something that everyone at the reception looks forward to enjoying. This page contains wedding punch recipes.
Ad
---
Recipes
Read and rate the best recipes below by giving them a "thumbs up".
Ingredients
2 cans frozen lemonade concentrate (12 oz)
2 cans frozen pineapple juice concentrate (12 oz)
1 quart water
1 liter ginger ale
1 liter sparkling water
1 large bottle sparkling white grape juice
Directions
Combine juices and water in large punch bowl; mix well. Right before serving, add ginger ale, sparkling water and juice; stir to blend.
Source of Recipe: Best of Country Cooking cookbook
This sweet punch is an inexpensive drink to serve on your big day. It is easy to make and is delicious.
Ingredients:
2 1/2 cups pineapple juice, chilled
1 pt. lime, lemon, or raspberry sherbet
1 pt. vanilla ice cream
1 bottle ginger ale or 7-Up (12oz. bottle)
Directions:
Combine pineapple juice, sherbet, and 1/2 of ice cream. Beat until smooth. Add 7-Up or ginger ale. Spoon remaining ice cream into punch. Serve immediately.
Yield: 14 (1/2 cup) servings.
By Robin from Washington, IA
This is a recipe for Wedding Punch that serves 100 people.
Ingredients:
6 packages Raspberry Kool-aid
2 dozen lemons
3 large cans pineapple juice
4 large bottles of gingerale
2 bottles of grenadine
6 cups of sugar
6 qts. water
Directions:
Mix all ingredients together in a large punch bowl.
In an angel food cake pan (or Jello mold) pour in some of the punch and freeze.
When it's time to serve float the frozen punch shape with some lemon slices.
You can also float orange slices and some fresh strawberries. Or add scoops of rainbow sherbet.
Happy Wedding!
Sort of expensive to make but well worth it.
Ingredients:
8 Oranges
8 Lemons
3 Limes
2 cups sugar
3 quarts Pineapple Juice
4 quarts GingerAle
Directions:
Squeeze and blend all fruit removing the seeds,and skins. This can be made and stored for use before use. Add additional Pineapple Juice and GingerAle. This can also be spiked with liquor. Make a pretty ring of artificial fruit or flowers in a round jello mold, add water and freeze the mold to float on top. Great alternative to the FOAMY sherbet punches.
By Sharon, KY
Share Your Feedback: Have you tried this recipe? Do you have your own variation which you would like to share? Click "Share a Recipe" above!
Questions
Here are questions related to Wedding Punch Recipes.
Does anyone have an easy red wedding punch recipe? It's for my daughter's June wedding. Thanks!
By Caralee from AL
AnswerWas this interesting? Yes No
Ad
---
---
Most Recent Answer
By eileen 7 49 05/13/20090 people found this helpful
A very easy, recipe
1 package of strawberry koolaid
1 cup sugar
2 qts water
1 12 oz can frozen orange juice
1 12 oz can of lemon lime soda
Mix koolaid and sugar, add to 2 qts of water, add with the rest of the ingredients in punch bowl. If not serving right away, wait to add soda.
---
Archives
Thrifty Fun has been around so long that many of our pages have been reset several times. Archives are older versions of the page and the comments that were provided then.
When my daughter was getting married she wanted a punch to go along with the color scheme of her wedding. We found a quick and easy recipe for punch.
Ingredients
I gallon sherbert
2 - 2 Liter Bottles of 7Up
Directions
Mix well. You can use other brands of soda instead of 7Up to make it a more FRUGAL recipe. I tried it at home with a cheap brand of lemon/lime soda and it tasted the same to me. We used raspberry sherbert because she wanted it pink. We wanted to use strawberry sherbert to make it a lighter pink but couldn't find it in a gallon container.

Hope this quick and FRUGAL recipe helps some others too.

By grammaoftwo from Franklin, TX

Feedback:
Thanksgiving
This is the best punch for kids and its very good. Of course there is no alcohol so it's just right for kids. (11/21/2007)

By Jackie.
RE: Wedding Sherbert Punch
Add some vanilla ice cream to lighten the color! (03/04/2008)

By Donna