Money is tight for many people and wedding costs can easily get out of hand. There are many ways to keep the costs down and still have a nice wedding. This is a guide about planning a frugal wedding.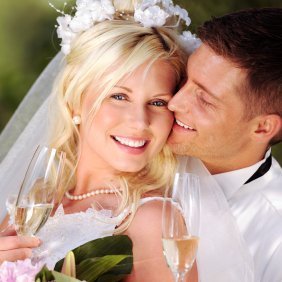 How many of us see a movie a second, third, or even more times and always find something we missed? Well, it's no different when reading a book. Our brains cannot absorb all the information the first, second, or even third time around. So instead of letting those books sit on the shelf collecting dust, spending money buying new books, or spending gas money for a trip to the store or library, simply read those books again! Not only will you find those nuances you missed before but you'll also save oodles of money and you just might enjoy the second read more than the first.
By Deeli from Richland, WA
By PlumCottage 15 5
My husband and I were single until we were thirty, so we agreed that a "full blown" wedding was not what we wanted. Instead we opted to save our money for a honeymoon trip to England, and to put together a more economical wedding. We planned a small invitation list, about 50, that included a few friends and relatives.
Were we ever surprised when many of our friends and co-workers "invited" themselves to our wedding with comments like "We thought you two would NEVER get married", and "This we gotta see! When's the date?" The guest list grew to almost 200! Well, we couldn't afford hurt feelings OR a big wedding so this is how we solved it.
We made a list of all the components : location, food, flowers, music, , decorations, invitations, cake, dress, beverages, etc. Then one by one we decided what we could scale back. As we were doing this my best friend, (who was going through a nasty divorce at the time) called in tears and said she could not afford to give me a gift or even attend the wedding. Of course I was crushed, by her absence, NOT the gift! LOL. A solution came to me and it also provided the solution to our ever-expanding guest list.
My friend is an excellent seamstress and the dress I had purchased from a vintage shop needed repair. I suggested that as her gift she fit it for me and I would pay her a token sum as well so she could attend. She was THRILLED, and so was I!
Next I approached other friends and made like suggestions. In place of the usual gifts or money, would they be interested in pooling together for the wine? The cake? The flowers? The response was tremendous!
One friend, a florist, supplied the flowers at wholesale and donated her talents as designer. Another did my hair . Several others bought the cake and champagne. We had opted for a champagne and dessert reception to keep food costs down and had chosen 8 p.m. for our June date.
Another close friend, who lived on a lake, VERY generously donated her garden for the ceremony and reception and relatives rented the tent. We got the chairs from the local Fire Auxiliary at 50 cents each, with the understanding that we would pick them up and return them ourselves.
My colors were pale yellow and white, so we covered the tables with snow white sheets that we pinned under and put wide yellow florists ribbons criss-crossing and cascading down to the grass. In the middle of the tables, to hold the ribbons and the bottles of champange, we put small styrofoam coolers, covered in pale yellow satin and filled with ice cubes. These were surrounded by wine glasses from the dollar store. Flowers finished the festive wine tables. The dessert table was buffet style, the goodies made by a young woman starting her own catering business. She gave us a GREAT price because we let her put cards on the tables.
Our photos were taken by my new brother-in-law, mostly candid shots, which really were so much fun to look at later. NO VIDEO! The music was a student string quartet that played waltzes and hymns throughout the evening and our wedding song, The Sleeping Beauty Waltz, whenever my new husband gave me a kiss.
There were no disappointed guests, no "rubber" chicken dinner and no tacky jokes. There WAS a very happy party, a delicious reception and a FABULOUS honeymoon in England.
One of the guests had taken her own photos and sent them to a local paper with the story about our wedding. The paper ran it on a FULL PAGE!
Today, 30 years later, many of our former guests still say it was the best wedding they ever attended. ( Me too!) Oh, and by the way, my total cost for my dress, husband's new suit and 200 guests was 2500.00!
By PlumCottage
Do you have a frugal story to share with the ThriftyFun community? Submit your essay here: http://www.thriftyfun.com/post_myfrugallife.ldml
By Cathy Tilburt 3 4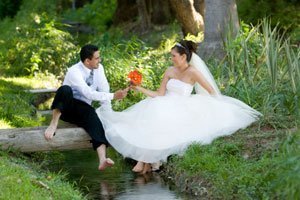 When my husband and I got married, we only spent $300 out of our pockets for the entire wedding. That included the flowers, my dress, invitations and programs. You can have a great wedding for a lower price as well.
Dress: Rather then buy an expensive wedding dress that you will only wear once in your lifetime, find a beautiful dress at a second hand store or a lovely sundress. I purchased a white sundress from Banana Republic for only $70. I have been able to wear it over and over again with different sweaters over the top.
Flowers: Purchase pre-made bouquets at a craft store like Michael's or Hobby Lobby. For the mother, father-of-the-bride, groom, best man, and groomsmen flowers, have the flower desk make them for you. You can pick out the flowers that you want to use. All of my flowers cost less then $150 total and I still have my bouquet and my husband's flower.
Invitations and Programs: Make your own. Find a bulletin paper that you like and use it for your invites and programs. I found mine on clearance so I only spent about $20 for a pack of 200.
Food: Have a buffet and ask family members to help supply the food. That was the one thing that we did not spend any money on at all. Also, ask friends if they would be willing to help make sure that the food containers stay full. You will be surprised how many people would be willing to help with that.
Pictures and Video: If you have someone in your family who is wonderful with taking pictures, ask them if they would consider making that their wedding gift to you by taking the pictures. We only spent $70 on all of our pictures and my husband's uncle took 8 rolls. That even included copies of pictures for family, friends, wedding party, and our album pictures.
Decor: Ask if there is someone who has wedding supplies that you can borrow for your wedding.
I hope that some of these ideas help you while you are planning your wedding. There are many other ways that you can have a fantastic wedding for under $1,000. These are just things that I can up with myself in order to have my wedding and not spend a ton of money or go into debt over my wedding.
In 2008, a series of events were brought to our family. Our oldest daughter decided she wanted to get married in October (the month and day they met). So, that was one wedding. Then, the next wedding was for my step-daughter in May.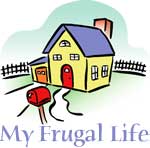 After that, my middle daughter got married in August of 2009. So that was 3 weddings within 10 months.
Being frugal has always been a priority to me. I knew we couldn't afford any of these weddings, but we'd do what we could. Fortunately, we did pretty good with two of the weddings but the second one was awesome.
She decided on a Spring wedding and I had enough notice for us to begin the big hunt for all the proper things. I decided to jot down what we spent in a notebook to keep track of it. Never ever did I ever think her wedding would only cost us $733.94.
The trick to this was there was enough time to find the items, make what we needed, and we were able to shop all the winter sales for the best possible prices. Winter is usually not the biggest wedding month, so that gave us even more of a chance to get everything she wanted without coming away broke.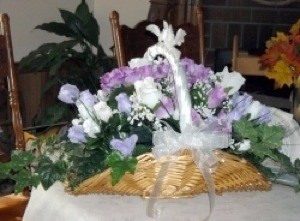 Here is a list of the things we used the $733.94 to buy:
her dress
veil
shoes
jewelry
flowers (bouquets, boutineers, mother's and grandmother's corsages and 3 huge centerpieces)
favors
invitations
stamps
centerpieces
garters
gifts for the wedding party
wedding cake topper
ring bearers pillow
flower girl baskets and petals
personalized ribbons
personalized cake server
knife set and champagne glasses
his shoes and suit
decorations outside and inside
champagne glasses for the guests
the fee for the pastor
The manor she got married at was a wedding gift from one of the managers. The food was bought by them but it was only about $50.00 for a full banquet (simple but sweet). The cake was also a wedding gift.
If you already have a date in mind for your wedding, try to buy your items ahead of time and during the off season. Making the favors and other small items is very beneficial. I am going to put in a precaution here - do your homework. If something is cheaper to buy, then don't make it.
As I sit back and think over all of the frugal things I have done in my life I think when it comes down to money, these were the best deals we could ever find.
By Gem from VA
Do you have a frugal story to share with the ThriftyFun community? Submit your essay here: http://www.thriftyfun.com/post_myfrugallife.ldml
By sarah 1
We have a small budget for our wedding and catering is so expensive. If we do it ourselves with frozen lasagna, salad and bread will it look cheap? How can we have a nice meal on a tight budget?
By Sarah from Sacramento, CA
---
Most Recent Answer
By Veronica 10 114 Flag
January 3, 2011
Lasagna, salad and bread is perfectly normal wedding reception food. I would put a call out to my family and friends asking to borrow table linens, fancy serving platters and silver/silver-plated serving utensils, most moms, aunts and grandmothers have them! If not, you can sometimes pick up nice cut-glass platters and the like at thrift shops. Good luck and Best Wishes!
---
When planning a wedding, there are ways you can be frugal. One of them is to make your invitations instead of getting them made. Buy pretty printer paper, type them up, and decorate them with your personality. People never notice the difference and it's so much cheaper.
Another thing you can do is have family members help with setting up. Your nieces and nephews think they are playing when making paper mache flowers and folding napkins.
Although these ideas may seems a little too cheap, no one notices that there is anything different and studies have shown that people like when the bride and groom use their own creativity in a wedding!
By Claire Bear from Columbus, OH
By toni 1
I need help with my wedding. I have the venue, for an awesome price. Now I would like to stay on a budget of 1,500 dollars. I welcome any and all help please. I live in the bay area so I welcome the help. My wedding date is 3/24/11.
By Toni from Oakland, CA
---
Most Recent Answer
By justweddings 1 1 Flag
February 20, 2011
That's not much, but certainly doable. I suggest looking at just what is most important to you in the wedding. Spend more of your money there, and cut out or cut back the rest. Centerpieces can just be simple votive candles that you get in bulk at a craft store with a few petals scattered around. Favors can be bulk candy that you wrap up in little squares of tulle with a ribbon. You can do your own flowers either by buying them online in bulk or making paper flowers. Project Wedding usually has a whole load of diy projects you can do. The only thing I suggest NOT doing yourself is music. Unless you have a friend who knows what their doing, a professional DJ will make a huge difference in the way the party is run.
Good Luck!
---
Our daughter is getting married in June of '05 and we need to be careful about the amount we spend on the wedding.
The Guest List
One of the most effective ways to save is to trim the guest list. That's because one of the biggest expenses - food - is figured on a per person basis and will obviously increase as the number of people you're inviting rises.
Hold Your Reception and Wedding at the Same Place
Hold your wedding ceremony and reception at the same place. One less site fee and no need for transportation to take you from one place to the other. Our daughter's wedding will be held in our church with the reception in the basement. No charge.
Keeping Down the Paper
Have your wedding reception time and place printed at the bottom of your invitation instead of on a separate reception card. You'll save the cost of the paper and the additional postage.
Order All Your Printing
Order your wedding "thank you" cards when you order your wedding invitations as some companies will give discounts for bulk orders. If they don't volunteer a price break, just ask.
Choose Black Ink
Choose basic black ink for your wedding invitations and other stationery. The price will go up if you opt for colored ink or a deluxe foil stamp process.
Wedding Cake
This is an old recipe, just for fun.
50 eggs
5 lbs. sugar
5 lbs. flour
5 lbs. butter
15 lbs. raisins
3 lbs. citron
1/4 c. cloves
1/4 c. cinnamon
4 oz. mace
4 oz. nutmeg
1 pint brandy
10 lbs. carrots
No baking instructions given. Just supposed to be cooked in a wood stove. Makes 43 1/2 lbs. and keeps for 20 years. (This recipe is from an early settler)
By Robin
By Randa Wagner 61 8
You can have a large beautiful wedding if you limit your shopping to thrift stores, Walmart and Dollar Tree. This wedding cost under $600.
Wedding dress - $25 (Garage sale, but never worn)
Both father's shirts - $20 (Walmart clearance)
All 5 bridesmaids skirts - $40 (thrift store prom dresses remodeled)
Bridesmaids white shirts - $15 (Walmart clearance)
3 flower girls skirts $3 (hand sewn from thrift store fabric)
Flower girls shirts - $5 (thrift store)
Flower girls buckets - $3 (Dollar Tree)
All bouquets - $10 (flowers from Dollar Tree)
Food sandwiches - $200 (most expensive item)
Brides cake donated in lieu of gift, also grooms cake.
Reception hall - $125 (for 5 hours)
White bows and flowers for church - $5
Unity candles - $3 (Dollar Tree)
Candle holders - $3 (Dollar Tree)
Rehearsal lunch - $20 (Little Caesars' pizza)
By Randa from San Marcos, TX
By Ashley3112 2
We want a super small wedding! Either just the two of us, or very few people. We live in Washington state and need some help with ideas. We don't know if we should travel somewhere to get married or just do it around home? Help!
By Ashley
---
Most Recent Answer
January 16, 2014
This was exactly what hubby and I wanted 20 years ago. We were married at the Wedding Chapel in Hamilton, ON and had two of our best friends with their spouses share the special day with us. After the ceremony, the six of us went to Shakespeare's Steak House for a fine dinner. No muss, no fuss but everything done with a touch of class.
I would like some ideas for planning a wedding with the theme, soul food. Please provide thrifty ideas. Thank you.
By Tawana
---
Most Recent Answer
By Henrietta B. 7 18 Flag
December 12, 2012
My nephew got married in May of this year. He and his bride to be didn't have a lot of money, so she wanted to get married at her moms house, and they asked each guest to bring a covered dish. We live down south, so he asked his relatives to bring their soul food, like they have around the Holidays. They did, and it was just wonderful!
Also, my hubby & I just did finger foods at our wedding that pulled it off nicely and it was a small get together because we didn't want a huge expensive wedding. I really liked my nephew & niece's (yeap she's family now!) Idea of covered dish! Wish I'd thought of that! Hope this helps!
I got married in October so I used the flowers in season. This was very cost effective. I also did a small round two layer cake to cut, and did a sheet cake in the kitchen to serve to the guests.
By Trishabl from southern Maine
By hopeful 27 135
When planning your wedding, ask the groom's family to be in charge of, and pay for any alcohol beverages served. If you aren't serving alcohol, the groom's parents (or the groom) can pay for another part of the reception.
We, as the groom' parents, were informed that we were responsible for the alcohol. There were only about 10 guests from the groom's side in attendance because of the location of the wedding, and none drink! The bill was substantial, but we gulped and paid it without a squeak of protest.
Anyway you slice it, the groom's side is usually responsible for a portion of the wedding, as well as the rehearsal dinner the night before. Sad but true, when the parent's of the groom have almost no say in any of the festivities.