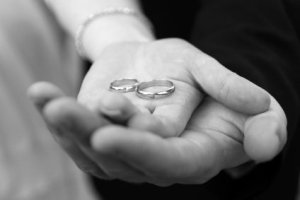 Planning a vow renewal ceremony is as important as your original wedding ceremony, maybe more so. This guide contains ideas for renewing your vows.
Ad
---
Solutions: Ideas for Renewing Your Vows
Read and rate the best solutions below by giving them a "thumbs up".
For Mother's Day, our last pastor would invite any married couple that wanted, to renew their marriage vows. He would do this at both services.

By Julie from Naples FL
My husband and I are planning to renew our vows after 19 years. I want to show a before and after picture of us together. The tip is always take pictures of you and your hubby because in the long run, you're going to go back in time to when you first met.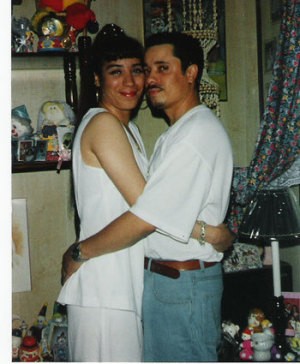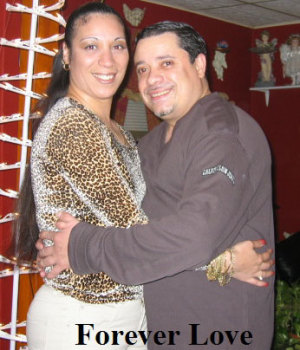 By Maria L. from Somerville, MA
With Valentine's Day just around the corner, plan to renew your wedding vows. Done it before? Then, you know how very special it can be. If you never experienced this fantastic opportunity, give it a try. After all, love is the reason for the holiday! What better way to tell that special person in your life how much they mean to you!

By Sandy
Give a "thumbs up" to the solution that worked the best! Do you have a better solution? Click here to share it!
Questions
Here are questions related to Ideas for Renewing Your Vows.
My husband and I are going to renew our wedding vows for our 10th anniversary. It will be on December 16th to be exact. We do not have much money and want to be as frugal as we can be. Anyone have any suggestions for a frugal location? Thanks in advance.
By Nancy from Colonial Heights, VA
AnswerWas this interesting? Yes No
Ad
---
---
Most Recent Answer
By Anna 27 10/06/20100 people found this helpful
I agree. My husband has broken his vows, so this would apply to us, but I If we renew them, it will be in our Pastor's office. We are already married, it is stupid to do the whole wedding over. Some friends of mine divorced and then remarried after 3 years. They went to the Pastor and he married them an hour later, after they went to the courthouse and came back with the license. It was right in his office too.
---
My husband and I have been married 10 years and it is also his 50th birthday. We would like to renew our vows and have a burgundy theme, but question is what do I wear and how do I combine the celebration of all three events, our 10th wedding anniversary, our vow renewal, and my husband's 50th birthday?

By kath o
AnswerWas this interesting? Yes No
Ad
---
---
Most Recent Answer
By Tanya 4 77 08/02/20130 people found this helpful
I've been a minister for many years and have officiated at a lot of weddings and vow renewals. You can just wear a nice dress if you want to or if you prefer, wear a wedding dress again. Just remember, that your guests will remember your celebration more than what you wear. I've officiated at weddings where the bride wore a tshirt that said "bride" and the groom wore one that said "groom". I've also officiated where the bride wore a wedding gown and the groom wore camouflage.
So what you where can be your own personal choice.
---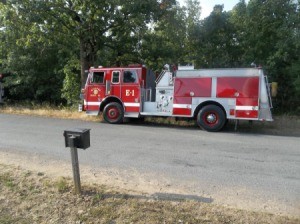 My husband and I have been married for 20years. Our anniversary is in February. Now we are both firefighters and want to have our wedding there? How would you start that? Does anyone have any ideas on this?
By smurfet501 from Vilonia, Conway, AR
AnswerWas this interesting? Yes No
---
Most Recent Answer
08/06/20130 people found this helpful
Calamigos Ranch is the place where a lot of people celebrated their special day. They assist you in hosting the most talked about wedding, rehearsal dinner, engagement party, holiday party or banquet theme of your choice and offer the best reception halls and banquet rooms that are equipped to turn your dream into a reality.
---
My husband and I will have been married for 5 years October 2013. Due to things that were happening in our life we had no wedding. We signed papers with his brother and were married. I would really like to have a small wedding or I guess renewal. I already have a dress so that cost is out. There would be no need for a tux. We have three young kids so our budget is tight. Do you think it would be possible to do it all for $300? I would like to not feed a full meal, but snack bar or dessert. Any help would be great! Thank you.
By Chelsea M
AnswerWas this interesting? Yes No
---
Most Recent Answer
By Sandi/Poor But Proud 451 2,086 05/20/20130 people found this helpful
I did a revow for my sister in Tucson in 02 for just about what you have. It can be done, I promise.

The dress was $50.00 but you say you have one. Great! Is there a thrift shop close where your hubby can get a suit? Or perhaps borrow one?
Here are the things I did to pull this off...

Her colors were for spring, which left everything else much easier. The "aisle" inside the church was 8/$1.00 pastel bags from the dollar tree, with contrasting colors of tissue paper inside each one, pulled up to show of course. In other words, pink in the yellow, yellow in the blue, etc. We simply weighed each one down with a zip lock of cat litter and down the aisle she walked.

I found some spring wrapping paper that had pretty pastel circles on it, and cut them out for table scatter. Each table had to glass brandy snifter with colored water and a floating candle in it. Each chair had a bow on the back to match the color of water.

A friend made the cake, and I made mini teddies for the topper.

I made a guest book and a pen out of a half a Styrofoam ball glued onto a tuna can. Each was covered in lace, then the pen rested in a cap from a seam ripper that I shoved down inside - I kid you not.

I made a poem and burned the edges then glued it to a pillar candle from the Dollar Tree, and stuck in pretty pearl straight pins around the edges for the unity set.

We decorated a donated arch with flowers from the Easter stash, and I made all the flowers either from crochet thread or from the thrift stores. I re-purposed her veil and then went about to cook.

We have a hot day to work in, so I chose cool foods. I made tuna and chicken salad sandwiches, pasta salad, veggie plate, food colored parfaits, and we had four kinds of soda with coffee and tea.

It was a lovely day and we did pull it off for just around $275.00. I hope this helps. If you need any thing else, please don't hesitate to leave me a message through TF as we have some time.

Best of luck to you both.
PBP
---
I am planning a ceremony where my parents will be celebrating 50 years of marriage and my husband and myself are celebrating 25 years. I just want it simple and was thinking about our entrance into the venue. I was thinking to just have my parents come in together with my husband and myself to follow and have all of us standing together during the ceremony. Can anyone offer any suggestions?
By Jenni B.
My hubby and I are planning to have a spiritual 23rd wedding renewal at the beach, very simple. Any ideas? I have a spiritual friend who will do the ceremony.
By Laly
Archives
Thrifty Fun has been around so long that many of our pages have been reset several times. Archives are older versions of the page and the comments that were provided then.
My husband and I are renewing our wedding vows. Our colors are navy blue and silver. If anyone has suggestions on decorations, I would love to hear them. I was also wondering if anyone knows how the ceremony is supposed to be? Thanks.
By Terri from OK
Feedback:
RE: Planning for a Renewal of Vows
Congratulations. How about using blue and silver snowflakes with glitter? I think that would be pretty. You could add them to a centerpiece of hang a bunch of them in different sizes from the ceiling or tie them on vases for the table decorations. Hope this helps. (12/01/2009)

By chef4u
RE: Planning for a Renewal of Vows
orientaltrading.com has some nice decorations (12/16/2009)

By yessy1019