Saving Money on Gasoline
With gas prices always fluctuating, it's good to review what you can do to limit your fuel consumption. The biggest and most important step towards saving money on gas is always try to purchase vehicles that get good gas mileage. Here are tips for saving money on gas with the car you currently have.
Arrange a car pool with co-workers to share the cost of commuting to work. For more drivers, this is the best way to save the most money on gas. Not only are you sharing gas expenses with multiple people, you are also limiting the wear and tear on your vehicle. Some employers offer vans you can borrow if you can get enough people signed on to use it and many communities have vehicles you can barrow for this purpose as well.
Keep your car tuned up. Cars in poor running condition use more gasoline.
Plan trips to avoid unnecessary driving.
When you use your air conditioner you get much lower mileage so use it sparingly. Try using a lower setting if you have one. You also don't need your AC on full blast for extended periods of time. Turn the AC on until you feel cool enough, then turn the AC off and let the fan circulate the cool air. Turn it back on when you get too hot.
Take unnecessary heavy items out of the car or truck. Extra weight effects your gas mileage.
Check your tire pressure. Improperly inflated can reduce your fuel efficiency.
Change your work start time to avoid gridlock or try leaving earlier than you normally would to limit time stuck in traffic.
Drive steady and try to keep a constant speed. The more your speed fluctuates the more gas you will use.
Keep your windows closed when traveling at high speeds. Open windows cause additional drag.
Try not to idle your engine for long periods of time.
You no longer need to warm your car up for long periods of time, especially with new cars.
Don't travel at fast speeds in low gears. Use overdrive or a high gear when possible.
Drive the speed limit.
Accelerate gradually when leaving stop lights.
Choose a quality brand of gasoline but don't buy a higher grade than your car requires. Check your owners manual or consult a mechanic or the correct grade of gasoline.
Avoid unnessarry engine revving. It may sounds cool but you are wasting precious gasoline.
Remove roof racks from your vehicle if you are not using them.
The last thing to consider is whether you can cut out the vehicle altogehter. Biking, walking or using public transportation are great ways to save money and cut down on other expenses related to vehicle ownership. If you have any tips to share, feel free to post them below. �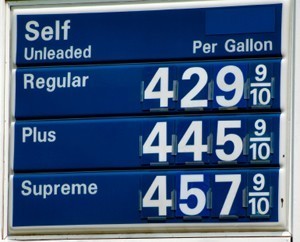 Add your voice! Click below to comment. ThriftyFun is powered by your wisdom!
Add your voice! Click below to comment. ThriftyFun is powered by your wisdom!
Related Content
In This Guide
Categories
Guides
More
Categories