A name tag, price sticker or tape can leave adhesive on cloth. This guide is about removing tape residue from clothing or fabric.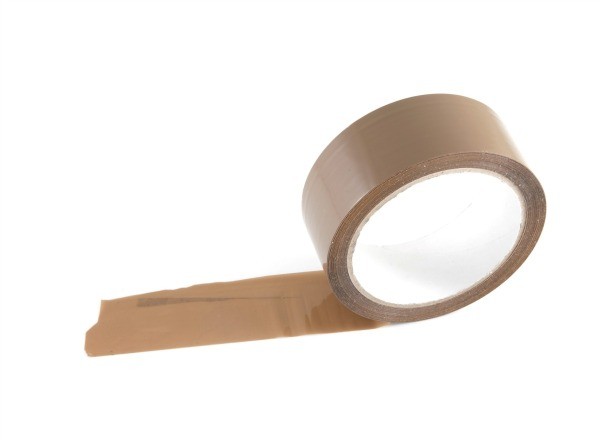 Filter

: All Articles
Sort

: Relevance
How can I remove the glue from a "My Name Is" sticker on a polyester shirt?
By Bernadette from NJ
November 4, 2008
0

found this helpful
Best Answer
I just voted and placed the I VOTED sticker on the lapel of my new polyester jacket only to find out it left a adhesive stain when I peeled it off later. My girlfriend suggested placing scotch tape across the area and pressing down with your finger then quickly ripping it off. Worked like a charm!
November 18, 2010
0

found this helpful
Best Answer
Use duct tape to take off the sticky stuff and then wash it to remove the residue.
November 18, 2010
0

found this helpful
Best Answer
Rub some cornstarch baby powder on it. Then brush off with a clothes brush, wash in warm water. Do not dryer dry unless you see it is off. If not, take a wet washcloth and rub it like you would a stain. Do not use any applications that would have an oil base to it. This will enhance the stain after the glue is off.
Read More Answers...
I searched on how to remove no sew tape residue from clothing. The easiest solution was the paper towel remedy. Just lay the paper towel over the residue and iron over it. Press down firmly and voila! No more residue. Simple is best!
How can I remove the paper and glue that is on fabric samples?
By Jean from OK
January 10, 2010
0

found this helpful
Best Answer
Dip a cotton ball in rubbing alcohol, then saturate the area with the liquid. Let the area sit for several minutes, then peel up the sticker residue. Good luck.
January 11, 2010
0

found this helpful
kffrmw88
Will you please tell me does the rubbing alcohol discolor the fabric? Will wait your reply before trying. Thank you
January 12, 2010
0

found this helpful
Dear KFFRMW88,
Thank you so very much. Decided to go ahead and try it on the bottom of fabric where the paper was glued on . Lo and behold it worked! The fabric is fine. I assumed that if it stained that area of the fabric I wouldn't loose anything. If it didn't work I would have to cut that area of fabric off any way. You are a absolute jewel!
With appreciation,
jean b.
How do I remove adhesive residue remaining on fabric?
July 1, 2015
0

found this helpful
try rubbing alcohol or nail polish remover, but a product called GooGone or UnGu works best. You may have to wash the fabric after use the last two products.
My daughter put duck tape around the headrest in my car. I am trying to figure out how to take off the tape residue?
By Mirna S.
August 29, 2014
0

found this helpful
Peanut butter or mayonnaise often works. If those don't, you can get some Goo Gone and that will work. Good luck!
August 31, 2014
0

found this helpful
WD-40 might work.
I bought the shirt on eBay as, "new with tag". The same tag since the shirt sat on display for an entire golf season. There is a perfect ractangular tape strip discoloration where the adhesive attached the tag to the front of the shirt. What is the best way to remove this adhesive on the shirt without adding to my woes?
By Jeff
March 30, 2015
0

found this helpful
Take a q-tip (so you can be precise with what you are touching) and use nail polush remover, or the equivelant, like paint thinner or acetone. it will work, there is also goo gone.
I had a cardboard box with tape on it sitting on my car seat and it left marks on the seat. Can anybody help how to remove the tape residue? Thank you.
By Pavla from Cairns, QLD
March 16, 2015
0

found this helpful
Try using sos pads.
I used iron-on tape to put a piece of fabric on another piece of fabric. I put it on wanksrong and had to take it off. The fabric came off, but the glue stayed on. I can't get the glue off. Hope you can help.
By Marie C.
March 7, 2015
0

found this helpful
A product called Un-Du will remove the adhesive. It will also remove smeared hot glue. You can get it at any craft store. I have also seen it at Lowes. Hope this helps.
How do I remove tape residue from a sport shirt? The paper towel/iron method did not remove the stickiness. What else can I do?
By Marie
September 18, 2014
1

found this helpful
I once dropped a towel on a bug glue trap. I used baby oil to make the adhesive gummy enough to ball up, then used rubbing alcohol to clear up the oily-ness. That was just a towel and not a shirt I had to wear...
Use your best judgement before trying that on your sport shirt!
How do you get sticky tape off of nylon shorts?
By Tammy
May 15, 2011
0

found this helpful
If you are sure it is nylon, try some lacquer thinners. First test on a spot that cannot be seen.
May 17, 2011
0

found this helpful
How about cotton? I dried my pants at work and ended up with a spot of a glued area from the dryer and it simply will not come out.
Any help out there?
Gem
May 17, 2011
0

found this helpful
Mayonnaise, ice & a scraper (paint). Or Ask Helowise, Good Housekeeping.com Good Luck. : )
I recently purchased a skirt but the manufacturer forgot to remove some masking tape around the hem. Now there is a slight sticky residue, but even worse, the fabric is discolored. I have tried soaking and washing with Woolite, but to no avail. Does anyone have any suggestions on how to remove the stain? Thanks!

inkybinky from Canada
January 25, 2007
0

found this helpful
There should be a tag inside the garment, perhaps down the seam somewhere to tell you it's fabric content. If washable, I'd definitely use WD-40, letting
it sit for 30 minutes, then rubbing gently with a folded paper towel on top, another under the fabric to soak up any residue from the back. It works wonders for most all sticky stuff on most every surface. The color should return once the sticky is off
it. Repeat as often as necessary, careful not to OVER
pray the spot, and only IF it begins to come off.
Once off, toss and wash as usual but remember that the spray is flammable and should be sprayed outside only. Then, hand rinse gently with Dawn before machine wash/dry. Good luck. God bless you. : )
I have gotten a black stain from hockey stick tape on a brand new white t-shirt. It got wet and the colors/dyes from it ran. What can I do to get it out? Keep in mind there is a fairly large logo on the front, however the stains are on the arm and the back.

Thanks for any help.

Revolution from Toronto (Canada)
December 3, 2005
0

found this helpful
Have you tried using something called "GOO BE GONE"? I use it on numerous things and hve never had it not work. I even had to use it on my dog. he got into a sticky trap, one used for mice, and it worked like a charm, and didn't hurt the dog at all. You can buy it almost anywhere. Also, you can try that oxyclean, again, I've used it on several occasions, it works great to get stains out of carpet, just make sure it doesn't damage the material you are using it on.
How do you remove glue from duct tape off of clothes?
By Debbie from Kosciusko, MS