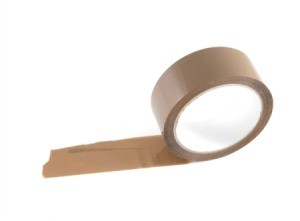 A name tag, price sticker or tape can leave adhesive on cloth. This guide is about removing tape residue from clothing or fabric.
Solutions
Read and rate the best solutions below by giving them a "thumbs up".
I searched on how to remove no sew tape residue from clothing. The easiest solution was the paper towel remedy. Just lay the paper towel over the residue and iron over it. Press down firmly and voila! No more residue. Simple is best!
By Barbara B.
Share Your Feedback: Once you try any of the above solutions, be sure to come back and give a "thumbs up" to the one that worked the best for you. Do you have a better solution? Click "Share a Solution" above!
Questions
Here are questions related to Removing Tape Residue From Clothing and Fabric.
How do you remove glue from duct tape off of clothes?
By Debbie from Kosciusko, MS
I recently purchased a skirt but the manufacturer forgot to remove some masking tape around the hem. Now there is a slight sticky residue, but even worse, the fabric is discolored. I have tried soaking and washing with Woolite, but to no avail. Does anyone have any suggestions on how to remove the stain? Thanks!

inkybinky from Canada
---
Most Recent Answer

By inkybinky (Guest Post)01/25/2007
Thank you very much Lynda... I will try that!

Alana
www.bluemellow.com
I used that sticky hem tape on some cotton duck curtains and now it's peeling off and I'd like to remove the sticky. Can I use something like Goo Be Gone on it? Is there something better?
By Renee
How can I remove the paper and glue that is on fabric samples?
By Jean from OK
---
Best Answer

By kathleen williams01/10/2010
Dip a cotton ball in rubbing alcohol, then saturate the area with the liquid. Let the area sit for several minutes, then peel up the sticker residue. Good luck.
How can I remove the glue from a "My Name Is" sticker on a polyester shirt?
By Bernadette from NJ
---
Best Answers

By Grandma J11/18/2010
Rub some cornstarch baby powder on it. Then brush off with a clothes brush, wash in warm water. Do not dryer dry unless you see it is off. If not, take a wet washcloth and rub it like you would a stain. Do not use any applications that would have an oil base to it. This will enhance the stain after the glue is off.
---
Best Answers

By diane051411/18/2010
Use duct tape to take off the sticky stuff and then wash it to remove the residue.
---
Best Answers

By John (Guest Post)11/04/2008
I just voted and placed the I VOTED sticker on the lapel of my new polyester jacket only to find out it left a adhesive stain when I peeled it off later. My girlfriend suggested placing scotch tape across the area and pressing down with your finger then quickly ripping it off. Worked like a charm!
---
Best Answers

By bob (Guest Post)09/11/2008
A solvent that you can get at Home Depot: Goof Off. It removed all the adhesive left on a couple of hockey jerseys that I took the name bars off of in seconds.
How do you get sticky tape off of nylon shorts?
By Tammy
---
Most Recent Answer

By Karen H.05/17/2011
Mayonnaise, ice & a scraper (paint). Or Ask Helowise, Good Housekeeping.com Good Luck. : )