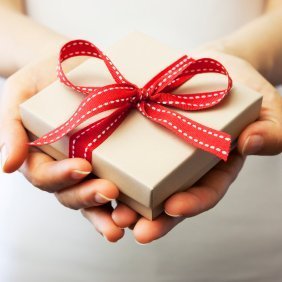 Gifts don't have to cost money to be awesome! This is a guide about gifts that cost nothing.
Solutions
Read and rate the best solutions below by giving them a "thumbs up".
We all like to give a gift to show how much we appreciate a particular person, but your gift doesn't have to cost the earth. In fact, it doesn't have to cost anything at all. We can give gifts every day of our lives without them ever having to cost a penny, simply by showing that we care.
The Gift of Listening
Next time a friend needs somebody to talk to, give them the gift of listening. Give them your whole attention. No daydreaming, no planning tonight's meal, no interrupting and no planning your response. Simply listen.
The Gift of A Compliment
We all need to know that we're doing well, and a compliment, when sincere, can be one of the best gifts we can give. Simply saying "you made a great job of that" or "you look really nice in that dress" can turn somebody's day around.
The Gift of a Favor
Go out of your way to help somebody, especially when they'd least expect it. It's easy to be helpful when the other person is feeling good, but to be helpful toward somebody who is grouchy, that's a real gift.
The Gift of Laughter
Share a funny story or send them a cartoon clipping. The ability to make somebody laugh is a true gift to give.
The Gift of Solitude
Sometimes, all a person wants, is to be left alone. Be sensitive to thus and give them the space they need.
The Gift of A Letter
We all get post, but more often than note it consists of bills and bank statements. Receiving a hand-written letter from a friend will bring a smile to anybody's face.
The Gift of A Smile
Smiles really are contagious and be given to anybody, even total strangers. Be extravagant and give them away every day. If you add a 'Good Morning' or 'How are you?' to your smile, they'll be even more valuable.
So, you see, you can give gifts every day of your life if you care to, without them ever having to cost you a penny. And no matter how much you've been led to believe that it's only gifts that are of material value that mean anything, it is the gifts of your time and caring that can change a persons day, maybe even their life.
Here's a great way to save money on gifts and get the kids involved too. This particular gift idea is so easy and says "I love you" so well. Make several of these keepsakes and give them to grandparents, aunts, uncles, and anyone who needs a smile.
The best, inexpensive Christmas gift I ever received was from my daughter when she was in elementary school. The class took small empty boxes (toothpaste, jewelry gift boxes, etc.), wrapped them in wrapping paper, then tied them up with curling ribbon. Attached to the box was this note:
I took an ordinary box
As empty as can be
I filled it with a special gift
And wrapped it carefully.

But please don't ever open it
Just leave the ribbon tied
And hold it tightly near your heart
Because my love for you is inside!
I loved this gift and will keep it FOREVER. This would be a good class project for elementary school students or for a Sunday School class.
By MomOf1 from Wilkesboro, NC
This Memory Jar is a gift that is always enjoyed and appreciated by the recipient, and it only takes some colorful sheets of paper and a pretty container to make it. In the tough times we live in, it's hard to afford a lot of gifts, but this is special gift, one that comes from the heart and can be made to be given for Christmas, Mother's Day, or birthdays.
I made my Memory Jar to have a memory to be opened one per week, so I typed out 52 memories, quotes, and scriptures, in Word and used Lucida Handwriting font in size 16. I printed all sayings spaced out well, and used 10 sheets of different colored paper and of course you will need to have 2 sheets with 6 memories on them, to come out even. Be sure to space out your memories evenly, so that you will have enough space in between to cut them.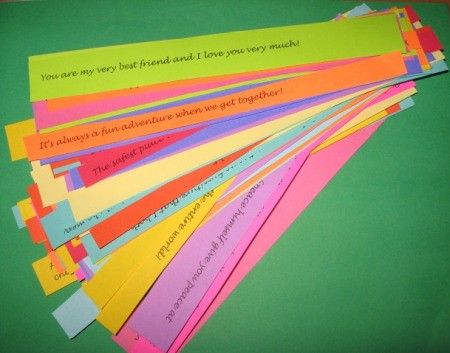 After you have all your memories cut, roll them on a round pencil. The heat of your hand will help to keep the rolled shape. You could even use specialty scissors to make the edges prettier, and another possibility is to tie each roll with a pretty ribbon or yarn as a little "gift" each week for the recipient to open. Drop all the rolls into a nice vase, pretty pitcher, or a pretty jar with a lid, to be used later. Add a nice big bow and you are finished!
By CDC from FL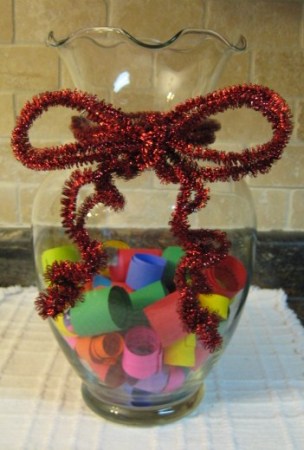 Share Your Feedback: Once you try any of the above solutions, be sure to come back and give a "thumbs up" to the one that worked the best for you. Do you have a better solution? Click "Share a Solution" above!