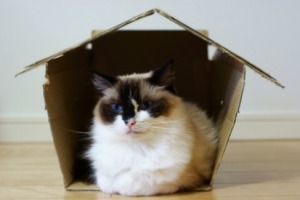 Recycling your cardboard boxes is a great practice, but don't forget that many of them can be reused in your own home. This is a guide about uses for cardboard boxes.
Ad
---
Solutions: Uses For Cardboard Boxes
Read and rate the best solutions below by giving them a "thumbs up".
For sending presents by mail instead of using brown paper to cover the box, try recycling a cardboard box that can be gotten from a grocery store or any other store (before they crush them, of course). Instead of blacking out all the writing on the box as the post office suggests, turn the box inside out.

Cut the tape or pull open the glued flaps as if you are going to flatten the box. (If you are lucky you can get the boxes already cut open from the store because some of them flatten the boxes before they crush them.) Carefully cut the seam of the box with a knife so it is able to be opened up flat. Turn the box over to the non-printed side (inside out).

Tape the seam back together with packaging tape inside and outside if you want it to be more stable although taping outside will suffice. Tape the flaps on the bottom closed again. You can then put whatever you are sending in the "new" box and seal it up with the packaging tape. This not only saves on the brown paper and recycles the boxes but also helps the post office because the brown paper often rips off or rips so that it gets stuck in the machinery used to process the packages. The only drawback is that you can only do this once unless you are careful when opening the box and you use easily removable labels on them.

I have done this countless times with no problems at all. Every time the box arrived intact. Happy shipping.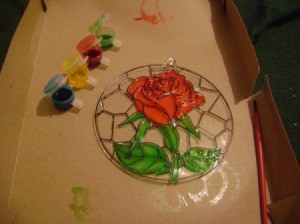 This year, I put lots of gifts in the cardboard decorated boxes you can buy at the dollar store. I noticed they were perfect for art projects, to protect furniture, and to store after the children are through with them.
They would also be good for jigsaw puzzles if the puzzle fits the box.
When using these boxes, you don't have to put newspapers down.
By Robyn from Tri-Cities, TN
This year I want to try raised beds in my garden, but I don't want to spend any money on purchasing the wood necessary to make them, plus all the work involved. So I came up with this idea - why not use cardboard boxes from the grocery stores? I plan on getting approximately 12 inch deep ones with sturdier sides. I think that they should hold up for one entire summer. I will let you know how I fare with them. If this works, I'll be so happy!
By annelaundrie from Green Bay, WI
Don't recycle those inner cardboard boxes used to separate tampons in the multipack. Reuse them for organization!

They are pretty sturdy and hold plenty. The white cardboard can be covered with decorative wrapping paper or drawn on.

I found they are the perfect height and and depth for storing make up in my medicine cabinet.

I also use them to separate pens, pencils and tape. They fit perfectly on a shelf in my computer armoire.

You would never guess they once were used to separate super tampons from regular- nifty, huh! Perfect clutter hider for FREE!

By Melissa Barrow
Give a "thumbs up" to the solution that worked the best! Do you have a better solution? Click here to share it!
Questions
Here are questions related to Uses For Cardboard Boxes.
I have made a doll's house out of small cardboard boxes (not shoe boxes, but a little bit bigger). I have done each room separately so I have 4 separate boxes. Would anyone know what would be a good covering for this when joined together to make it more sturdy? I want to use something other than wood. Many thanks.
Helen
By h.arnott from U.K
Ad
---
---
Best Answers

By susan winship [4]12/14/2009
Corrugated cardboard can be really strong depending on what it is made to hold. Go to your home appliance store (washers, stoves) or stores that carry heavy goods and see if you can get discarded cardboard. Hold the individual boxes together with a strong glue and then wrap with the strong cardboard. A hardware store could tell you the right kind of glue or strapping to hod the dollhouse together. Good luck. Send ThriftyFun a picture when it is finished if you can.
---
Best Answers

By Mary Lou [14]12/14/2009
Many dollar stores have inexpensive peel and stick tiles. How about those in different patterns for roof and sides, doors and window frames could be yet another pattern.
---
Best Answers

By Gailya Illsley [7]12/13/2009
I would use foam core board. Then you can use contact paper to decorate the outside if you so choose.
I work at a restaurant that throws away all of their cardboard boxes. For a month or so I have been recycling the boxes for them because it annoys me that they throw them away. Does anyone have any cool uses for boxes? Craft projects that require a lot of boxes? Or somewhere that I can donate boxes. Thanks!
Ad
---
---
Most Recent Answer

By Carol L Craig [17]03/26/2009
I use cardboard in my garden. Instead of laying down 5 or 6 sheets of newspaper or instead of purchasing that expensive fabric in the garden department that you lay under your mulch, I cut up the cardboard boxes and then put my mulch on top of them. It sure keeps the weeds away from my rose bushes and other plants and it will eventually deteriorate into the garden.