Can anyone give me any ideas for a 2 year old girl's birthday party? I don't have much money.
By rocknrollmom from Los Angeles, CA
Ad
---
By Joan 13 1,482 11/16/20100 people found this helpful
Just have cake and ice cream with kool aid. The cake can be home made with just two candles on it. She won't know the difference or care either one. You could have a few balloons for decoration. Keep it small. I am a firm beleiver that parites don't have to be big show type things, seeing which family can outdo the other.
By Susan 1 11/26/20100 people found this helpful
The best birthday party ever:

lots of balloons on the floor when she wakes up
streamers hanging from her door when she wakes up
open gifts one at a time all day long and play with each gift as it is opened
party hats
those blow out party thingies (have a race to see who can blow the fastest)
musical chairs
freeze
stroller race (let your child sit in the stroller, and put another 2-y-o or baby doll in the other stroller; form 2 teams; on your mark, set, go; each team has to race to a destination and back with stroller and tag his/her teammate, who then races to and from and tags the next teammate until all the teammates have raced; the team whose last teammate runs back first wins--tons of fun for everyone)

It does matter if you have a good birthday party for your children. They may not remember the exact stuff, but what they remember that day is how they felt, that you made a big deal. It is a great way of creating memories each year, my mom always makes my birthdays special. By age 4, the child will begin anticipating his/her birthday party and all the ways you make it fun. My child's party was very inexpensive, but it was very memorable and fun. We took lots of pictures and talked about them for a couple weeks afterward (cementing the memory in her mind and reliving the feeling she felt). Next year, we will pull out those pictures again in anticipation of another, but different, party.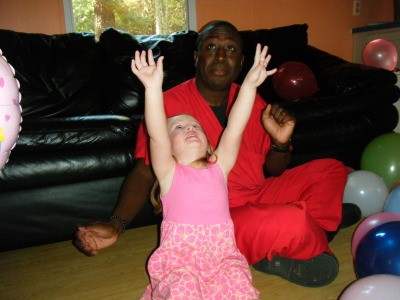 By Clarissa 3 04/03/20110 people found this helpful
I think you should just surprise her, and have family over for maybe a pitch in dinner.
Archives
Thrifty Fun has been around so long that many of our pages have been reset several times. Archives are older versions of the page and the comments that were provided then.
My son will be 2 years old in October. Does anyone have any ideas for a a two year old birthday? Should it be inside or out? What theme?
I'm having a birthday party for my two year old son. He loves cars so I thought I would follow along the lines of the Disney movie "Cars". We are going to have red and black balloons, and streamers for decorations. Also, color coordinated plates and cups, etc. A car cake is already planned, as well.
However, I would love ideas on treat bags for the kids (there will be both boys and girls at the party), also what kind of food to serve. I would appreciate any ideas on some really easy and short games. We are mostly going to just let the kids play and the adults visit. Thanks.
By morbetomommy from KS
---
RE: Two Year Old Birthday Ideas
It's been a long time since my boys were 2, but I don't think you have to worry about games. Two year olds don't understand the whole concept of games. I like the suggestion of bubbles, and the lawn sprinkler idea. Two year olds prefer to just play. I would put little cars in the treat bags for both boys and girls, and also bubbles to take home. I don't know what is the norm anymore for how much you put in the bag. In my day, a small toy or two, and maybe some sort of candy. (One time, for 6 year olds, I gave them all golf tubes, to use as swords/ light sabers.) Maybe some sort of ball, big enough for them, not one of those little bouncy ones that bigger kids like.
As for food, don't get too fancy. Have stuff that the kids like to eat: hot dogs, maybe, finger food like carrot sticks and dip. You might have something a little more elaborate for the adults: smokies or burgers.
Do not have any really organized games. 2 year olds don't understand that. Stuff like musical chairs and the present unwrapping game are not for them. Seven year olds have trouble with the present unwrapping game. They want the present. (07/30/2009)
By louel53