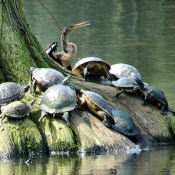 Swan Lake Gardens is a favorite place for relaxing in Sumter, SC. There are walkways, and beautiful flowers, but my favorite things are the butterflies, birds and water fowl.
I didn't even notice the cormorant when I snapped this picture. I love ThriftyFun but this is my first photo submitted.
Enjoy.
By Cindy G. from Sumter, SC
Ad
---
By CaroleeRose 58 118 08/31/20110 people found this helpful
Great picture, it's looks like a really great place to be at peace with yourself for awhile.