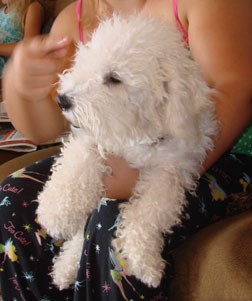 I am thinking of adopting a Bichon Frise that has some mats in its coat. I need to know what is the best kind of shampoo and conditioner/detangler to use on her. The current owner has had the dog only 3 or 4 weeks, and used Dawn dish soap for her bath and no conditioner that I know of.
She isn't able to afford vet care or grooming either. I would like the dog, but am afraid the coat is too much to care for, unless there is possibly a budget friendly conditioner/detangler i could make at home. Also, is baby shampoo ph acceptable for dogs?
Pam from Martinsville, IN
September 27, 2008
0

found this helpful
My mom has been grooming dogs for 40 or so years. She has always used baby shampoo and watered down conditioner when bathing the dogs.
(it used to be called creme rinse). It really is hard on dogs and groomers when they get matted. She always recommends that the owner keep the dog brushed on a regular basis , but don't just start brushing the dog after it has mats. It has to be maintenence. When she gets a matted dog, she will cut the the biggest mats out, then bathe the dog. After drying she will usually cut it short and brush to finish.
September 27, 2008
0

found this helpful
Adding some omega three to there diet will put some well needed oil in there fur. My daughters vet recommended the same omega three capsules that people take. It was recommended for her pet's hair loss. Possibly the oil will act some what as a conditioner and help with the grooming process.
September 29, 2008
0

found this helpful
You can't get the mats out in a bath. Getting them wet will only make them tighter. You'll need to cut them out and then keep the dog brushed.
By guest (Guest Post)
Flag
September 29, 2008
0

found this helpful
I have a cockerpoo and from the picture it appears that their hair is similar. I use dog shampoo and conditioner that I use on my hair, which is a moisturizing type. (I use different kinds.) Conditioner for dogs might be better, I haven't used. The matts will have to be cut out. Preventitive is the key there. I do have her groomed about 2 or 3 times a year now but I cut her hair myself when I couldn't afford it. But it is a big job and worth it to me to pay someone else to do it!
By guest (Guest Post)
Flag
October 1, 2008
0

found this helpful
I have a 7 month old Shih Tzu. My pet's hair seems to be very dry and is tangling up a lot. Any suggestions?
By Roberta
December 12, 2011
0

found this helpful
Fish oil caps will help the dryness. I give them to my dog daily.
December 12, 2011
1

found this helpful
Try getting a little spray bottle. Add about 2 tablespoons of hair conditioner fill with warm water and shake well. Spray your dogs fur and brush it every few days!
December 14, 2011
0

found this helpful
There are some leave in hair conditioners on the market for dogs, after bathing, towel dry the dog then brush or comb a little through. Regular brushing will help as well. A few minutes a day is better than once a week.
December 16, 2011
0

found this helpful
A little conditioner or a wide tooth comb will help (like people use!). If you need to use a fish oil pill ( it will make fur smooth and easy to manage and stronger too! and fix any dry skin problems). My mom gives her little Pom a Petite Omega 3 ( Packenzie?) - she has no trouble taking it.