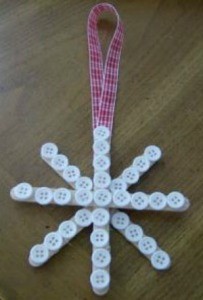 Here's a cute tree ornament that is made from buttons, popsicle sticks and a little ribbon.
Approximate Time 30 minutes
Supplies:
4 Popsicle sticks
glue
buttons ( or gems)
ribbon
Instructions:
Take 2 Popsicle sticks and form an x and glue where the two sticks connect.
Take other 2 and form a + and glue where two sticks connect.
Now take the x and the + and place on top of each other and glue where they connect.
Take buttons or gems, poms poms, whatever you like and glue to Popsicle sticks. If you wanted to you can paint the Popsicle sticks before you begin.
Take ribbon and glue a hoop and viola!, you have a cute ornament for the tree.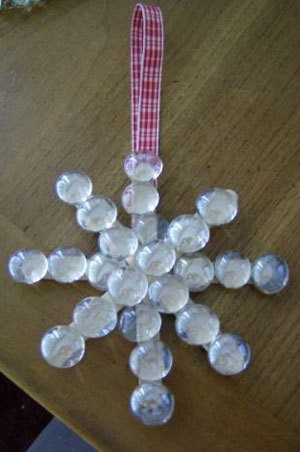 By Carol from MA
Ad
---
Feedback Forum
Feedback about this article is posted here. Want to contribute? Click above to post feedback.

By Anna08/22/2007
Oh yeah, I'm inspired. How about dipping the popsicle sticks in dye or food colouring and letting them dry first to introduce some background colour. I'm sure there's room for some glitter or tinsel here too.

What a great simple idea!

By Lisa (Guest Post)08/14/2007
Dear Carole, This is a great ornament and easy for kids. I am a teacher and am always looking for simple Xmas ornaments for my students to make. We will surely be making these come November!
Thank you for sharing your idea with us,
Lisa

By Ruth Kennedy [4]08/13/2007
these look adorable..thanx for sharing and this will make a great Christmas present or bazaars for school

By Ziggee08/13/2007
I love these and they look so easy to make. Thanks for the instructions.

zig

By suzanne [241]08/13/2007
OH WOW !! this is adorable
Post Feedback
Add your voice to the conversation. Click here to share feedback.