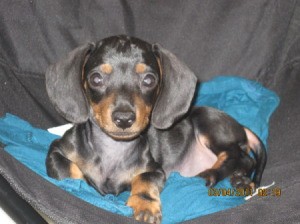 I have a 9 month old mini Dachshund, my mom gave him to me as a birthday gift. I named him Tawny. I love him so much and bought all the things that he needed. He used to sleep with with me in my bed and always sleeps on my lap and sometimes sleeps on my chest when we watch TV. But I always have a problem with him with the house training. He poops and pees everywhere, especially in my bed.
I tried crate training him, but it doesn't seem to work, he won't stop barking. I live in an apartment and his bark echoes, so I really have no choice but to get him out of the crate. He also chews everything, such as my shoes and laptop's charger. One night I came home to find myself without the electricity. I thought it was just a blackout or something, then I saw my fridge's cord and electric socket it was plugged into were broken, he ruined it. He chewed the wires. He even poops in his dog plate.
I tried everything I can to housetrain him. This dog is loved and has a lot of attention. But I got really upset and crated him outside on my balcony. He won't stop barking, but if I let him inside the house again he'll break all my stuff and go pee and poop everywhere. He even bites me when I fetch him the ball.
He's been inside the crate for months now. I know it's cruel, but I don't want him to break anything that's important to me and worst he likes to chew wires. Lately I found his crate broken too. He broke it; I don't know how he did it. I'm losing hope and I don't know what to do. I love him as my own son. I'm thinking of getting rid of him if I can't get him trained. How am I going to train him if he is like that? Please help.
By Jamie V.