Keeping Bees Out of the Hummingbird Feeder
Bees and hummingbirds are often found in the same places in your garden. However, if you are putting out food for the hummingbirds it can attract an unwanted amount of bees. This is a guide about keeping bees out of he hummingbird feeder.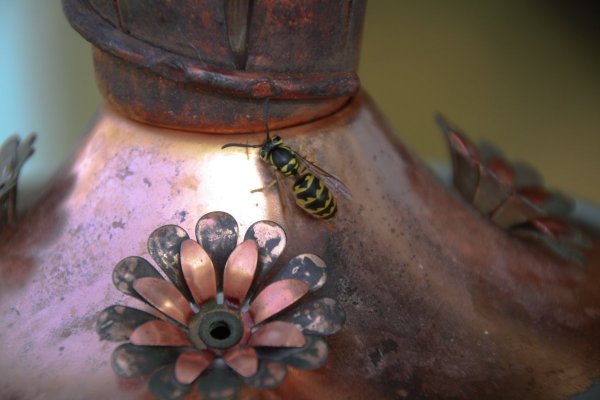 Filter

: All Articles
Sort

: Relevance
My brother insists that 100+ bees drained his hummingbird feeder within minutes, and I say this is impossible. Anyone have an answer for this?
By B. Jones
April 9, 2015
0

found this helpful
Best Answer
Definitely can happen! Bees can empty a hum feeder and quickly. I have not seen it happen myself but my husband has and he is an entomologist.
July 22, 2016
0

found this helpful
Best Answer
I have honey bees and hummers. The solution that has worked for me is to use a bee feeder close to Hummer feeder. These can be found at bee supply stores or online. Instead of the recommenced 4 to 1 Hummer mix, the bee feeder uses a 50/50 mix more suited to honey bees and yellow jackets. The design of bee feeder only accommodate insects, thus draws the pest from the Hummer feeders, also water cup or barrier holding water prevents ants from crawling to Hummer feeders.
Read More Answers...
The best solution I have found for keeping bees and wasps away from hummingbird feeders is mint extract of some sort. After I wash the feeders, and before I fill them, I take a Q-tip, dip it in the extract, and apply it to the ports. I also apply to the edge where the bottle comes in contact with the bottom, and, if applicable, along the seal created when putting top and bottoms together.
This simple solution worked the first time I used it and has worked ever since. Using extracts can be costly. My tiny bottle lasted for over three years, and yes, it froze during the winter months.
I haven't tried rubbing fresh mint leaves to the ports, etc., but I am sure this would also work.
Source: I cannot recall exactly where online I found this solution. Perhaps hummingbird(s).net
By Leeanne C. from Clio, MI
I found this recently in my Country Wisdom book, and decided to share it because it really works great at my house! We have hummingbird feeders hanging on our porch and noticed that the yellow jackets were volatile to humans and my poor hummers! So, upon reading how to make hummingbird nectar, it also had how to deter bees.
First of all the nectar recipe is: 1 part water to 3 parts sugar, cook until it comes to a nice boil, but not rolling, then simmer on low 5 minutes. Let cool and pour into container. This will keep for a week in the fridge, if it turns cloudy throw it out.
Okay, now around the holes of your feeder put Vaseline or oil (I prefer Vaseline) with either your finger or Q-tip or small spatula. Hope this helps.
Source: Country Wisdom
By Henrietta B. from Westminster, SC
Editor's Note: Many comments have been sent in to discourage using Vaseline on hummingbird feeders. It can be damaging to the hummingbirds. Also, the most common ratio for making hummingbird solution is 4 (water):1 sugar)
How do you use the mint on a hummingbird feeder?

Would anyone know of any homemade solutions or handy tips on how to keep yellow jackets away from hummingbird feeders?
By Beverly from Easley, SC
June 14, 2013
1

found this helpful
In one of the posts there is a link to "First Nature" web site. Upon reading the post and clinking on the link I found the feeders as suggested. It wasn't until I got to the check out that I noticed a problem. They charge you the price of the feeder for the shipping! So, the feeder just doubled in price. (Even if they state that this is an "estimated shipping cost" they are still charging that amount at check-out). Do not use this link.
July 15, 2016
0

found this helpful
How to keep Yellow Jackest away from humming bird feeder.
Read More Answers...
I have had a lot of problems with yellow jackets, ants, and paper wasps around my hummingbird feeder. To solve this problem I took a strip of cotton and sprayed it with Raid Hornet and Wasp spray. You only want to dampen the cotton. Then I enclosed it in an onion bag, those mesh or net bags onions come in.
I tied both ends shut. Then I tied it onto the hanger and twirled in around so it came down the one side short of the feeder holes. This has worked like a charm and the hummers do not have any problems feeding. *Be sure the cotton is damp and NOT drippy!
How do I keep ants from getting into my bird feeders? I have gone to clean them out and had literally thousands of ants come out of them. Also, any suggestions on keeping wasps and other creatures away from the hummingbird feeders?
Hardiness Zone: 8a
By Cricketnc from Parkton, NC
July 14, 2016
0

found this helpful
I think the Vaseline is a great idea but what are beekeepers? Thank you so much for the tip.
July 24, 2016
0

found this helpful
to keep wasps away from feeder plant mint plants near feeder . Wasps dont like mint. I made a solution of peppermint extract and water and put it in a little spray bottle. I spray the plants near the feeder. The wasps don't like it and fly away.
Read More Answers...
I have been reading about a variety of ideas for keeping ants, etc., out of hummingbird feeders. I have cared for hummingbirds for over 30 years and I've tried just about everything out there.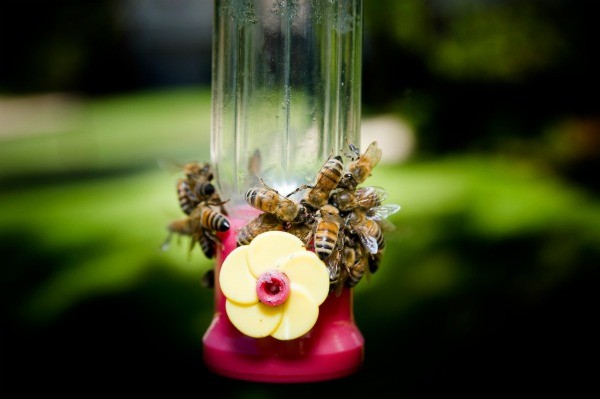 Bees are going to the coloured sugar water I hang from the tress for the birds, near their food. How can I prevent or distract the bees from taking over the bottle? They get angry if I chase them away.
By Fiona
August 20, 2015
1

found this helpful
We have again this year been thru 60 lbs of sugar in 65 days so far. We do not know how many birds but hundreds in three waves since June 15 in NM. Wash you feeders with every refill ( 120 ) so far on 32 oz feeders we use 3 very well with cold water and dry off before, do not spill and only use. 1 sugar to 4 parts water no need to boil, no color added, do otuse store bought humming bird solutions ever. Wehave been doing this for 8 years,they come back every year with more!
July 24, 2016
0

found this helpful
I've learned that the coloring is very bad for hummingbirds. Making your own nectar is simple (1 part sugar to 4 parts water) -- the red coloring is not necessary as most feeders are red anyway.
We have honey bees in our hummingbird feeders. We have the feeders with the red flowers which someone suggested would keep bees and yellow jackets away, but it doesn't work. Any other suggestions will be appreciated.
By Clyde N
June 2, 2016
0

found this helpful
We had 19 feeders, and 15 hummingbirds that enjoyed them every day for years, and when the bees came, every single hummingbird left within a few days. We then bought the feeders with the bee guards on them, and those don't work for nothing! Finally, we bought what they call Flat Feeders, and those WORK. The bees absolutely cannot, at all, get to the juice and the bees will continue checking to see if they can for a day or two, then they'll leave as they see there's nothing there for them.
June 22, 2016
0

found this helpful
Where do you get the flat feeders at?
Read More Answers...
When I hang my hummers food trays, all I get is bees and wasps. What can I do? And no matter where I hang it, they come.
Thank you.
By Lorraine
May 19, 2013
0

found this helpful
Even considering using bug spray on your feeder is incomprehensible to me... bees are becoming endangered and should be protected. There are plastic caps available at most garden shops for a few bucks.
July 18, 2015
0

found this helpful
Birds are super sensitive to the spray. Reading the can is your first hint. It will kill your pet bird is another hint. Please do not do this ever. It is horrible. Also the bees carry it back to the hive and you can guess the rest. Bees are in big trouble and do not need us to add more threats. There are much more sensitive ways to control them. Yellow flowers on feeders are no good, reduce proportions to 1:5 instead of 1:4. Make super strong 1:3 or 1:2 nectar for bees in their own feeder and move it away from your hummer's feeders, a little further each day might be best so the can move along. Call Hummingbird Society in your area for more ideas but no bug spray. Ever.
Read More Answers...
I need to know how to keep bees away from my hummingbird feeders. I have two hanging in my yard and the bees just all of a sudden showed up one day a couple of weeks ago and now the poor hummers can't get a drink in edge wise. I have to hose them down just to be able to get the feeders down to refill them.
They have even found a way to get inside the feeders, then they float to the top and paddle around until they die or until I open it to refill it, then they are in my kitchen and I have to battle them with the fly swatter! I have already been stung twice and I really enjoy watching the hummers and would hate to have to take down the feeders.
By tntme from Long Beach, CA
September 9, 2011
0

found this helpful
Normally they can't make it into the feeder that just puzzles me. It sounds like the holes in the feeder where the hummers stick their beak and tongue in is too larger, a bee only needs 3/8 inch space to get into. I hate to say get new feeders with smaller feeder holes but that is what you might be what you need to do. Or if you can find a mesh small enough to put behind the first little screen.
If the bees can't get to it, they will after several days quit coming to it. They smell the sugar and want it but if they cant get to it the busy little critters don't waste time with it and move on.
If there are that many is there a beekeeper keeping bees close by? Bees travel up to 1/2 mile away from the hive. Check any small opening into something dark like a wall or piece of equipment.
If you do have a beekeeper with bees close by contact them because they might have to reevaluate the situation for their bees and can give you more tips for handling the busy little bees! Good luck
September 10, 2011
0

found this helpful
Thanks I will have to check into it but I'm in a very rural area and I think they are just wild bees. But you are probably right about getting a new feeder.
I have been using vegetable oil around the holes to keep bees off. It really works! It is very sticky when cleaning though. Has anyone else tried this?
By Mainehummerluver from Bridgton, ME
July 31, 2011
0

found this helpful
If you get feeders where the feeder part is deep and the sugar water is not to close the bees will not be interested in the feeder. the color of the flower part has nothing to do with it, the bees smell the sugar. if they cant get to it they wont come back. the oil is not good overall to the bees but not good for the hummingbirds either.its not going to kill them but this will help keep down any uneccessary things to our critters to help keep them healthy! but the yes the oil does help on our two fancy favorite feeders (we have since put up)but the others we make sure the the feeder part is deep. hope this helps when you buy feeders in the future.
This is a guide about using hummingbird feeders. Making sure your feeders are free of insects and clean are important for the hummingbirds.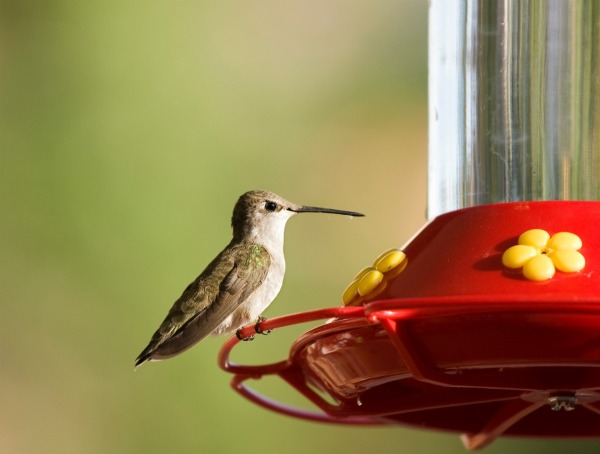 © 1997-2016 by Cumuli, Inc. All Rights Reserved. Published by
ThriftyFun
.
Page
generated on July 25, 2016 at 10:47:25 PM on 10.0.0.73 in 895 msecs. Use of this web site constitutes acceptance of ThriftyFun's
Disclaimer
and
Privacy Policy
. If you have any problems or suggestions feel free to
Contact Us
.