Read and rate the best solutions below by giving them a "thumbs up".
Bees in Hummingbird Feeder
I have Bees in my Hummingbird Feeder. Does anyone know what can be done about this problem? I think there is a ground nest nearby, but it is in neighbor's yard. Or suppose it is not a ground nest, what can I do?
Thanks,
Fauxpaslover
---
RE: Bees in Hummingbird Feeder
I have the same problem. We make bee bombs:
Take a 2 litre plastic pop bottle and cut an upside down T about 3/4 of the way up the bottle on both sides. Make it one inch long and high. Gently push the flaps inward, you now have a triangle looking shape. Don't push them in too far just leave a small opening enough for the bee to crawl in. Punch two small holes in the cap and thread a string through to hang it up. Fill the bottle with a can of cola. The bee's are attracted to the pop, they crawl in and can't get out (09/17/2005)
By PICO
---
Keeping Bees Away from a Hummingbird Feeder
Does anyone have an idea as to how to keep bees away from hummingbird feeder?

Hardiness Zone: 5b

DONNA from Millbury, OH
---
RE: Keeping Bees Away from a Hummingbird Feeder
If your feeder has yellow flowers on the ports, turn them red with nail polish or replace the feeder with one without any yellow on it. I always had the same problem until this year. I purchased a new feeder and its ports were all red. There was no yellow on the feeder at all. Later I read an article about this new feeder which said that yellow attracts bees, thus the manufacturer eliminated yellow. It worked. I did not have any bees or wasps at the feeder this year. (08/28/2007)
By charscorner
RE: Keeping Bees Away from a Hummingbird Feeder
Spray the feeder with "Pam" oil. The stuff that keeps food from sticking. A lodge owner who has about 15 Hummingbird feeder just told me this last week. (08/31/2007)
By Dave
RE: Keeping Bees Away from a Hummingbird Feeder
Don't kill the bees! You're likely to kill honey bees that way, and with the major decline in the vitally important honey bee population, we need all the bees we can get.
I take a cotton ball and soak it with baby oil, and rub the little chain at the top with it to keep ants from climbing down and getting into the ports. For bees, I rub some around the ports. The bees don't like it, and they leave it alone. (09/26/2007)
RE: Keeping Bees Away from a Hummingbird Feeder
We had at least 30 bees on our feeder yesterday. We sprayed it, washed it out well, then put crisco oil on it. So far, not 1 bee today. (04/12/2008)
By Renee ONeill
---
Keeping Bees Away from a Hummingbird Feeder
Question:
We have hummingbird feeders and its horrible to see the little hummingbirds trying to eat at the feeders with all the bees. No matter how many feeders I put out the bees are all over the feeders. I hope that someone can help. Thank you.
Jodi from Texas
Answer:
Jodi,
Here are my ideas for keeping bees, wasps, and other stinging insects away from your hummingbird feeders.
First, keep in mind that it's never safe to use any chemicals to control insects at birdfeeders. That's a given of course, but it needs to be stated anyway. Any flying insects (yes, even the wasps) that choose to feed on hummingbird nectar are likely to play an important role in pollination. In the case of bees, swarming to the feeder for nectar is usually a transient problem. This isn't always the case with other stinging insects, but bees tend to flock to feeders only when other food supplies are low (e.g. few open flowers or lack of rain).
Here are some suggestions:
Deny the bees (and other pests) access to the syrup. Some hummingbird feeders are designed in such a way (basin style) that the syrup level can be kept too low for insects to reach, but easily within range of hummingbird tongues. Others come equipped with "bee guards" which are fine mesh coverings that fit over the feeding ports. If you feed a lot of hummingbirds, it might be worth buying a new feeder in one of these styles to see if it makes a difference.
Try moving your feeder-preferably to a shady location (bees prefer feeding in the sun). Don't worry about the hummingbirds finding the new station. They will. Meanwhile, offer a saucer of nectar on the ground at the old station to keep the bees occupied. If that doesn't work, take the feeder down for a day, or until it seems like the bees stop looking for it.
The rumor is that bees and wasps are attracted to anything yellow. If your feeder has those little fake plastic yellow flowers around the ports, either color them red (using a non-toxic marker, paint, or fingernail polish), or remove them altogether. I don't know if this is true, but it can't hurt to try.
Reduce the sweetness of the nectar, and the bees will eventually leave. Bees require high levels of sugar in their diet. Using 5 parts of water is just enough to keep the hummers happy and to make the bees go somewhere else.
Vacuum the bees and wasps. Once you suck up 4 or 5 of them, the rest won't be back.
Plant more hummingbird and bee-friendly flowers. In the future, these will provide additional options for both the birds and the bees to feed from.
A Caution about using oils:
Many people have found that applying cooking oils and sprays to the outside of the feeder ports deters bees, wasps, and other insects. Be very careful if you do this. These tiny birds expend enormous amounts of energy. They need to feed constantly and have little margin for error when it comes to making a livelihood. Oil that accidentally gets on the hummingbird while feeding or during feeder fights can spell disaster when it comes time to preen their feathers. Birds produce their own oils for preening and additional oils can cause their feathers to become matted, which reduces their ability to fly and keep warm. If you decide to use oil on your feeder, please use it with caution.
Ellen
About The Author: Ellen Brown is an environmental writer and photographer and the owner of Sustainable Media, an environmental media company that specializes in helping businesses and organizations promote eco-friendly products and services. Contact her on the web at http://www.sustainable-media.com

---
RE: Keeping Bees Away from a Hummingbird Feeder
I too have honeybees invading my feeders I don't want to kill the bees just send them packing to a different area. I am going to set up a yellow bowl on a ladder filled with a stronger sugar content solution and move the ladder as they drink. (07/17/2008)
By Kimt6260
RE: Keeping Bees Away from a Hummingbird Feeder
You can buy little "traps" that go on the hummingbird feeders. The hummingbird can still eat, but the bees can't get inside it. (07/18/2008)
By Mythi
RE: Keeping Bees Away from a Hummingbird Feeder
Just tried the spray canola oil on my hummer feeder and it worked like a charm. The bees do a "fly-by" but never land. For ants, just go to your PetsMart (near Hummer feeders and nectar) and look for a little box called "AntAway" (?). It looks like a green plastic bell with hooks on both ends. Hang it on your hook and the feeder underneath it. Lasts all season so no need to replace it and costs about $7. Haven't had a problem with ants in years. (07/20/2008)
By Joan
RE: Keeping Bees Away from a Hummingbird Feeder
I've tried the yellow dish with super rich nectar. They still went to the feeders. Today, after reading here, I used a cotton swab and olive oil and lightly coated the yellow flowers, red flowers and the connection point between the base and the reservoir. They love to drink there. No bees. I had the great big bumbles; at least 60 swarming around all the feeders. It's worked like a charm and in seconds. Thanks.
J (07/25/2008)
By JLD119
RE: Keeping Bees Away from a Hummingbird Feeder
The Pam trick worked great and it won't hurt the bees, we need them around. I put on my motorcycle gear and just went out and sprayed the feeders, there were hundreds of bees swarming the feeders at the time, they didn't even come at me to try and sting me in force, just a couple of stragglers. An hour later there are just a few bees flying around, they try and land but just leave. (07/25/2008)
By John B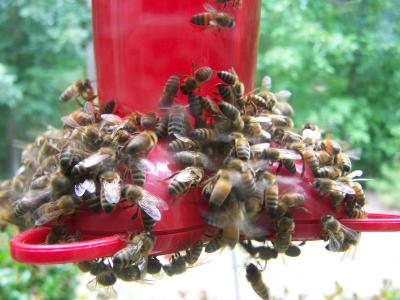 RE: Keeping Bees Away from a Hummingbird Feeder
I have tried everything re: bees on previous posts. Nothing helps, Canola or Pam. From my research, I determined that Canola is actually dangerous to animals. I can make "bee bombs" and they work, but I don't want to kill honeybees, which have been in decline.
For ants, using 6 pound monofilament fishing line, with or without ant moats improvised from plastic bottle caps, works fine. (08/01/2008)
By Bern
RE: Keeping Bees Away from a Hummingbird Feeder
Please "don't use oil" on your feeders. The oil will get on the birds feathers and they will not be able to remove it and it will make it very difficult for them to fly. (08/08/2008)
By Mindy
RE: Keeping Bees Away from a Hummingbird Feeder
I have used olive oil for years on my hummingbird feeders. It works great for bees and ants. But don't spray the feeders. Instead, spray on your finger then wipe on a thin coat around feeding hole and edge anywhere bees or ants can get in. That way the oil will not coat the tiny wings of our feathered friends. (08/10/2008)
By Karen
RE: Keeping Bees Away from a Hummingbird Feeder
I had the bee problem. Wasp and yellow jackets were running away my birds. So I just found a clear drink bottle of plastic punched a hole on all 4 sides about 4 inches from the bottom of the bottle. I put a little bit of the hummingbird nectar in it and replaced the top. I put a length of wire around the neck of bottle and hung it in the tree, no more problem. The wasps and yellow jackets go in, but don't get out. (08/11/2008)
By WB
RE: Keeping Bees Away from a Hummingbird Feeder
Here's a picture before I used Vaseline. Works great. Just dab each flower hole and wipe leaving a light film on it. (08/16/2008)
By maggie3956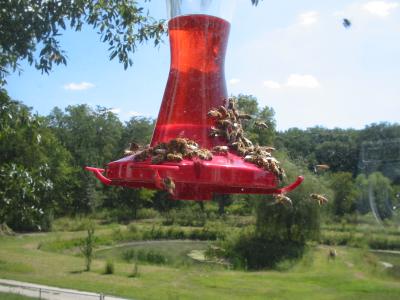 RE: Keeping Bees Away from a Hummingbird Feeder
Please learn how to tell a honey bee from a wasp. Our honey bees are essential to a healthy natural world and are threatened. Screens work for both bees and wasps and are harmless, but must be checked. (08/19/2008)
By Linda
RE: Keeping Bees Away from a Hummingbird Feeder
I am not sure how to keep the bees away. But I do know that if you have an ant problem invading the bird feeders try taking a little bit of dish soap and put it around the hook that the feeder hangs on, but "do not" get it on the feeder itself. Just rub some on the hook and around the area where the hook is placed and this will get rid of the ants. (09/29/2008)
By tmb
RE: Keeping Bees Away from a Hummingbird Feeder
Bees can be a big problem in some parts of the country. Please do "not" use any type of oil, because if the hummingbirds brush against it the oil will get on their feathers and can cause health issues. You must start with a feeder that is specifically designed and advertised to be bee-proof. Then take care when making nectar to not make it too sweet.
For hummingbirds a 4-1 ratio is good, too sweet will attract more bees than birds. Then after hanging clean off drips or spills, I like to spray them off with water from a spray bottle. Any little drip or spill will attract some bees. That should do it, but if not, hang another feeder nearby (not too close) containing a much sweeter mixture and the bees will move to that feeder leaving yours to the birds. For more information check out our website at "The Hummingbird Store".
Enjoy the Flying Jewels! (01/08/2009)
By Black-Chinned
---
Keeping Bees Away from a Hummingbird Feeder
I have hummingbird feeders and the honey bees and bumble bees are taking it over. The hummingbirds cannot feed. Please tell me how to get rid of the bees.
By leveta from TN
---
RE: Keeping Bees Away from a Hummingbird Feeder
Don't fill your feeder much. I change my nectar once every day or two. I only put the nectar in so that there is a couple of inches above the bottom of the bottle, where the feeding tray is. They always have nice, fresh nectar and it's not sitting there to get buggy. (07/13/2009)
By kathyj311
RE: Keeping Bees Away from a Hummingbird Feeder
I've got one better; I've got a woodpecker that's visiting my feeder. I have one of those bee/wasp catchers near my feeder and the bees go for that. (07/14/2009)
---
Keeping Bees Away from a Hummingbird Feeder
I am looking for a solution to keep bees and yellow jackets away from my Humming Bird feeders. I had a Thrifty tip about a brown paper bag, but lost it. Please help. Thanks.
By Bevvie from Placerville, Ca
---
RE: Keeping Bees Away from a Hummingbird Feeder
I had the same problem as most of you, so my husband went to the local hardware store and got Sterling RESCUE yellow jacket trap for about $13.00. Boy does it ever work. In one day we caught a bunch of them. The Hummingbirds are now happy. (08/12/2009)
By Bevvie
RE: Keeping Bees Away from a Hummingbird Feeder
Keeping bees away from your hummingbird feeder is actually a very easy fix and you don't need to use dangerous oils. True hummingbird feeders have holes in the flowers too small for the bees to get the nectar. I have one that was also for larger birds as well, but the feeding holes were large enough for the bees to crawl into so I had to cover the holes with sticky back covering and make my own smaller holes in the center of the covering so that the bees cannot fit into. I painted around the covering with yellow acrylic paint so it still looks like a flower. Works great and no more bees. Hummingbirds are all happy. (08/20/2009)
By RoxyCares
---
Keeping Bees Away from a Hummingbird Feeder
How can I get rid of honey bees at humming bird feeders? The bees chase the hummers away. They completely cover the feeders.